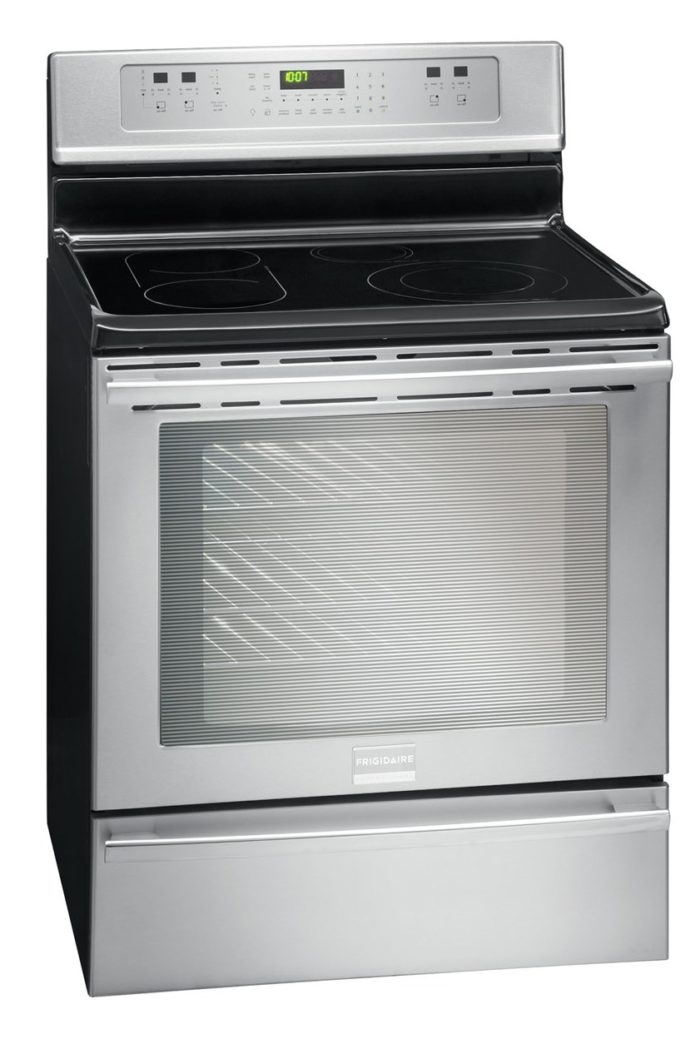 For the first time in my sheltered life, I have a range with a self-cleaning oven. After over a year which included roasting a number of chickens (which we've been raising the past few years), we had an oven covered with enough spattered grease to cause the smoke detector to go off any time we turned the oven on.
The manual that came with the range cautioned against using the usual oven cleaners and recommended the use of the self-cleaning feature. This process locks the oven and heats it up to a very high temperature — Wikipedia (among others) says 900°F.
I was curious what this would be like: Would the range feel really hot to the touch? How much would it smoke? Would it actually clean the oven? How much energy would it use?
Smoke spews out of the oven vent
You have to clean any serious accumulations of stuff out first, perhaps so it doesn't combust. Also, you're not supposed to leave the racks in — they warn against the high temps destroying a finish that makes them slide easily.
This was a major bummer, since we'd been dumb enough to leave the plethora of racks this range comes with in the oven while we only needed one to roast the chicken :- Duh.
They were really grimy and we (OK, not we, Jill) cleaned them by hand. Note to self…
Once we started the process, the oven heats up quickly and smoke comes spewing out the vent. We had windows open and the range hood running. In the first hour of the three-hour cycle the visible smoke stopped. I didn't abort the cycle because I thought I should go through it at least one time. The front and sides of the range felt surprisingly un-scary in terms of temperature — there might actually be some reasonable insulation in there.
Once it turns off, the door stays locked and it indicates on the display that it's still hot for close to another hour, until it cools down.
Result: a clean oven
It did get pretty clean, and there was some ash remaining. And the entire process used 8 kWh of electricity.
That night we had friends come to share homemade pizza, so we added another 3 kWh. The day's total of 11 kWh exceeded our usage tally for the range in some months!
Marc Rosenbaum is director of engineering at South Mountain Company on the island of Martha's Vineyard in Massachusetts. He writes a blog called Thriving on Low Carbon.
Weekly Newsletter
Get building science and energy efficiency advice, plus special offers, in your inbox.