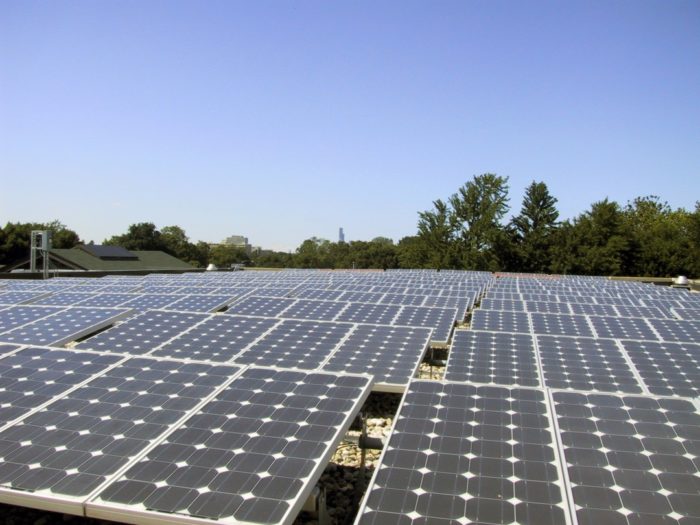 The good news about photovoltaic (PV) power in New York State — a 300% rise in installed PV over the last three years, 2014 job growth of 40%, lower energy costs, cleaner air and a more stable climate for everyone — well, that good news just got even better.
Our state's Public Service Commission, New York's utility regulator, created a new program that will allow New Yorkers who can't put PV on their homes or businesses — and there are a lot of us — to participate in community solar projects and other shared renewables projects that can allow us to plug into clean energy for the first time.
If you think this is a small number, think again: A recent report from the National Renewable Energy Laboratory found that almost half of the country's households and commercial establishments can't install PV on-site. We're talking here about renters, apartment dwellers, households, businesses and community institutions without much access to credit, and people with roofs that are shaded or are otherwise bad candidates for solar. In New York, with its large percentage of apartment buildings, the number is likely higher.
This great new program will help us reach the 50% renewable electricity by 2030 target included in the recently released New York State Energy Plan, by expanding the renewables market to include these resources, accessible by all of us.
The program will lower bills and improve air quality
Many of the plan's details are still to be fleshed out. But one thing's for sure: This new program, officially titled Shared Renewables, will unleash sizable investments in the state's fast-growing clean energy economy and speed up our transition to a healthier, safer, more resilient and equitable energy system. (U.S. Department of Energy experts estimate that community solar projects could make up 32% to 49% of the U.S. solar market by 2020.) No wonder it has the support of a broad and diverse coalition of more than 50 community, social justice, business, and environmental groups.
Off-site solar projects, usually located in or close to the communities where participants live and work, offer tremendous benefits, both to participants and to our power grids. That's especially true in the overloaded areas like downstate New York. In other words, these programs offer advantages to virtually all of us.
Low- to moderate-income New Yorkers especially have a lot to gain, through costs savings on their electric bills and cleaner air in the neighborhoods where they live and work. The shared solar project Here Comes Solar — a collaboration between NYC's advocacy and educational Solar One and community environmental justice group UPROSE — in Sunset Park, Brooklyn, for instance, is "shooting for a 20% discount from what residents are paying now on their Con Ed bills," from the shared solar project they're in the process of developing, says Solar One's Elana Laichena.
One nonprofit community solar project in Colorado was even able to lower electric bills by 50%. Residents can also benefit from better health and improved quality of life, particularly those living near dirty peaker plants, which are called into service when demands on the electric grid are steepest.
Reducing pressure on the grid
Indeed, experience on the ground shows that shared renewables may be just what New York and the nation need to expand on our already impressive deployment of solar power. At least half of the households that contact the tri-state office of the national non-profit solar developer GRID Alternatives have "roofs that are not viable for solar," explains local Executive Director Kate Shackford.
Shared solar, she says, is "great for those we can't serve and for low-income renters." It's also especially great for the overloaded Westchester/New York City area and places like it across the nation, because shared solar "can take a lot of burden off of the grid," making a more reliable, less expensive electric system for everyone. For these reasons, New York's Shared Renewables project will initially prioritize projects in areas of the grid, identified by the utilities, that will benefit most from local renewable electricity production, in addition to projects that offer benefits to low- and middle-income New Yorkers.
With the announcement, New York joins a fast-growing list of 13 states and the District of Columbia that are opening community solar projects (and sometimes other renewables) to their residents. Shared Renewables is an idea whose time has come to a state that's showing just how powerful sunshine can be.
Samantha Wilt is an energy policy analyst for the Natural Resource Defense Council in New York. This post originally appeared at the the NRDC's Switchboard.
Weekly Newsletter
Get building science and energy efficiency advice, plus special offers, in your inbox.