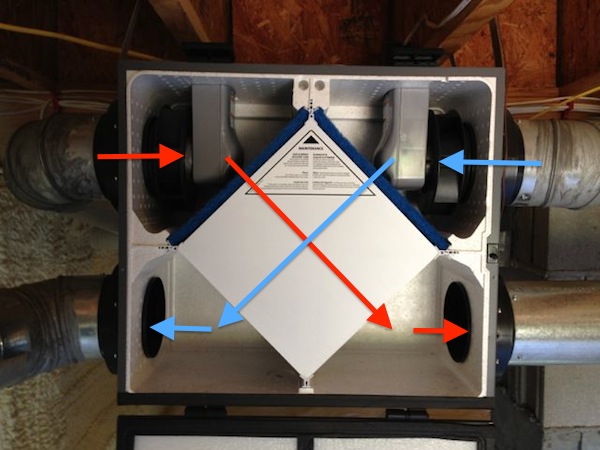 "You know where this is going, right? Codes will eventually require balanced ventilation." I've heard people say this more than once in the past year or so. As someone who has been attending the semiannual meeting of the ASHRAE 62.2 committee, I've been skeptical. Then I read the new Aspen energy code and saw the first evidence that this really could happen.
Yes, I held out on you in my last article. I published that article about Aspen's Simplified Equivalent Compliance Alternative, but I didn't tell you about any of the other provisions in their new code. Here's another one that, as far as I know, isn't required anywhere else yet.
Section R403.6.2 Balanced ventilation [added section]. Dwelling units shall be provided with a mechanical balanced ventilation system. Heat or energy recovery ventilation systems shall have a minimum sensible heat recovery efficiency of 65% determined in accordance with CSA 439 at 0° C and at an airflow greater than or equal to the system's design whole-house mechanical ventilation airflow.
Of course, they also added "balanced ventilation" to the list of definitions:
BALANCED VENTILATION SYSTEM. A mechanical ventilation system providing simultaneous outdoor airflow and exhaust airflow within 20% of each other.
Aspen is a cold climate. That means the skiing isn't as good during the summer as in winter. It also means nobody with any experience in the area would use a supply-only ventilation system. That's for hot and mixed humid climates. But there's plenty of exhaust-only ventilation systems. The problem is they suck.
Balanced ventilation is definitely the way to go. The problem is it's more expensive, especially if you're going to require that it be done with some kind of heat recovery, which is what Aspen requires in their new code.
I imagine no one will be able to afford the houses there anymore and the place is just going to become another piece of American carnage, victim of a bunch of city bureaucrats that overreached with economy-strangling regulations. At least I hope that happens so I can afford to move within 100 miles of the place some day.
Seriously, though, Aspen's new code will require all new homes to have a balanced whole-house ventilation system with heat recovery that's at least 65% efficient. This is a big deal. Will it be coming to a jurisdiction near you soon? We're in the process of adopting the 2015 IECC now in Georgia, and I'm pretty sure we won't go that far. Who knows what might happen in our next code cycle, though.
Here's another little confession for you. This isn't the only thing I've kept secret from you. I've got one more big revelation for you about the Aspen energy code, so stay tuned.
Allison Bailes of Decatur, Georgia, is a speaker, writer, building science consultant, and the author of the Energy Vanguard Blog. You can follow him on Twitter at @EnergyVanguard.
Weekly Newsletter
Get building science and energy efficiency advice, plus special offers, in your inbox.