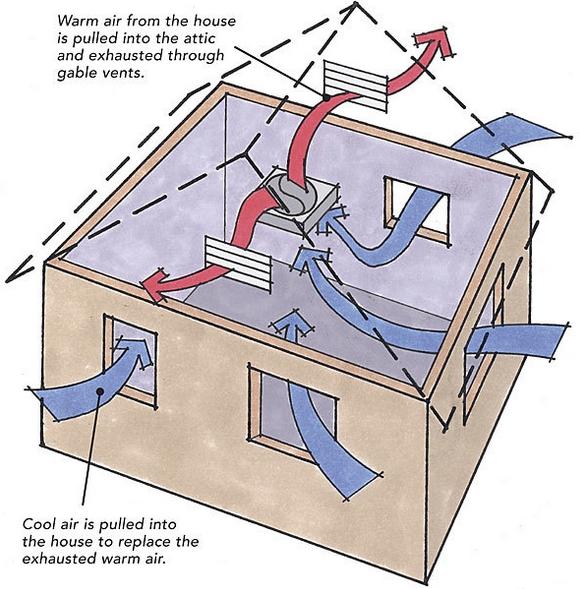 Writing from St. Paul, Minnesota, W Ramsay wants some feedback on his plan to install whole-house ventilation fans in the house he's building. He likes the idea, the building inspector does not.
Ramsay sees the benefits of improved indoor air quality and energy-efficient cooling, while the inspector is apparently concerned that the fans would depressurize the house and possibly lead to backdrafting of combustion appliances.
Originally, the inspector was prepared to require a 1:1 makeup air system, which would not only be expensive but also defeat the purpose of the fans, Ramsay says. The inspector backed off that original request as long as Ramsay could guarantee that a sufficient number of windows would be open while the fan was running. More recently, the inspector says he wants an engineer to guarantee there would be enough passive makeup air for the system.
"Is a whole-house fan beneficial?" Ramsay asks. "To me this is a very easy 'yes.' On some days we can get enough air through our house with natural breeze, but many days there is either not enough breeze or it is coming from the wrong direction.
"A whole-house fan creates the breeze and with windows open provides fresh air, reduces or eliminates VOCs and CO2, and cools the house for a lot [less] energy and dollars than running the AC," he adds. "Am I nuts?"
Further, Ramsay wonders whether a whole-house fan could be considered dangerous. He says he found one instance in which a whole-house fan had been linked to a death; the victim was a high school student who turned on a fan after smoking marijuana but didn't open any windows.
Are any of these concerns well-founded? That's where we start this Q&A Spotlight.
Whole-house fans are great
"What's not to like?" asks…
Weekly Newsletter
Get building science and energy efficiency advice, plus special offers, in your inbox.
This article is only available to GBA Prime Members
Sign up for a free trial and get instant access to this article as well as GBA's complete library of premium articles and construction details.
Start Free Trial
Already a member? Log in