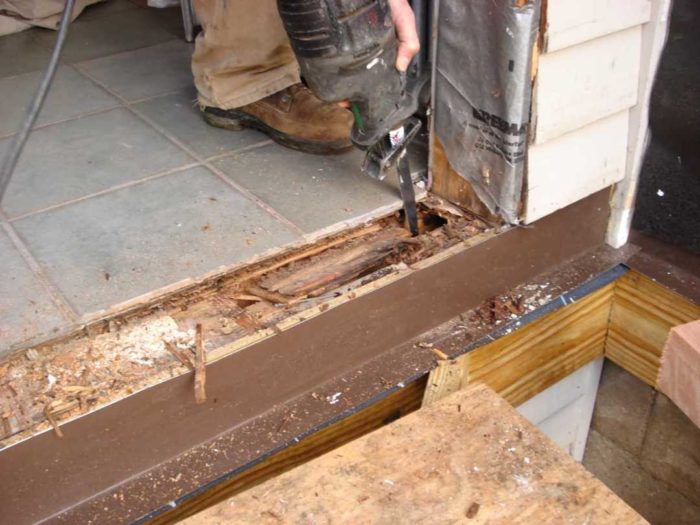 Most residential builders understand that window rough openings need sill pan flashing — either a site-built sill pan made with peel-and-stick tape, or a commercial sill pan made from metal or plastic. Window manufacturers' installation instructions began requiring sill pans about 20 years ago, and by now these details are standard at most residential construction sites.
For some reason, though, many builders are neglecting to install sill pans under exterior doors. It's time for a gentle reminder: If you skip the sill pan under an exterior door, you are risking a very expensive callback.
If your exterior doors are protected by porch roofs, you may think that sill pan flashing can be omitted. You may be right. But in the future, it's possible that homeowners may remove the porch, exposing the door to wind-blown rain. If that happens, the subfloor under the door could rot.
In all cases, sill pan flashing is cheap insurance. Not only that: sill pan flashing under exterior doors is code-required. For more information on code requirements for sill pans, see 2012 IRC Codifies Window and Door Pan Flashings.
What happens if you skip the sill pan?
If an exterior door is exposed to wind-blown rain or splashback, the door jambs can get wet. When water dribbles down the jambs, it will find a crack between the jamb and the threshold, soaking the subfloor under the door. Eventually, you end up with a rotting subfloor and a rotting rim joist.
If you're a remodeler, you've probably been called in to repair this type of rot. A surprising percentage of exterior doors are unprotected by roofs, and a surprising percentage of these unprotected doors also lack sill pan flashing.
Different types of sill pans
Many builders buy sill pans from a manufacturer. Available products include:
Weekly Newsletter
Get building science and energy efficiency advice, plus special offers, in your inbox.
This article is only available to GBA Prime Members
Sign up for a free trial and get instant access to this article as well as GBA's complete library of premium articles and construction details.
Start Free Trial
Already a member? Log in