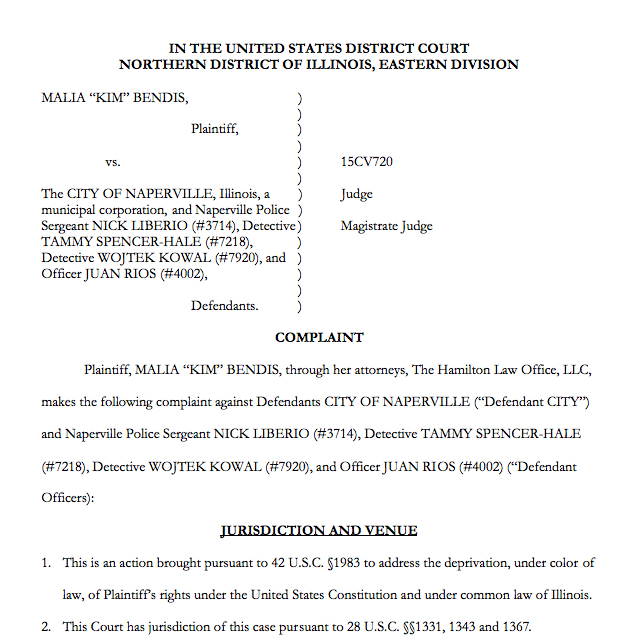 Complaints about a new generation of utility smart meters aren't unusual, but in Naperville, Illinois, a citizen's campaign against them has resulted in arrests, a trial, and now a complaint in federal district court against the city and four police officers.
The trouble began when the city began replacing analog utility meters with newer wifi-enabled devices. Malia Bendis and Jennifer Stahl were among those who objected, and they helped launch an opposition group called Naperville Smart Meter Awareness, the website The Blaze reports.
Two years ago, both were arrested after Bendis used her cellphone to make a video recording of the installation of a smart meter at Stahl's home; the meter was being installed over Stahl's objections. Bendis was handcuffed and arrested for "attempted eavesdropping," charges which were later dropped. Bendis was acquitted of a second charge, resisting a peace officer, last October.
Now, Bendis, a 42-year-old mother of three and a part-time nurse practitioner, is suing the affluent Chicago suburb and four police officers, claiming false arrest, the use of excessive force, discrimination, unlawful retaliation, and malicious prosecution. The complaint, filed on January 23, seeks unspecified damages.
Smart meter program challenged in court
According to Bendis' court complaint, the city of Naperville set aside $22 million in 2010 to install smart meters on homes and businesses under a program called the Naperville Smart Grid Initiative.
Bendis and others opposed the program, citing both financial and health concerns. They founded the opposition group and in late 2011 filed a court complaint to block the installation of meters in instances where people didn't want them. That case is still pending.
Bendis became an outspoken critic of the program, and eventually the city hired a security company and put her under surveillance, her complaint alleges.
Then, in January 2013, the city council met behind closed doors and voted to arrest Bendis and anyone else "who interfered with their plan to forcibly install the 'smart meters,'" the complaint says.
The city instructed its workers and police officers "to enter onto the objecting residents' properties and install the meters, even if they had to force their way onto the residents' property." During these "forced installations," the complain continues, some residents, including Bendis, made audio and video recordings of the installations.
No one was arrested until January 23, 2013 when Bendis and Stahl were both handcuffed and taken into custody.
Eavesdropping law found constitutional
Bendis initially faced two charges: attempted eavesdropping, a misdemeanor, and resisting a peace officer.
Her complaint claims that police knew they couldn't charge her with eavesdropping, a felony, because the law had been declared unconstitutional. So they chose the "attempted eavesdropping" charge because it could be filed without the approval of a prosecutor. But a county state's attorney dismissed the charge anyway.
Bendis did go to trial on the "resisting a peace officer" charge and was acquitted by a jury last fall. Charges against Stahl were eventually dropped.
The complaint seeks unspecified punitive damages as well as attorney's fees.
Contacted by email, City Attorney Jill Pelka-Wilger said she couldn't comment directly on the lawsuit.
"The City of Naperville continues to focus on our Smart Grid program," she wrote. "Our program is in line with the national effort to modernize the electronic power grid system. We have installed 58,000 meters and continue to move forward increasing energy efficiency, reducing emissions and lowering electricity consumption costs."
Weekly Newsletter
Get building science and energy efficiency advice, plus special offers, in your inbox.