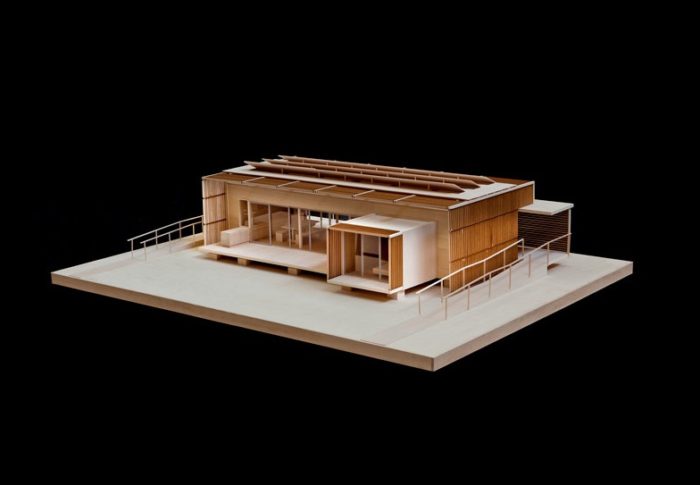 There are two kinds of summers in Florida: hot and humid, and really hot and humid. Team Florida has prepared for both with FLeX House, its entry for the 2011 Solar Decathlon. But the team also is attempting to address issues that go well beyond the state's seasonal plunge into tropical weather.
Population growth in Florida over the next 15 years is expected to severely burden its water supply and increase the need to control pollution and better manage land use. Team Florida – a collaboration of students and faculty at the University of South Florida, Florida State University, the University of Central Florida, and the University of Florida – says it has designed FLeX House as a model for low-cost, low-impact housing that operates at net zero energy while it honors the architectural vernacular of the Florida peninsula and panhandle.
FLeX, which stands for Florida Zero Energy Prototype, naturally places a high priority on making efficient use of the state's often-abundant sunshine, in this case through a photovoltaic array and solar hot water collectors mounted on the home's flat roof. The exterior walls, floor, and roof are built with stick framing in some sections and structural insulated panels in others. (We're awaiting word from the team on the insulation values and performance goals for the house.)
Catering to young homeowners
Clad in corrugated metal, the exterior walls also feature a lot of window space – sliding glass doors on the north side and large windows on the south side. The walls are clad in corrugated metal, and much of exterior is shaded by louvers made from locally grown cypress. The north side of the house features a deck area that connects to a garden landscape, while the south side, which includes the main entrance, is more heavily shielded by the louver canopy.
The main structure is long, rectangular, and designed to fit neatly on a single truck flatbed for transport. Once the building is onsite, entry and bedroom modules deploy from the main body, and the louvers, photovoltaic array, solar thermal collectors, decking, and other exterior fixtures are then installed.
Team Florida is drawing extensively from research into PV materials and performance conducted by the University of Central Florida's Florida Solar Energy Center, a team leader in the Department of Energy's Building America program. In keeping with its goal to make the project competitive in the Decathlon's affordability contest and affordable to young couples with moderate incomes, Team Florida aims to install just enough PV panels and solar thermal collectors to power the building's heat pump, provide hot water, and cover electricity consumption by kitchen appliances, lighting, and other devices.
Control the climate
Like several Decathlon entries, FLeX House features movable elements – including a Murphy bed and gliding partitions – and loft-like sleeping quarters for children or guests that make it easy to reconfigure the interior for both comfort and for localized cooling and heating.
The job of managing Florida's humidity, meanwhile, will fall mainly to an interior desiccant waterfall – essentially a vertically mounted rectangular enclosure through which interior air and a water-absorbing calcium chloride solution are pumped to dry out the air. Once it becomes saturated with water, the calcium chloride solution flows to a separate reservoir where the water is boiled off using heat from the solar thermal system, and the "dried out" calcium chloride solution is then returned to the desiccant waterfall.
In late September, when Decathlon takes place and the climate in Washington, D.C., still retains characteristics of the city's swealtering summer, there should be plenty of humidity to extract. Of course, the desiccant system won't be challenged in D.C. quite like it will be in Florida in July.
Weekly Newsletter
Get building science and energy efficiency advice, plus special offers, in your inbox.