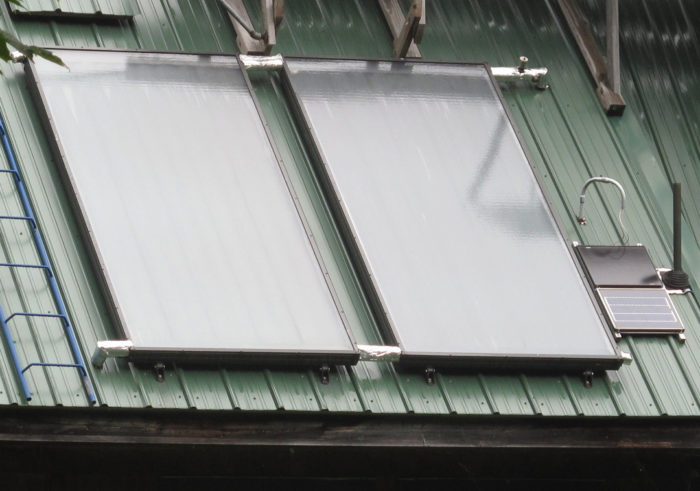 I installed my solar hot water system about six years ago. It's a good system. I have two 4'x8' AE-32 flat-plate collectors (manufactured by Alternate Energy Technologies), a Superstor Ultra stainless-steel tank (at 80 gallons, it's a little small, but it's what I could afford), and an El Sid DC pump from Ivan Labs. Since I installed the equipment myself, it cost significantly less than a professionally installed system.
This year I had my first maintenance issue with my solar thermal system. In March, the snow covering my solar collectors finally began to melt. Unfortunately, the solar collectors were bare of snow for several sunny days, while the small PV modules that provide power for the PV-direct pump were still snow-covered. Since the sun was shining on the solar thermal collectors but the pump wasn't circulating the glycol solution, the fluid overheated. A significant amount of fluid was released through the system's pressure/temperature relief valve before I realized what was going on.
The solution was fairly simple, but it was a pain. I bought a couple of gallons of glycol. I drained the old fluid from the system, and introduced a new antifreeze solution into the system, the same way I did when I commissioned the system a few years ago. The whole process took a few hours.
In the future, I'll need to move the PV modules that are wired to the DC pump to a different location, so the snow will melt from the modules at about the same time that the snow melts from the collectors. That work will also take me a few more hours.
If I had had to hire a solar thermal contractor to perform this maintenance work, the work would have cost hundreds of dollars, eating into…
Weekly Newsletter
Get building science and energy efficiency advice, plus special offers, in your inbox.
This article is only available to GBA Prime Members
Sign up for a free trial and get instant access to this article as well as GBA's complete library of premium articles and construction details.
Start Free Trial
Already a member? Log in