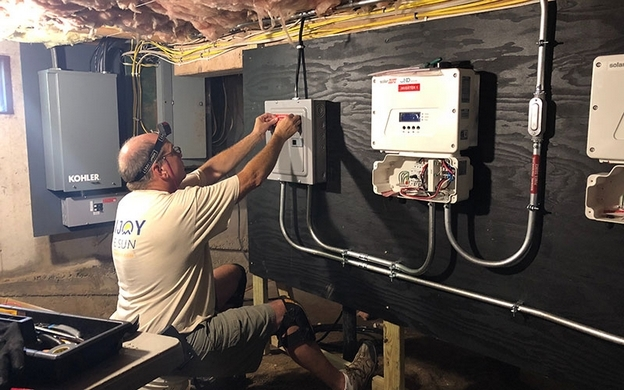 A New England solar installer with operations in three states faced a challenging shortage of licensed electricians in the region's labor pool. So the solar contractor is opening its own training centers for electricians.
ReVision Energy, with 225 employees and more than 7,000 solar installations to its credit, is now training 34 students in Maine and another 20 in Massachusetts, Mainebiz reported. The company has opened the Revision Energy Technical Center in Brentwood, New Hampshire, and will operate similar centers at its other New England locations.
ReVision, a certified B Corporation, became employee-owned last year. It currently has offices in Portland and Liberty, Maine; Concord and Brentwood, New Hampshire; and North Andover, Massachusetts.
"What we're trying to do is take control over the fact that licensed electricians are one of the biggest challenges in the renewable energy sector today," ReVision co-founder Phil Coupe told Mainebiz.
Nathan Poland, the company's electrical coordinator (and the person who developed the training program), said the shortage of licensed electricians has become "critical." No amount of advertising could attract the number of electricians the company needs, because they simply aren't there.
In the past, Poland said, helpers could become licensed through more traditional avenues, such as course work at a community college. But that might have required going to school at night, or taking time off from work to attend classes, and schools weren't necessarily within easy commuting distance.
Students enrolled in the ReVision Energy program are taught by licensed electricians who already work for the company. They get a mix of classroom and practical training on the way toward certification and are paid as apprentices while they are being trained. During times of the year when work slows, ReVision goes to a four-day work week, freeing Friday for hands-on instruction. Students can fulfill other course requirements on weekends or online.
Ultimately, Revision plans to hire as many as 15 licensed electricians to beef up its staff, between two and five for each of its locations.
A shortage of skilled workers is a national problem
A lack of skilled labor is a problem affecting the construction industry in general, not just solar installers. A survey by the National Association of Home Builders earlier this year found that many specialties are in short supply. Shortages were listed for virtually every type of sub who works on a house — finish carpenters, concrete workers, painters, roofers, HVAC installers, and plumbers. A total of 83% of builders responding to the survey, for example, said there is "some shortage" or a "serious shortage" of rough carpenters.
Electricians ranked near the middle of the pack — not in as critically short supply as, say, framing crews, but scarcer than flooring installers, HVAC workers, or excavators. Seventeen percent of the builders said there is a serious shortage of electricians; another 43% said there was some shortage.
The consequence of a lack of skilled workers, NAHB said, are higher bids from subcontractors and higher wages paid to employees, higher home prices, and trouble completing projects on time.
The shortfall is typically attributed to a mass exodus from the trades following the recession that began in 2008 and a lack of interest among many high school graduates to pursue that kind of career. Vocational training has been eliminated at some high schools.
But, as The Washington Post points out, skilled tradesmen often earn above average wages. The median wage for electricians is $52,720, according to the Bureau of Labor Statistics; the highest paid 10% of workers in that field earn more than $90,420.
Skilled labor shortages were the impetus for the launch of Fine Homebuilding's #KeepCraftAlive program.
Weekly Newsletter
Get building science and energy efficiency advice, plus special offers, in your inbox.