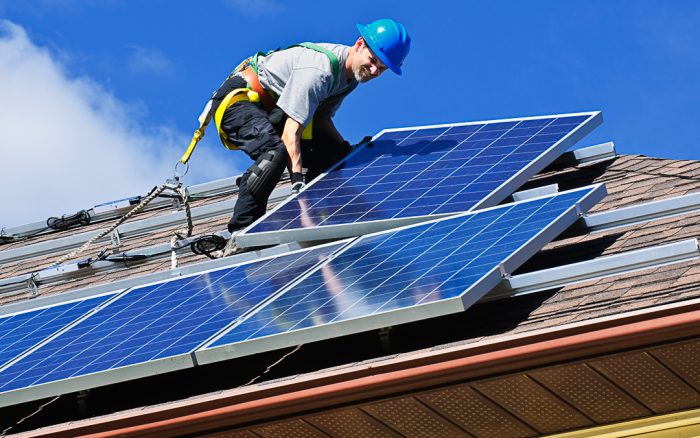 Solar jobs in the U.S. dropped by 7,900 last year, a 3.2% decline, but prospects for growth this year are good, the Solar Foundation said in its annual snapshot of the industry.
It was the second year of declines after the industry reached its high water mark in 2016. The Trump administration's 30% tariff on imported solar panels and uncertainty over state solar policies were considered factors.
But overall, the outlook is positive. There are 242,343 workers in the U.S. solar industry, 150,000 more employees than in the first National Solar Jobs Census in 2010 — an increase of 159%.
Some of the highlights:
Although there were job losses overall, 29 states showed gains, especially in emerging markets. Florida, for example, added 1,769 jobs, while Illinois gained 1,308. Texas, New York, Ohio, and Washington also were on the plus side.
California — with about 40% of the country's solar capacity — was the big loser with a loss of 9,576 jobs. Massachusetts, North Carolina, Arizona, and Maryland also posted job losses.
In the five-year period between 2013 and 2018, solar employment increased by 70%, adding 100,000 jobs. By comparison, total U.S. employment grew by about 9% during that same span.
Most solar jobs — 155,000 in all — are involved in installation and project development. Of those, about 87,000 are concentrated in the residential sector and about 46,000 are in non-residential, including 12,500 in community solar.
The survey predicts that total U.S. solar employment should increase by 7% this year with an employment total of 259,400 workers.
Women make up 26% of the solar workforce, with 17% Latino/Hispanic, 9% Asian, and 8% African-American.
About one-quarter of all solar employers reported it was "very difficult" to hire qualified employees. The most difficult jobs to fill were in sales, marketing, and customer service jobs.
Solar jobs in Puerto Rico total nearly 2,000, and the island has the potential to increase its solar workforce significantly. But the industry faces significant challenges there, including interconnection and permitting issues and a shortage of qualified employees.
The report from the nonprofit was based on survey results from more than 59,000 telephone calls and 49,000 emails to known and potential solar energy concerns.
Solar's future looks promising
Despite the setback in overall employment, the report sees a period of growth ahead as the "rapidly declining" cost of hardware makes solar competitive with fossil fuels.
"Despite two years of decline in solar employment, solar installations are expected to ramp up over the coming years and new job opportunities will likely follow," the report says. Even so, it adds, industry growth has not been enough to date to counter the challenges of climate change.
The number of jobs grew as the cost of installed solar dropped. On the residential side, solar was $6.65 per installed watt in 2010 when the industry employed a total of 93,502 people. By 2018, when the ranks of solar workers had grown to 242,343, the price of solar had declined to $2.89 per watt for a residential installation. Utility-scale solar had dropped over the same period from $4.40 to $1.03 per installed watt.
Solar ranks third in the U.S. energy sector, behind only petroleum and natural gas. The solar workforce is now twice as large as the coal industry, and five times as large as the nuclear industry, the report says.
The total installed capacity is now about 60 gigawatts, or 2.4% of total generation. Looking ahead, the report says new solar installations will likely exceed new capacity from all other sources of electricity generation in 2018 with the exception of natural gas, and it should keep its number two position in 2019. Wind, however, is expected to edge out natural gas this year as the leading source of new power.
Weekly Newsletter
Get building science and energy efficiency advice, plus special offers, in your inbox.