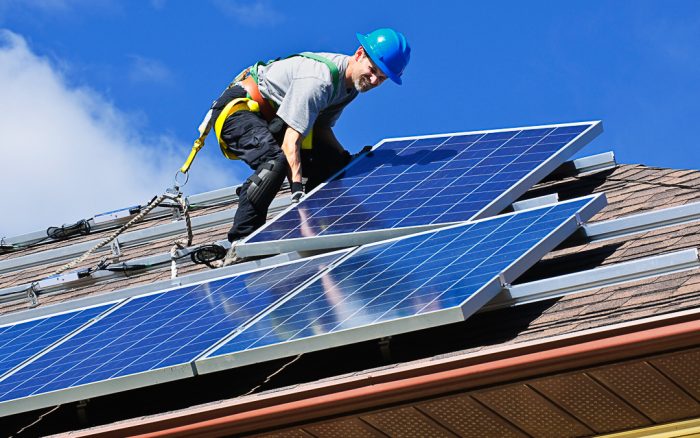 The combination between solar panel installation costs, electricity rates, and market incentives offer a valuable alternative that allows you to save money on your utility bills and contribute in the fight against climate change. However, one of these elements appears to be at risk, according to latest events in some jurisdictions that seem to jeopardize the whole solar PV industry in the US.
Net metering is a billing mechanism that offers the chance for those with photovoltaic systems installed on their homes to receive a credit for every kWh that is injected back to the grid, thanks to the installation of a bidirectional energy meter that runs backwards when excess solar power is generated. Despite the fact that the mechanism is not established at Federal level, over 38 States have mandatory net metering rules.
New concerns in the residential and commercial sector have risen due to the promotion of bill HF669 in the state of Iowa. This bill is believed to remove the net metering mechanism and leave solar customers without the chance for receiving a compensation for the excess energy that they inject into the grid.
According to the Solar Energy International Association (SEIA), between 20% and 40% of the electricity produced by your solar panels goes back to the grid. Therefore, not receiving compensation for 20% to 40% of energy generated can indeed become a serious problem for the solar industry. However, before jumping to conclusions, let's analyze what this bill is all about.
Bill HF669 for the State of Iowa 
According to the bill, the injection of solar power into the grid involves infrastructure and operational costs to the power utility companies that are not considered when establishing tariffs for electricity consumption. The bill attempts to pass a share of these operational costs (which are not yet specified) to the consumer sector in order to eliminate a "cross-subsidization." To pay the share of costs, bill HF669 proposes several options.
The most probable and easy to implement option involves a minimum charge rate structure that represents a small amount that will be added to the consumers' electricity bill every month. Now, what is most important is to notice that according to the bill: This tariff rate structure shall allow the private generation facility to offset the private generation customer's energy usage, and shall allow excess energy to carry forward in the form of excess energy credits to offset the private generation customer's energy usage in future billing periods.
That description matches with the definition of net metering. In other words, bill HF669 is not attempting to eliminate net metering. Instead, it still promotes net metering as the mechanism in rule to compensate consumers for excess solar power injected into the grid, but with a small new charge rate that will slightly reduce your earnings monthly. The importance of this statement lies in how small this charge rate will be, as to allow both parties—customers and utilities—to receive earnings and compensate costs of excess solar power operation. However, it is unlikely that this minimum charge rate will reduce your earnings drastically enough to avoid considering solar power.
What is solar without net-metering? 
Net metering has become an important mechanism for the solar industry. However, it is not indispensable. In the state of Hawaii, solar power has been running for almost 4 years without the net metering program that was supported by Hawaiian Electric. Since 2015, no new customer is entitled to apply for the net metering mechanism. So, what happened to new solar power installations?
The solution was to implement two new mechanisms: Customer Grid-Support Plus (CGS Plus) for grid-tied systems and smart export for grid-tied with battery backup systems. Both of them offer the option to the customer to receive compensation for the energy that is injected back to the grid but with the condition of using equipment that is smart-grid ready as to allow the grid operator to manage the PV system when needed to maintain a reliable and safe operation of the power grid. As with these mechanisms, other mechanisms such as Feed-in Tariffs can also be implemented to substitute net metering and provide compensation for excess energy.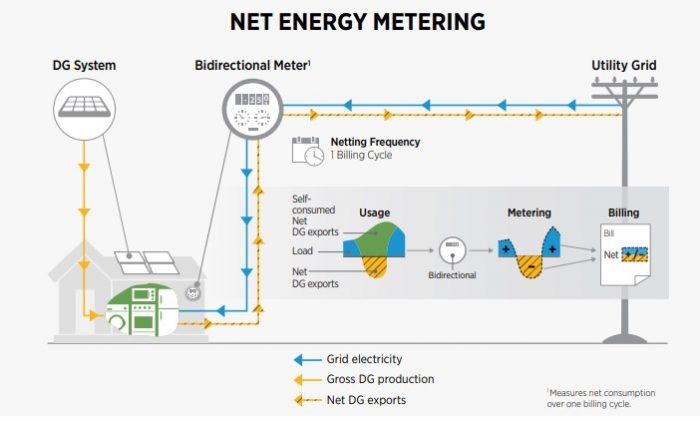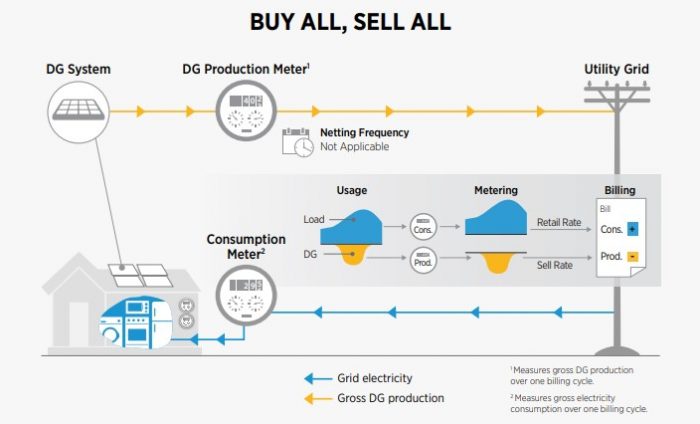 The excess solar power in the Hawaiian Electricity grid led to the end of the net metering program since the grid is able to safely operate and distribute the excess solar power until a certain limit. However, as you can see, this does not mean that solar power was over. As new communication technologies appear on the market and new constraints appear on the grid, new requirements for solar power equipment will be implemented, particularly related to inverters.
While traditional inverters convert all DC power from solar and send it to the grid, advanced inverters with grid support features will allow grid operators to control the energy flows from solar power installations to avoid grid-stability issues and ensure safe operation of the grid. If you are about to install a PV system it is better that you get smart-grid-ready.
What can I do with excess solar power if not injected back to the grid?  
In the unlikely case that no other mechanism replaces net metering, how could you obtain the best from your solar power system?
Going off-grid is always a choice, however, if you have grid connection available, it is probably unjustifiable that you do not use that important resource. The best answer is to install a grid-tied with battery backup system that increases self-consumption where the excess energy is not injected back to the grid. Instead, it goes into an energy storage system under a Grid Zero mode of operation that avoids sending excess energy to the grid.
Finally, an important consideration is what to do when the energy storage device is completely charged and there is excess solar energy. The most optimum system will store this excess solar power as thermal energy in a hot water system. Sending the excess solar energy to the water heater will make sure that every kWh that your PV system generates will be used and will offset your consumption from the power grid to achieve revenues.
-Carlos Huerta is a trained solar engineer deeply involved in the solar industry with a background in the design of photovoltaic systems for the residential and commercial sector. He is a promoter of sustainable technologies and solutions with a passion for renewable energy. His website is ecotality.com.
Weekly Newsletter
Get building science and energy efficiency advice, plus special offers, in your inbox.