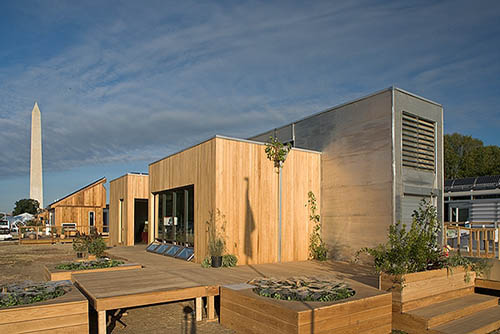 The Department of Energy's biennial Solar Decathlon features major talent, and inevitably yields inspiring, innovative ideas
If you're planning a road trip for the coming months, consider making a stop in our nation's capital in mid-October. The intense summer heat (though not the politics) will have abated, the leaves will be turning, and the 2009 edition of the Solar Decathlon, one of the world's most competitive educational showcases for green home technology, will be in full bloom on the National Mall.
Sponsored by the Department of Energy, the Solar Decathlon has been held in 2002, 2005, and 2007, and, with the 2009 contest, is on track to become a regular, biennial event. This year's competition is scheduled to run October 8-18, with houses open to the public October 9-13, and 15-18.
Solar Decathlon contests really are (pardon the pun) highly charged. Prospective teams of faculty and students, from colleges and universities in North America and abroad, are invited to submit proposals for designing, building, and operating houses that are livable, energy-efficient, and completely solar-powered.
Teamwork of a higher calling
A committee of engineers, scientists, and other experts from the DOE and its National Renewable Energy Laboratory narrows the field to the 20 teams that, over a two-year period, further develop their proposals and eventually bring them to life on the National Mall.
Each Solar Decathlon team competes in 10 areas: architecture (for a maximum of 100 points), market viability (100 points), engineering (100 points), lighting design (75 points), communications (75 points), comfort zone (100 points), hot water (100 points), appliances (100 points), home entertainment (100 points), and net metering (150 points).
That last contest, net metering, is also the competition's newest. Organizers will measure how much net energy each team's house produced or consumed over the course of the competition. Up to 100 points will be awarded both for producing as much power as used, and as many as 50 more can be earned for producing power that can be fed back into the grid.
This year's field of competitors includes 16 teams from schools in the U.S., two from Canadian universities, and two from European universities.
The 2007 Solar Decathlon overall winner, scoring 1,024.85 points, was the team representing Technische Universität Darmstadt, whose campus is in Hessen, Germany. The team's house – easily one of the most-visited during the competition – won the architecture and lighting contests and landed a perfect score in the engineering contest.
Weekly Newsletter
Get building science and energy efficiency advice, plus special offers, in your inbox.