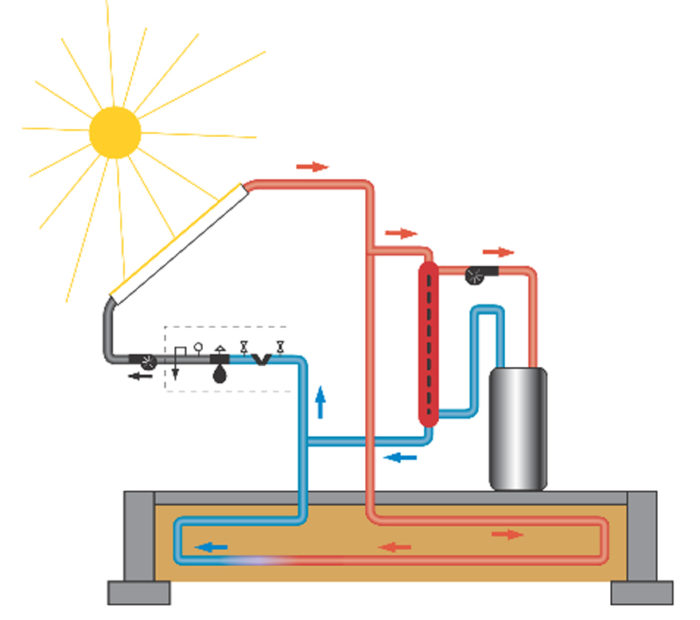 An article written by Martin Holladay, "Solar Thermal is Dead," was published by GBA on March 23, 2012, and another article titled "Solar Thermal is Really, Really Dead" followed it on December 26, 2014. The premise of these articles is that solar thermal is dead because "It's now cheaper to use a photovoltaic system to heat domestic hot water." These two articles have been very widely circulated and remain very much with us today. As one example, I recently Googled "solar domestic water heater" and these articles came up #2.
It is my duty, as a fervent solar thermal advocate, to offer the other side. [Editor's note: The author owns a company that sells equipment for solar thermal systems and radiant floor heating systems.]
Martin's articles miss the mark in some important areas.
First of all, Martin's broad statement that "Solar Thermal is Really, Really Dead," based upon one domestic hot water comparison, goes way too far. Even if the analysis was correct (and it is not), solar thermal encompasses production of domestic hot water (DHW), space heating, radiant underfloor heating, snow melting, root zone heating for gardens, compost production, crop drying, pool heating, and more. Martin is speaking for the talents and creativity of many people, and while I personally admire Martin's many contributions to green energy in this space, these two articles are not among them.
Let me first discuss the comparison between solar thermal and PV and then discuss the potential of solar thermal in general.
Solar thermal is more efficient
To begin with, solar thermal collectors are about five times more efficient than PV panels, and that is a very important consideration. There are many different ways to view the relative efficiencies of PV panels and thermal collectors. One method is to look at peak performance, or what the collectors do under ideal conditions. The other way is to apply a "performance factor" which accounts for the fact that collectors do not always operate under ideal conditions.
The peaking performance of the typical PV panel is about 16%. The peaking performance of the typical flat-plate solar collector is about 76%, according to Wikipedia. That is 475% better.
If we apply the performance factor then we will see what will happen in the real world. The performance factor for PV is about 65% and the performance factor for solar thermal is also 65% at fairly low residential operating temperatures. All of that means that we will get to keep about 10.4% of the solar resource with PV panels and about 50% with thermal collectors.
Either way, solar thermal collectors harvest about five times as much energy as PV. It means that if we want to make useful energy from the sun, it will take almost five times the solar panel area with PV as it will with solar thermal. This matters because there is only so much good south-facing area on a typical building.
If solar thermal panels cost about the same as PV panels, it will cost almost five times as much money. These simple efficiency observations are not the whole story of the comparison between PV and solar thermal but they are certainly the beginning. Then, we must consider the money value of the energy produced, the effectiveness of its utilization, the ability of the energy to be stored and other important factors. But this snapshot of efficiency tells us something about what PV is up against.
It is also clear that we do not get a tremendous amount of energy from solar collectors of either kind. The sun is a gentle form of energy to begin with and we only get 11% of it in the case of PV. We must use it wisely and efficiently, but it does work, both economically and technically.
PV panels produce electricity; solar thermal collectors make heat
To be fair, PV panels produce electrical energy and electricity is wonderful stuff. It has a much higher value than simple thermal energy. It can be used for all kinds of things and our lives would be much poorer without it, but my point is that PV is just not a good way to make bathwater or space heat. It is inherently wasteful.
The conversion efficiency or so called "heat rate" of electrical utility generation is about 33%. The only reason that electric cars make sense is because the efficiency of the internal combustion engine is much less than that (20%).
Thermal energy is also useful to us and we need a lot of it. Between space heating, domestic warm water production, clothes drying, and cooking, a major portion of residential energy consumption is thermal. The remainder that really requires the higher quality of electricity is actually quite small. Environmentalists are telling us that "If you want electricity, then PV is a good way to do that, but if all you want is simple thermal, then you should go with simple thermal solar collectors in the first place because they are much more efficient and environmentally appropriate."
Much is being said about PV costs having come down. It is true and a wonderful thing that PV costs have come down dramatically in recent times, but they still cost more than solar thermal collectors and they produce so much less useful energy. There is really no indication that PV costs will continue to come down. In fact the current low costs of PV seem to be related to predatory pricing practices in the world markets and they may not be sustainable, but let us hope.
Martin used a system cost of about $10,000 for a solar thermal water heater in his first article. That is too high. In a later analysis he offered the option of using $6,000. I find that more reasonable. It is arguable what a two-panel solar thermal water heater should cost, but if you give me your credit card number, I will send one out for $5,361.48. This will buy you the materials, in kit form, for a glycol-based solar domestic water heater, which is the preferred method.
Antifreeze-based systems are more reliable
In my humble opinion, a solar thermal system should run on antifreeze, even in Florida. Key West, Florida is the only city in the continental United States that has never suffered a freezing event. Antifreeze will prevent freezing, boiling over, and corrosion. Glycol systems cost a little more than drain-backs and drain-downs, but they are worth it because of the avoided problems and higher efficiency.
Antifreeze in a solar thermal system does not need to be replaced every two years as in an automobile because there is no exposure to ambient air. The solar thermal system using glycol has only one moving part, the pump, and the glycol lubricates the pump for very long service life. Glycol solutions have been lasting more than 25 years. If a glycol solar thermal system fails (or if the power goes out), it goes to a fail-safe condition. The only true maintenance item with solar thermal systems has been exterior pipe insulation which seems to last about 20 years if it has UV inhibitors. Glycol systems can also be used for other things as well as DHW.
Installation should cost about $1,500. If no one will do it for that, then do it yourself. If you buy a good kit and you have a good installation manual and you are a reasonably competent do-it-yourselfer, the results will be excellent. Martin seems to have counted the cost of the storage tank twice in his comparison between solar thermal and heat-pump powered DHW.
Heat-pump water heaters take heat from the ambient air
There is at least one efficiency problem with heat-pump water heaters: They rob Peter to pay Paul. The First Law of Thermodynamics informs us that energy can be neither created nor destroyed (but it can be moved). Accordingly, the heat that is produced for domestic water is moved from the ambient air and must eventually be replaced by the space heating system.
Martin's analysis compared the performance of solar thermal systems, making domestic hot water only with PV panels operating at 20% of tilt and just making energy. They are not comparable. PV panels at this tilt will be covered with snow all winter and would do little even if they were not. We must compare PV systems with solar thermal systems operating under the same conditions in order to learn anything.
Maintenance in solar thermal is minor
Martin mentioned maintenance problems in his comparison between PV and solar thermal. Here, we have to be careful not to confuse true maintenance with the cost of correcting mistakes. We all know of solar thermal systems that freeze up, boil over, leak, etc. But this is not the fault of solar thermal in general.
If you select a proven design and install it according to the manual and with care, a solar thermal system will be a pleasure to own for the life of the building.
On the other hand, if you create something experimental, and don't consider every single thing, and then cut some corners, it can and will bite you. Your solar thermal system can be like a good refrigerator; it will run quietly and without maintenance for a very long time.
Combined uses help utilization
Martin correctly notes that solar energy must be effectively utilized or it is not very useful. A major advantage of PV systems is their utilization rate which can approach 100% because the electricity that exceeds the immediate demand can be sent back to the utility where it can be used for other purposes.
The benefits of solar thermal are "site-specific." If you cannot use the solar thermal energy at the time that it is produced on site, it may be wasted at best and may even be a nuisance. But it is true that you can (and should) improve utilization of the solar energy with end uses that can be valuable and even fun.
It is incorrect to compare PV panels with utility-combined uses with solar thermal without combined uses. One of the most attractive combined uses for solar thermal energy is for underfloor radiant heating, and we will use it as one example where solar thermal is certainly "not dead."
Radiant underfloor heating with solar thermal: a major improvement
We have time in this space to look at one particular solar thermal application that is ideal for residential applications and in combination with DHW uses. I ask you to set aside what you may have heard previously about solar thermal and solar space heating and take a new look. It is just possible that when solar thermal is combined directly with radiant underfloor heating, there are significant benefits that have been underappreciated in the past.
A glycol solution which is warmed in the solar collector flows to the DHW heat exchanger and also to a radiant panel floor. When space heating is no longer wanted, a thermostat turns off the flow to the floor. Simple as that.
The main reason that radiant underfloor heating goes together so well with solar thermal is because it is a very low temperature use and low temperatures lead to higher efficiency in the solar collector because less heat is lost to the outside air. Solar collectors that can operate at lower temperatures will harvest significantly more energy than if they must run at higher temperatures.
What we are proposing here is a hybrid solar space heating system that combines the relative advantages of active approaches (solar collectors and pumps) with the advantages of passive designs (using the natural materials and design) and yet leaves their respective disadvantages behind. It might be called "an Active Charge/Passive Discharge Solar Heating System" where the solar energy is collected and brought into the building in an active manner and then stored and delivered in a passive manner.
Active design approaches can collect the solar energy with excellent efficiency and do not lose energy during periods when they are not operational (as passive collectors do). But the usefulness of purely active systems has been compromised by the cost and complexity of the various mechanical systems needed to collect, store, and distribute solar energy.
Passive approaches reduce cost and complexity by using conventional building components to collect, store, and distribute solar energy, but the overall usefulness is compromised when the collection element is a part of the building envelope and loses heat at night. Passive approaches can be very demanding in terms of architecture and orientation.
It can be seen that the hybrid design will be low in cost because of its simplicity and highly efficient because of its low operating temperature. "The solar collectors operate at the highest possible efficiency because they operate at the lowest possible temperature" (second stage evaluation by National Bureau of Standards).
The very high efficiency caused by the low operating temperatures enables a small amount of cloudy day performance and a considerable improvement in partly cloudy and morning and afternoon performance. The "slab on grade" construction element provides enormous thermal storage at almost no cost.
A DOE report
The U.S. Department of Energy (DOE) thoroughly studied one such design and published a report titled "Technical Evaluation of a Solar Heating System Having Conventional Hydronic Solar Collectors and a Radiant Panel Slab." The report concluded that the hybrid design which costs only half as much as referenced active systems collected about twice as much solar energy and delivered it into the building. From that point, the building's very low heat loss and the building's high thermal storage ability enabled high solar heating fractions in the difficult Northern Vermont climate.
The radiant heat will be appreciated with all floor types, but if the flooring and the structure beneath is capable of storing lots of heat energy (slab on grade construction), a significant solar heating fraction can be the result.
In comparison with any other active or passive solar heating system, the use of this hybrid solar heating method greatly increases efficiency, greatly lowers cost, improves performance, and improves architectural flexibility. Investment performance is improved accordingly.
Investment value in Boston considering energy saved and reduction in the cost of the conventional heating system and not considering tax credits was calculated to be 14% per year tax free.
A layman's language description of the hybrid design was provided by Fred Langa, Senior Editor of New Shelter magazine.
The effectiveness of the passive solar storage element (the radiant floor) will be dependent upon what it is made out of and where the insulation is placed and how energy-efficient the building above is. Certainly slab-on-grade construction will store a great deal more heat than wooden floor joist construction. If you construct a building with very low heat loss (superinsulated), and then if you incorporate a high level of thermal mass (slab on grade), you can expect to see a solar heating fraction in excess of 90% in a poor climate like Northeastern Vermont. You will need 7 or 8 solar panels for a 1,500 square foot house. If you want wood joist floor construction, or if you only want 4 or 5 solar panels, you can expect a 50-60% solar heating fraction. On most days of the year, you will have all of the heat that you want and you will enjoy radiant comfort every day. On most days of the year, you will have all of the DHW that you want.
Bear in mind that Northeastern Vermont is about the poorest place in the country for solar heating. If you live anywhere else, these numbers will change for the better and you do not need to go to the superinsulated level.
A warm floor will lose more heat downward than an ice-cold floor, so proper insulation is important, but the floor will not lose more heat downward than other radiant floor systems.
Other solar thermal uses
Let's think about some of the other benefits of solar thermal.
If you have a solar DHW heater it will produce more heat than the absolute minimum that you require on many days. This is not a bad thing. It is called luxury and abundance. Most people cannot have all of the hot water that they want without guilt.
You can water your garden with extra warm water and not set your plants back a week with ice cold water. Speaking of gardening, you can put a couple of extra heating loops in the garden. Your garden will get off to an early start and last a couple of weeks longer. Your flowers and vegetables will be larger than everyone else's.
You can put a loop in the compost heap and get more compost sooner. You can put a loop in the driveway or walkway for deicing and snowmelt. It will work efficiently because of very low operating temperatures. You will track less salt and sand into the house and it will be safer. You can use excess solar energy to heat your pool.
The environment
Now, we are at the end of this economic analysis. I hope that I have made the case that PV-produced electricity is not really a less expensive way to make domestic hot water. I also hope that I have made the case that solar thermal is anything but dead and can be efficient, cost-effective, reliable, low-maintenance and even luxurious.
But now, I want to make the case that solar thermal can help us meet important social responsibilities. Environmental concerns are hard to quantify in terms of money. But just because they are arguable and hard to quantify does not justify scoring them at zero. Where and how shall we score the fact that in a few decades, Glacier National Park will have no glaciers? I do not mean to belabor these environmental and moral issues, but I cannot ignore them totally either. (I am writing for Green Building Advisor.)
Environmentalists are nearly unanimous in their perspective that we must not use utility-provided electrical energy frivolously. They say that the production of electrical energy has serious profound consequences now and well into the future. They note that most of our utility-generated electrical energy is made out of either coal or uranium. It may be OK to use electrical energy in small amounts for end uses that cannot be readily made by lesser fuels. But it is not OK to use electrical energy in large quantities to perform simple thermal tasks that could be done with any other fuel at lower cost and lower environmental impact.
It is important to understand that unless you live in the woods, off the grid, we are all interconnected. The PV energy that we make goes into a common pool. If we use utility-provided electricity for any purpose, we will cause some utility somewhere to burn coal. If we do not consume wantonly, the utility can reduce coal-generated pollution. It means that even if you have a photovoltaic panel, you cannot honorably use utility-provided electrical energy to make bathwater. After all, if you did not use electrical energy to make bathwater, that energy could have gone back to the utility to reduce pollution or could be used for another more appropriate purpose.
Good electric vehicles are available now. Elon Musk, the green business magnate, tells us that attractive PV roofing materials will be available in October 2017 (but they will not be cheap). So use PV electricity to run your car, or run your computer, or your lights or your television, but use solar thermal to make your bathwater.
Either way, free solar energy is yours; take it.
Robert Starr is a solar thermal advocate who lives in northeastern Vermont. He is president of the Radiantec Company, a supplier of underfloor radiant heating and solar heating products.
New Shelter magazine story.pdf
Robert Starr et al – DOE report from 1984.pdf
Weekly Newsletter
Get building science and energy efficiency advice, plus special offers, in your inbox.