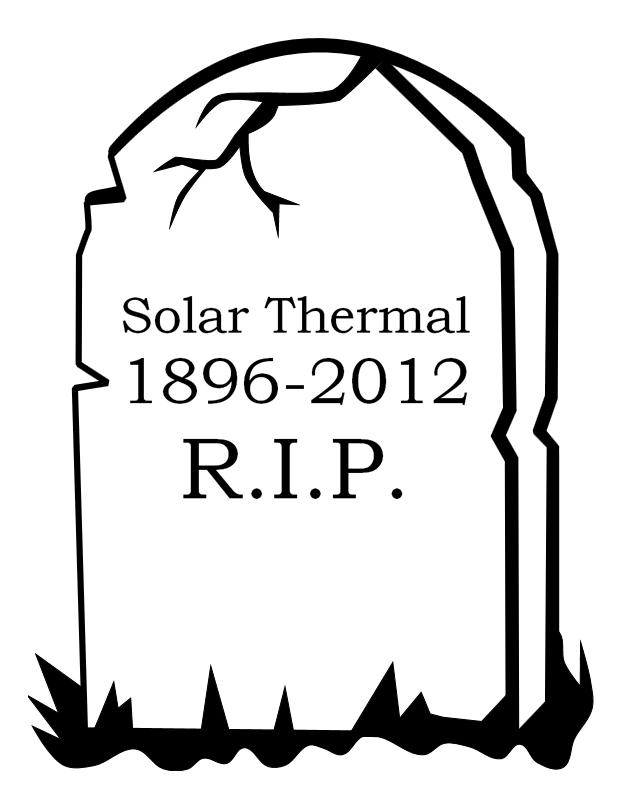 Back in early 2012, in an article called "Solar Thermal Is Dead," I announced that "it's now cheaper to heat water with a photovoltaic array than solar thermal collectors."
Now that almost three years have passed, it's worth revisiting the topic. In the years since that article was written, the cost to install a photovoltaic (PV) system has dropped significantly. Moreover, I've come across monitoring data that allow for a more accurate estimate of the amount of electricity needed to heat water with electric resistance elements or a heat pump.
First, I'll present my assumptions.
How much does a solar thermal system cost?
In my earlier article, I estimated that a residential solar thermal system with two 4′ by 8′ collectors and a solar storage tank with a capacity in the range of 80 to 120 gallons costs between $8,000 to $10,000 to install. I stand by that estimate.
Of course, some contractors can beat this price, while others will charge significantly more. (In a recent comment posted on GBA, an Ohio-based solar contractor named Daniel Young estimated that the solar thermal system I describe would cost $16,250.) For the purposes of the comparisons made in this article, I'll assume that the installed cost of a residential solar thermal system is $9,000.
How much does a PV system cost?
My calculations are based on a PV system cost of $3.74/watt. The figure comes from a the "Solar Market Insight Report 2014 Q2" published by the Solar Energy Industries Association.
Some GBA readers have received quotes of $3.50/watt for a PV system, while others are still paying $4.00/watt or more. One thing's for sure: prices for PV are still dropping.
The price comparisons made in this article do not include any incentives, rebates, or tax credits.
Weekly Newsletter
Get building science and energy efficiency advice, plus special offers, in your inbox.
This article is only available to GBA Prime Members
Sign up for a free trial and get instant access to this article as well as GBA's complete library of premium articles and construction details.
Start Free Trial
Already a member? Log in