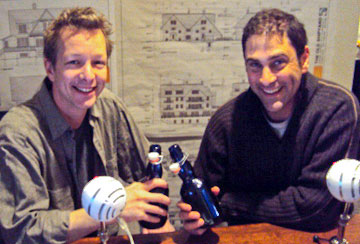 Hi, Everyone! For better or worse, Dan (Morrison) tossed us the keys to the blog, so we're posting without a net, so to speak. Phil and I were very lucky to have a special guest for this episode: Pat Coon. Pat is co-founder of Revision Energy, and is well under way in starting a new company, Revision Heat. Pat brings to the podcast his in-depth knowledge of solar thermal design and installation, as well as his craft in home-brewing technology. Together, we discuss the logistics, benefits, and challenges of solar thermal design for the home.
To listen to GBA Radio on your iPod, right click on the green 'Download .mp3' words above, save 'Link' to your desktop, drag the file into iTunes, and enjoy the show whenever you want to!
In this solar thermal podcast we cover:
Different kinds of solar arrays: tubes and flat plates, and when and why you might use one or the other.
Optimal installation angles and their relevance.
How much solar do you install? How do you maximize efficiency?
Should you take on space heating as well as domestic hot water?
A great discussion about "return on investment," NOT "payback," AND how to talk to your client about it.
What are some typical problems to avoid? (Such as air bubbles, stagnation, solar dumps, and leaks.)
I share my six-digit idea, the "splash pot," and Phil shares his solar tube trellis idea with Pat. Hot Zigg!
Then Phil leaves us with a song by the refreshingly unique Joanna Newsom.
We hope you enjoy the program.
Enjoy the previous episode of the Green Architects' Lounge: "Architects Discuss Passive Solar Design."
Weekly Newsletter
Get building science and energy efficiency advice, plus special offers, in your inbox.