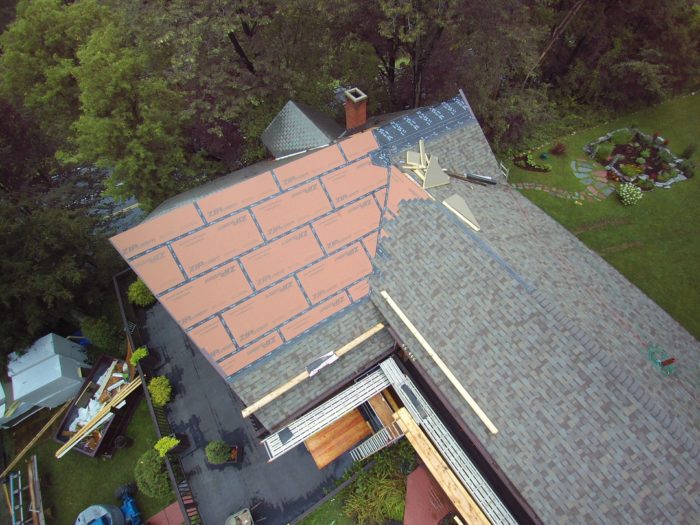 Because of improved product and installation methods, techniques to build new or remodel existing homes have advanced dramatically in the past few decades. In 2017, I used one of these innovations — continuous exterior insulation — to solve ice dam and heat loss issues of my seven-unit apartment building located in Pownal, Vermont.
Regular ice dams and leaks
In 1996, my significant other Rich and I purchased a building that had been a motel and remolded it into a seven-unit apartment building. At that time the asphalt shingle roof was fairly new.
The original structure was a house built in the late 1800s; then in the 1960s a two-story attached motel wing was added.
Given that the property is located in snowy Vermont, certain areas of the roof required raking after each snowfall to prevent ice dams. Even so, several years ago the 4,250-square-foot roof began experiencing consistent ice dams leading to leaks. We made emergency repairs, but a permanent fix was vital.
In addition to air leakage, five factors contributed to the water entry problems:
1. The age and quality of the shingles
2. Sloppy installation of the roofing
3. Failing valleys
4. Lack of any roof overhang on the west side of building, and
5. Insufficient insulation.
While various roof areas were affected by occasional ice dams, a particular second-floor apartment suffered repeated damage. Ice melt originating from the roof dripped through the attic and leaked next to a light fixture.
Another serious issue occurred with a first-floor apartment. With the "right" weather conditions, water puddled above all the west-facing windows and dripped inside. (Only heavy towels laid across the sills saved the interior.) This situation occurred because the roof lacked any overhang — precipitation seeped down from the edge of the roof between the sheathing and siding. Areas of the window sills, siding, and sheathing were rotted.
While it was clear that we needed new roofing, it was not clear to me at first which products or techniques would best fit our needs and budget. The solution finally came down to two choices.
The first solution: a standing-seam metal roof
Installation of a standing-seam metal roof was appealing because a standing-seam roof is long-lasting and good-looking, and because photovoltaic (PV) panels are easily attached to clips that can be clamped to the standing seams.
But because the building faced southwest, installing PV would require the removal of four 75-foot-tall pine trees. To be worth the substantial investment, we would need enough PV panels to cover almost the entire front side of the roof.
The estimate to install a 4,250-square-foot standing-seam metal roof was $60,000. And that price did not include insulation, PV panels, or the repair of any extraordinary problems that might be uncovered beneath the existing shingles. And there was no guarantee that a metal roof without additional insulation would prevent future ice dams.
It was imperative for us to find a solution to prevent ice dams — a solution that didn't involve climbing any more 16-foot ladders in winter to rake snow off the two-story roof.
The second solution: Continuous exterior foam insulation
I first heard about high R-value unvented compact roofs from Dr. Joseph Lstiburek, the founding principal of Building Science Corporation. Joe is known for his skill at explaining the whys and wherefores of building science. He is the smartest, most entertaining building expert I've ever heard.
At a conference some 15 years ago, Joe described the technique of wrapping a building's exterior with rigid insulation to prevent thermal bridging. The method includes the installation of a "drain plane" (rainscreen gap) to help the siding dry out. Immediately and successfully I began using that technique. Then last year, after hearing about Joe's roof experience with his own home, I became convinced that insulation placed above the roof sheathing would save energy and prevent ice dams.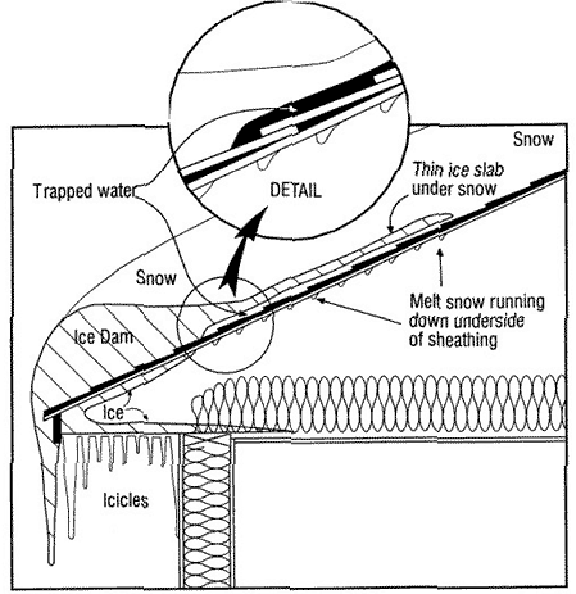 Like so many older buildings in the northeast, my building's basic structure — its shallow framing — contributed to the ice dams. The attic lacks sufficient space to install adequate insulation, especially near the eaves. Because of air leaks, warm air rises from the heated living space below and passes through the attic causing snow to melt. Low outdoor temperatures cause the melted snow to freeze.
Depending on weather conditions, this scenario may repeat itself. When temperatures rise, the ice melt can find weak spots, causing water leaks in living space.
I called a number of general contractors to hear about their experiences using continuous rigid foam insulation above the roof deck on a sloped roof. (Commercial roofers have successfully used this approach for years on low-slope roofs.) Of the people I called, only two — a G.C. from Long Island and a building inspector from Massachusetts — had used this method. Both are now enthusiastic advocates of this approach. Hearing their successful stories (in addition to Joe's) convinced me.
The virtues of continuous exterior foam insulation above the roof sheathing — preventing ice dams and reducing heating and cooling costs — were more important than the reduction in my electricity bill that might accrue from installing a PV system. (I could not afford both types of retrofits.)
I chose polyisocyanurate
To proceed, I needed more information about available products and the best procedures.
The first product I was anxious to specify was the insulation. The amount of insulation required depends on climate zone. In Vermont (Climate Zone 6), the code calls for roof insulation with a minimum R-value of R-49.
I came across information about 4-inch-thick polyisocyanurate (ISO 95+ GL) manufactured by Firestone. The product had the highest R-value per inch I'd yet encountered. The 4-inch-thick product was rated at R-23.6, so the R-value of two layers would be R-47.2.
I was psyched; I could easily achieve my objective. (The existing attic insulation was a meager R-20.) The cost of two layers of 4-inch polyiso for the 4,225 square foot roof (252 pieces) was $11,206.
According to the Polyisocyanurate Installation Manufacturers Association (PIMA), "Polyisocyanurate foam (polyiso) is a rigid board insulation formed in the factory between two facers. The facers provide stability, control the foam thickness, and most importantly, provide compatible surface attachment. The majority of the facers used in roofing are fiberglass reinforced. Polyiso has a high R-value, is lightweight, fire-resistant, and user-friendly. Polyiso is compatible with most roofing system applications and is the most widely used insulation product in the roofing industry. While having the highest R-value of any of the insulation products, polyiso does face some long-term thermal loss. When designing a roof specification one should always use aged R-values."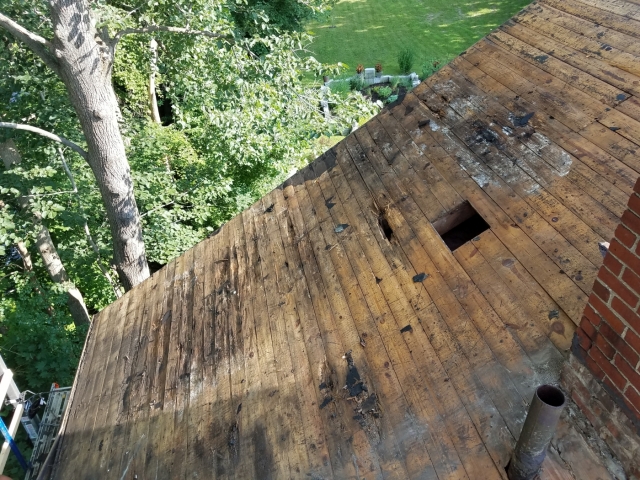 A high-R roof assembly with exterior rigid foam
(1) All existing asphalt shingles were removed; many sections had three or four layers. The condition of at least 50% of the original sheathing was abominable. The bad sheathing was replaced with 5/8-inch CDX plywood.
It seems that prior roofing problems (before the installation of the new roof in the 1990s) were "fixed" by adding additional shingles. Half the original sheathing had delaminated, was rotten, or had actual holes.
(2) A synthetic roofing underlayment, Owens Corning Deck Defense, was applied over all of the sheathing (see Image #2, below).
(3) A new 2×10 fascia, high enough to accommodate the insulation, sheathing, and roofing material, was installed at the perimeter of most of the roof slopes. The fascia was toe-nailed to the joists.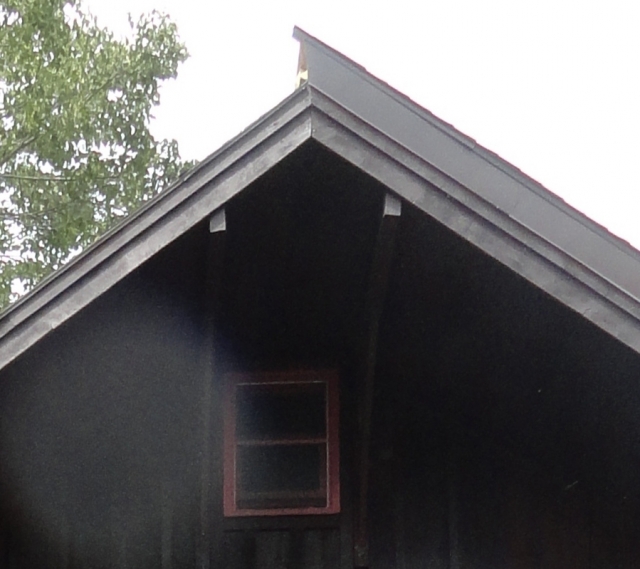 (4) Workers installed two layers of 4-inch polyiso (4' x 8' sheets of Firestone ISO 95+ GL). The second layer was installed with staggered joints. The polyiso sheets were easily installed working from the fascia up. All gaps were with filled with minimal expanding canned spray foam. Seams were taped with Zip System tape (see Images #3 and #4, below).
(5) Because the roof was large, and because rain is a constant threat in Vermont, the project proceeded in sections. To keep the polyiso dry, tarps were used to cover sections that were not yet completed.
(6) All penetrations like vent pipe were air sealed with minimal expanding canned spray foam.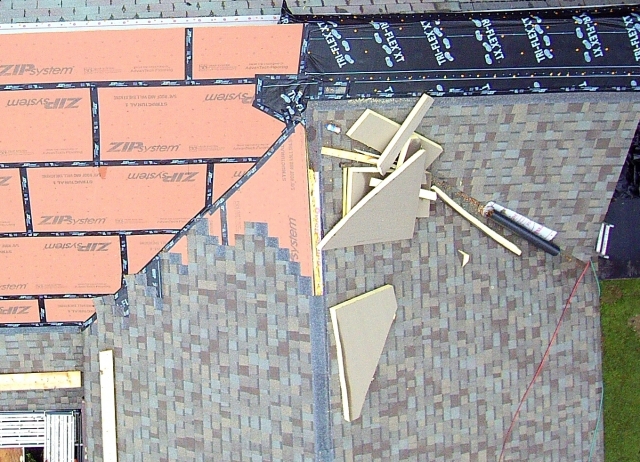 (7) The polyiso was covered with Huber 5/8" tongue-and-groove Zip sheathing. Long screws (12 inch heavy-duty screws from Firestone) were used to fasten the new sheathing through the rigid foam to the rafters. Workers found that the lines on the sheathing were useful guides to position the screws. Each 4' x 8' piece of sheathing required 33 of the 12-inch screws.
(8) The new Zip sheathing was covered with underlayment (Tri-Flex XT underlayment from GCP Applied Technologies). This underlayment is slip-resistant.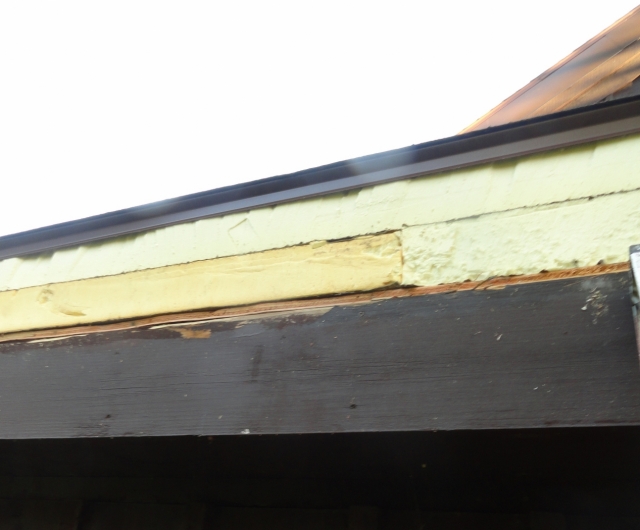 (9) At the perimeter of the roof, the exposed polyiso was protected with 24-inch-wide aluminum coil stock.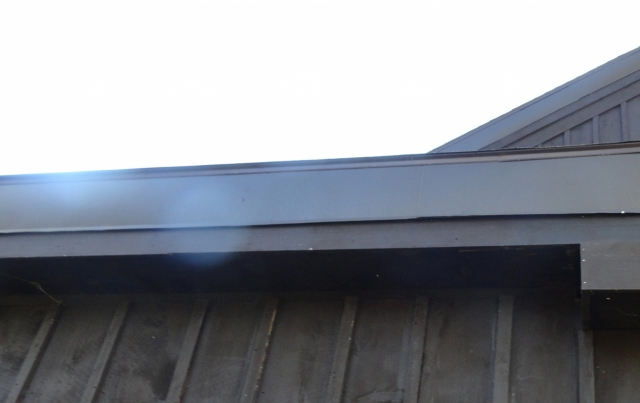 The coil stock is brown, like the building. The contractor bent the coil stock on site with a brake.
(10) The roofers installed the shingles (see Images #5 and #6, below).
Total project cost was $60,324
The project cost $14 per square foot.
Here are the cost figures for the 4,250-square-foot roof:
$1,584 5/8-inch CDX plywood to repair rotten sheathing
$1,202 Owens Corning Deck Defense synthetic roofing underlayment
$620 2x10x16' spruce for fascia
$11,256 252 4'x8′ sheets of 4-inch Firestone ISO 95+GL polyiso insulation
$5,000 5/8-inch Huber Zip System roof sheathing (installed over the polyiso)
$200 Zip System tape
$3,000 12-inch-long Firestone heavy-duty screws (33 screws per panel)
$150 Minimal-expanding spray foam (in 12-oz. cans)
$3,000 GCP Tri-Flex XT roofing underlayment
$145 8-inch brown galvanized dripedge flashing
$300 Tri-Built aluminum coil stock
$4,000 Owens Corning Duration Driftwood asphalt shingles
$2,867 Rubbish removal
$25,000 Labor
$2,000 Miscellaneous
$60,324 TOTAL
Shingles plus 8 inches of polyiso cost the same as a metal roof without insulation
Adding 8 inches of polyiso insulation above the roof sheathing along with a second layer of roof sheathing and new asphalt shingle roofing cost the same as installing a standing-seam metal roof without any insulation. However, this high-R-value roof assembly should prevent future ice dams and reduce heating and cooling costs.
Because the roof configuration of the building includes cathedral ceilings, and since there are few roof penetrations, and since the crew took care with their installation, I did not include a vented air space (as some installers do) above the polyiso layer.
In a Fine Homebuilding article, GBA editor Martin Holladay wrote, "If you choose to install rigid foam on top of your roof sheathing, the foam has to be thick enough to keep the lower layer of roof sheathing above the dew point in the winter. If the foam is too thin, the roof sheathing will be cold, which can lead to problems with condensation or moisture accumulation."
In an article published on the Building Science Corporation web site, Joe Lstiburek wrote: "Insulation Above and Below Roof Deck – The rigid insulation can be 'anything' above the roof deck. The main stipulation is the thermal resistance of this rigid insulation above the roof deck is based on [the ratios shown in] Table 1. The 'air permeable insulation' can be pretty much anything as well… just as long as the thermal resistance of this layer does not violate the 'ratio.' … This performance requirement is a 'simplified' 'conservative' approximation of all the historical experience and field work. Think of it as what it is…an "engineering coefficient"…..OK, more of an engineering equation providing boundary conditions…. not derived from first principles but derived from observed experimentation and field experience.
"Sloping Unvented Compact Roof — It is important to have an air barrier directly on the top of the structural roof deck and to have multiple layers of rigid insulation with the joints offset horizontally and vertically. It is not a good idea to only have one layer of rigid insulation due to convection."
The ratio table in Lstiburek's article is similar to the table shown in the GBA article titled Combining Exterior Rigid Foam With Fluffy Insulation (reproduced below).
No more ice dams
We had two priorities: to prevent ice dams, and to reduce heating and cooling energy costs.
As of this writing, the building has had no ice dams! We've had several snowfalls, and even though the roof was not raked, there haven't been any icicles.
This winter the lowest temperature in the unheated attic space (in subzero windy weather) was 68°F. Typically, the attic temperature is even warmer: 70°F to 72°F. Clearly, the insulated roof reduces heating energy costs. We'll be able to calculate the savings once the first heating season is over. We also intend to monitor the attic temperature throughout the summer.
Pauline Guntlow has a Massachusetts general contractor license. She designs and manages everything from kitchens to entire homes.
Weekly Newsletter
Get building science and energy efficiency advice, plus special offers, in your inbox.