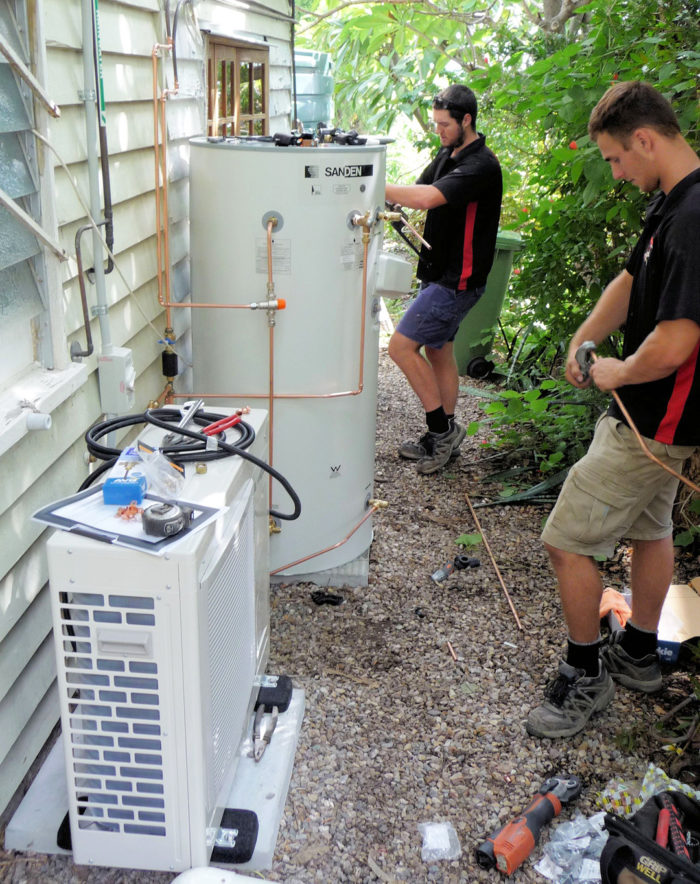 Heat-pump water heaters are a type of air-to-water heat pump. Almost all heat-pump water heaters sold in the U.S. extract heat from the air in the room where the water heater is located, transferring the heat to water in an insulated tank.
In Japan, heat-pump water heaters are configured differently; they have an outdoor compressor rather than an indoor compressor. (The outdoor units of these heat-pump water heaters resemble the outdoor units of a ductless minisplit.) This type of air-to-water heat pump is called a "split system" heat-pump water heater; it is designed to extract heat from outdoor air rather than indoor air.
The main advantage of locating the compressor outdoors is that these water heaters don't lower the temperature of the indoor air during the winter. If this type of air-to-water heat pump has a large enough capacity, it can be used not only for domestic hot water, but also for hydronic space heating.
The Daikin Altherma
A few models of split-system air-to-water heat pumps are available in the U.S.; perhaps the best known of these appliances is the Daikin Altherma. Daikin manufactures Altherma units that have a large enough capacity to provide space heating as well as domestic hot water.
While Daikin Altherma units generally perform well, they have a few disadvantages:
Weekly Newsletter
Get building science and energy efficiency advice, plus special offers, in your inbox.
This article is only available to GBA Prime Members
Sign up for a free trial and get instant access to this article as well as GBA's complete library of premium articles and construction details.
Start Free Trial
Already a member? Log in