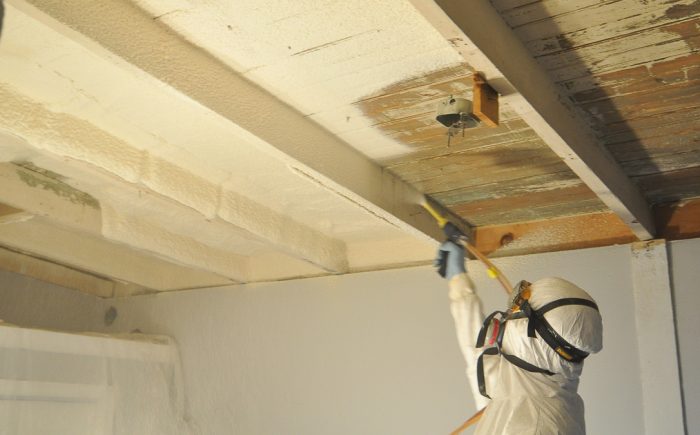 DIY kits allow homeowners to apply spray foam insulation without hiring a professional installer. But there are a few things to keep in mind before pulling the trigger. Photo: Photo credit: S. Davis / CC BY-NC-ND / Flickr
Andy Fellenz is doing some insulation and air-sealing at the rim joist of his house, and he thinks it might be a good opportunity to use a spray foam kit—an option somewhere between canned foam used to seal windows and doors, and a full-fledged professional foam installation.
In this recent Q&A post, Fellenz says: "I have installed 3-1/2-in. polyiso blocking to the rim joist between the floor joists and would like to put a layer of foam over the blocking to seal the blocking in and deal with any penetrations through the rim joist and bottom plate leading to the first floor.
"I'm also planning to use some foam to seal in some foam blocking that is above my top plate on the wall in a few locations," he continues, "especially where I will have a cathedral ceiling."
In all, Fellenz thinks he'll need about 300 board feet of the material.
What are the best brands of foam on the market, he asks, and what's the best way to tackle this job? That's where this Q&A Spotlight begins.
Make sure the kit is warm
Although Zephyr7 would be more likely to use canned foam to seal foam blocks at the rim joist, he says he has used DuPont Froth-Paks a number of times with good results.
He offers a few tips:
Weekly Newsletter
Get building science and energy efficiency advice, plus special offers, in your inbox.
This article is only available to GBA Prime Members
Sign up for a free trial and get instant access to this article as well as GBA's complete library of premium articles and construction details.
Start Free Trial
Already a member? Log in