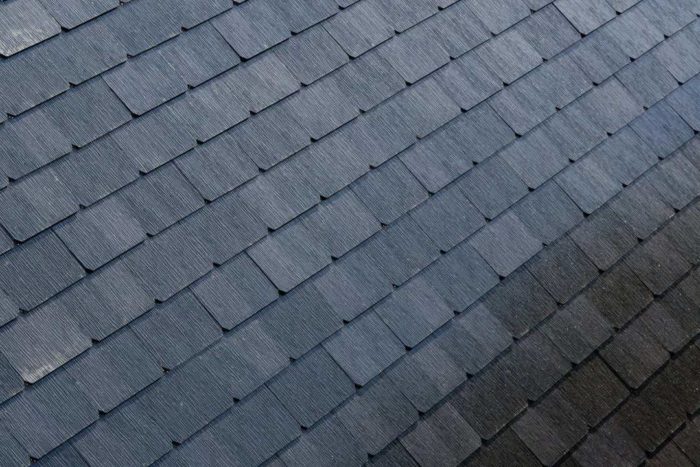 Tesla has started manufacturing its long-awaited photovoltaic (PV) roofing tiles at a new factory in Buffalo, New York, and customers who plunked down $1,000 deposits last year could start to see their new roofs in the next few months, Reuters reported.
The roof tiles come in four versions, all with a tempered glass top surface that conceal solar cells. Tiles can be made to look like slate and clay tile, and also come with a smooth or textured surface. Tesla pitched the product to homeowners who wanted the benefits of solar energy but didn't want to look at conventional panels and racks.
Tesla originally hoped to be installing solar roofs last summer, and the company began taking $1,000 deposits last May. But until now installations have been limited to a dozen or more employees, including CEO Elon Musk and Chief Technical Officer JB Straubel, who got them as part of a pilot program last year.
The company has not disclosed how many orders it's taken for the tiles, but Reuters says Tesla has started surveying the homes of customers who put in orders and should be starting to install the roofs in the next few months.
The website Futurism said potential customers have been limited to the smooth or textured glass tiles to date, with the tile and slate versions to be available later this year.
Early versions of the tile were made at a plant in Fremont, California, but the company has now transferred production to its "Gigafactory 2" in Buffalo. The tiles are being made at in a partnership with Panasonic Corporation.
Eventually, the company wants to produce PV panels with a combined capacity of 2 gigawatts per year. There are some 500 employees working in the plant now, far fewer than Tesla will need to employ in order to meet terms of a deal with the state of New York. According to a post at Greentech Media, New York committed $750 million to the 1.2 million-square-foot plant as long as Tesla could create more than 1,460 jobs in the Buffalo area by the time it's fully up to speed.
Tesla has said that a PV roof could cost between 10% and 15% less than a conventional roof plus rack-mounted PV panels. Electrical output would be set by mixing power-producing tiles with identical looking blanks. Customers can order a roof at the company's website with a refundable $1,000 deposit. A calculator estimates the amount of roof that should be covered with the tiles, how much electricity the roof should generate, and the net cost of the tiles over their 30-year life span.
Weekly Newsletter
Get building science and energy efficiency advice, plus special offers, in your inbox.