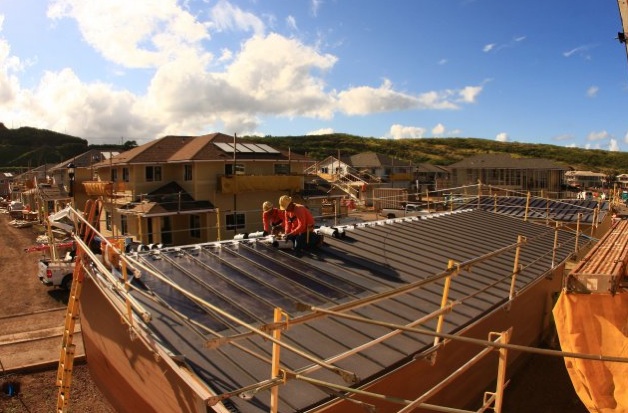 On August 1, the U.S. Army public affairs office in Hawaii published a feature story about the service's new conservation initiative, which is aimed at preserving natural resources and making energy efficiency key to strategies for housing construction and improvements in transportation and general operations.
"One thing that I admire about the Army is that we are full of extremely creative individuals," Katherine Hammack, assistant secretary of the Army for installations, energy and environment, told the press officer at U.S. Army Garrison-Hawaii last month.
In many cases, the Army will rely on the ingenuity and know-how of its soldiers to develop and deploy conservation strategies, although some of the more complex and large-scale energy saving initiatives will involve military and civilian experts. Among the most high-profile of these will be the U.S. Military Academy at West Point "Net Zero Installation" project – a series of facility upgrades that will include the installation of renewable-energy systems, advanced lighting and power monitoring systems, barracks upgrades, a biomass system, and the construction of a new barracks to net-zero-energy performance standards.
An airtightness requirement
Army standards for airtightness, as adopted a few years ago by the U.S. Army Corps of Engineers, are already very high for both renovations and new construction. The Army Corps' HVAC commissioning procedures include air-barrier testing that show building envelope leakage rates of no more than 0.25 cubic feet per minute per square foot of building envelope, when tested at 75 Pascals. This is no small challenge. As noted in "Controlling Air Leakage in Tall Buildings," an article published in 2009 by the American Society of Heating, Refrigerating and Air-Conditioning Engineers, the Army is getting a lot of practice at identifying potential air-barrier deficiencies in building shells at the "pre-design" stage of a project, which allows the design-build team to address the issues and meet the leakage-rate requirement in a timely and cost-effective way.
The need is there
It won't be cheap, but it is a good time to act because many of the barracks at the fortress-like academy are overcrowded, and the campus, perched high above the west bank of the Hudson River, near Highland Falls, New York, is exposed to extreme weather during the winter. Construction of the new barracks – the first built on the campus since 1972 – is scheduled to begin in 2013, and will cost about $131 million.
Initial investment in West Point's barracks project is coming from energy-saving specialist Noresco, which so far has awarded the school $25 million in Energy Savings Performance Contracts (ESPCs) – partnerships between energy service companies and federal agencies. Supervised through the Department of Energy's Federal Energy Management Program, the partnerships allow energy service companies such as Noresco to conduct comprehensive energy audits for a federal facility, identify improvements to save energy, design and construct a project that meets the agency's needs, and arrange the necessary funding.
One advantage to ESPCs, the DOE notes, is that they allow federal agencies to move forward on energy saving projects without committing large amounts of their own capital upfront, and without special congressional appropriations. The energy service company's obligations are extensive, however, since it must guarantee that the improvements will generate enough energy cost savings to pay for the project over the term of the partnership contract. Contract terms up to 25 years are allowed, and additional cost savings after the contract ends accrue to the federal agency.
Weekly Newsletter
Get building science and energy efficiency advice, plus special offers, in your inbox.