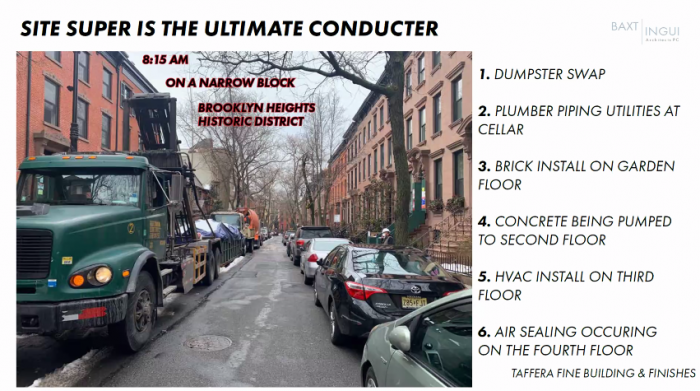 This episode features Michael Anschel, Michael Ingui, and Trevor Hults talking about high-performance design and construction in the city environment. We hear about the innumerable complexities that force architects—and even more so, builders—to become masters of logistics. There are the hours of sitting in traffic to move five miles, the half hour more to find parking, the problems related to accessing the site and getting materials into the house, the impossible number of required permits, the restrictive design guidelines, the complications of construction debris removal, the threat of theft . . . the list is long and nightmarish, and each obstacle drives costs up and impacts the bottom line. Trevor describes two of his New York projects—one urban, one suburban—to illustrate how much more expensive it is to work in a dense urban environment. He also makes the point that a skilled labor force is being priced out of living in those neighborhoods, making long commute times yet another challenge. The words "painful" and "schlep" come up and few times, but so does the word "camaraderie." This is a richly layered conversation that anyone in the residential building industry is sure to appreciate. Hats off to our guests for pulling off what amounts to a Herculean feat on a daily basis.
Enjoy the show!
Join us on Thursday, June 3, from 6 to 7:30 p.m. EST for a discussion with Allison Bailes, Ed May, Marc Rosenbaum, and John Loecher about energy modeling and load calculations. They will explain the similarities and differences between the two, and talk about the software and skills needed. Why do one over the other? Should architects and builders do the calculations themselves or hire experts? What kind of training is required? How accurate are the results? What are potential pitfalls of doing a model or load calculation incorrectly? Are there differences between residential and commercial modeling load calculations? These are among the questions our guests intend to address.
Guest bios
Marc Rosenbaum, P.E. is a long-time student of making great buildings. Much of his recent work has been zero-net-energy buildings, deep-energy retrofits and Passive House projects. His work has been recognized nationally by ASHRAE, AIA, EEBA, and NESEA.
John Loercher is a consultant specializing in energy modeling and envelope design. His firm, Northeast Projects, specializes in Passive House design and certification and serves a diverse range of projects including single-family, multifamily, commercial, new construction, and most importantly, retrofits. He is the co-director of the building science program at Rensselaer Polytechnic Institute in Troy, N.Y., and instructor for the Passive House Institute U.S., where he teaches energy modeling, building science, and envelope design to students—both collegiate and professional. 
Ed May is an architect, Passive House consultant, and educator. Ed teaches with the Passive House Academy, the North American Passive House Network, and Passive House Canada, and is certified by the Passive House Institute (PHI) in Germany and the Passive House Institute of the US (PHIUS) as a Certified Passive House Consultant. He has been an adjunct professor at Parsons the NewSchool University as well an industry professor at Stevens Institute of Technology in Hoboken, N.J., where he directed the school's 2015 Solar Decathlon program.
Allison Bailes became "semi-famous" (or so he's been told) by undertaking his building science education in public through writing the Energy Vanguard blog. He has also built a house out of structural insulated panels, been regional manager for a green building program, and started a company that does third-party residential HVAC design for clients across North America (a rare service fraught with difficulties). He started his building science career after getting kicked out of academia in 2004, and has never looked back.
Use this link to register for The BS* + Beer Show  
BS* + Beer Book Club
Because the hosts of the BS* + Beer Show all love to read, we thought we would celebrate the authors in our industry by adding a book club to the show every few months. We'll announce the book, give you a few months to get it and read it, and conclude with a BS* + Beer Show episode where we will invite the author to join us, present, and take questions.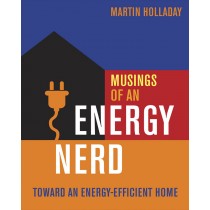 We have selected our fourth book: Musings of an Energy Nerd: Toward an Energy-Efficient Home by Martin Holladay, which can be purchased at the Taunton Store.
We hope you will pick up a copy and join the discussion on July 8, 2021.
________________________________________________________________________
Kiley Jacques is senior editor at Green Building Advisor. She can be reached at [email protected]. Photo courtesy of Travis Brungardt.
Weekly Newsletter
Get building science and energy efficiency advice, plus special offers, in your inbox.