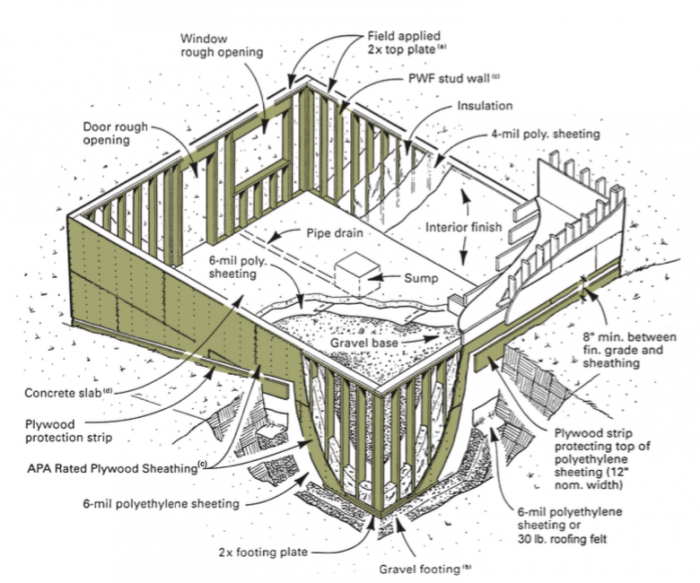 This episode of the BS* + Beer show features guests Mike Guertin and Jake Bruton talking about Permanent Wood Foundations (PWFs), aka "All-Weather Wood Foundations"—their construction, conditions for use, insulating details, modern-day viability, and more. Interestingly, their first documented use was in 1937. When that building was lifted to be relocated, its wood foundation was in excellent shape; it is still standing today beneath a functioning office building—a testament to the system's potential durability and longevity.
Having built a number of PWFs over the years, Mike presents an unbiased overview of the assembly method, describing a few of the projects he worked on. Jake shares his experience, saying, "Of the six basements I have lived in, only one of them was dry—and it had a wood foundation." There's some talk around the distinction between split-level- and raised-ranch-style houses, which Mike believes are ideal for PWFs. Michael Maines proposes his idea for a kitchen addition on his home; his goal is to keep the project's embodied carbon as low as possible, which is why he plans to use a concrete-free slab and pressure-treated 6×6 timbers as a perimeter beam. Mason Lord hops on to ask for constructive feedback on his plans for three barn floors that will use a sleeper-system-like foundation—also in an effort to use less concrete. The takeaway? There is an argument to be made in favor of PWFs as an alternative to concrete. 
To read more about PWFs, see Mike Guertin's list of resources:
How to Insulate a Wood Foundation
International Code Council 2018 IRC
Guide to Pressure Treated Wood 
Permanent Wood Foundation – HISTORY
Permanent Wood Foundations 2016  
Videos:
https://www.youtube.com/watch?v=AwJlyd-g6X8
https://www.youtube.com/watch?v=4IFqbUAi53w
Enjoy the show!
Join us on Thursday, October 22, from 6 to 7:30 p.m. EST, when we—in partnership with Passivhaus Maine (PHME)—will welcome guests Kate Stephenson, Bob Kovacs, and Heather Thompson for a discussion around getting more people into the trades. We will talk about strategies for filling the labor-shortage gap, broadening building-science training opportunities, and recruiting under-represented/marginalized peoples. Those strategies include promoting the multipronged mission of: mitigating climate change, advocating for human and environmental health, and encouraging local investment. With such topics on the table, a rich conversation is sure to ensue. 
Guest bios
Kate Stephenson, partner at Helm Construction Solutions, is an experienced leader in the fields of green building, professional education, sustainability, and business management. She's worked with established and emerging businesses and non-profits to achieve triple bottom line metrics, develop business systems, and plan for a dynamic and resilient future. She has deep experience in post-secondary education, and led the Yestermorrow Design/Build School for over thirteen years. Kate helped to develop and is a facilitator for NESEA's BuildingEnergy Bottom Lines program. Kate is a Senior Fellow of the Environmental Leadership Program, the Chair of the Montpelier Energy Advisory Committee, and serves on the Boards of the Vermont Council on Rural Development, NESEA and the Studio for High Performance Design and Construction. She is a Passive House U.S. Certified Builder and a QuickBooks Certified ProAdvisor. She holds a MS in Management from Antioch University New England and a BA in Anthropology and Environmental Science from Haverford College. 
Bob Kovacs is a senior pre-construction executive with Gilbane Building Company in Atlanta. During his 30-year career, he's worked both in the field and in the office on residential and commercial construction projects ranging from $5000 bathroom remodels to $4 billion airport expansions. He currently oversees the pre-construction activities for a $300 million division of a $6 billion per year commercial construction firm. Bob has been heavily involved in trying to address the skilled trade shortage, including teaching residential and commercial construction courses at a local technical college, judging the TeamWorks competition for SkillsUSA at both the state and national levels, and serving on the industry advisory board for the construction program at the high school in his hometown. He has written numerous articles for the Journal of Light Construction, has presented at JLC Live, and has been a LEED AP since 2003.
After receiving a Bachelor's of Art (Sculpture) from UC Santa Cruz in 1995, Heather built custom furniture and established an art gallery. In 2001, Heather Thompson and her family moved to Peaks Island and started a residential construction company.  In 2011 Heather became the sole owner of Thompson Johnson Woodworks. Since then, she has doubled the size of the company (now ten remarkably funny, smart, highly-skilled, conscientious people) and has expanded TJW's area of service from Peaks Island into Greater Portland.  Heather and everyone at Thompson Johnson Woodworks is committed to high-performance building through best building, carbon-sequestering practices.
Use this link to register for The BS* + Beer Show
BS* + Beer Book Club
Because the hosts of the BS* + Beer Show all love to read, we thought we would celebrate the authors in our industry by adding a book club to the show every few months. We'll announce the book, give you a few months to get it and read it, and conclude with a BS* + Beer Show episode where we will invite the author to join us, present, and take questions.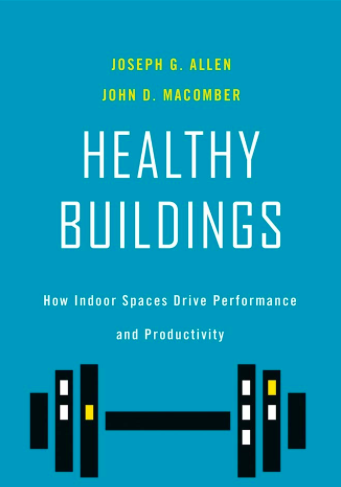 We have selected our second book: Healthy Buildings: How Indoor Spaces Drive Performance and Productivity by Joseph G. Allen and John D. Macomber
We hope you will pick up a copy and join the discussion on Thursday, December 17, from 6 to 7:30 pm.
________________________________________________________________________
-You can contact Kiley Jacques at [email protected].
Weekly Newsletter
Get building science and energy efficiency advice, plus special offers, in your inbox.