Can owner-builders save money by acting as their own general contractor? According to one New Hampshire builder, Alan Rossetto, the answer is a resounding "Yes" — as long at the owners are willing to contribute sweat equity.
In recent years, six owner-builders have hired Rossetto as a consultant to shepherd them through the home-building process. "I provide them with information on suppliers that I know to be competent," Rossetto explains. "I also estimate each project's time frame and the approximate cost for each portion of the process." Rossetto usually remains on the job site to supervise foundation work and the erection of the shell; he also provides pointers on installing heating and ventilation equipment.
Rossetto insists that any home he's involved with have high standards for energy efficiency and indoor air quality. He advises clients:
• If possible, build a frost-protected shallow foundation with stemwalls built from insulated concrete forms (ICFs).
• Build above-grade walls with structural insulated panels (SIPs) or ICFs.
• Frame the floors with open-web floor trusses.
• Install a radiant-floor heating system with a Polaris water heater instead of a boiler.
• Install a mechanical ventilation system that includes an energy-recovery ventilator.
---
Meet Some of Al's Army
Video: NH Customer Service Rep
Choose the right customers
Rossetto screens potential clients. "I've worked with musicians, airline pilots, teachers, customer service reps, and small business owners," said Rossetto. "I like to work with people who can do their own research, who are organized, and who have the ability to run a $200,000 to $300,000 one-year business."
Rossetto has been known to turn people away. "If I'm not satisfied they can do the job, I'll say, 'Nope, this isn't going to work,'" said Rossetto.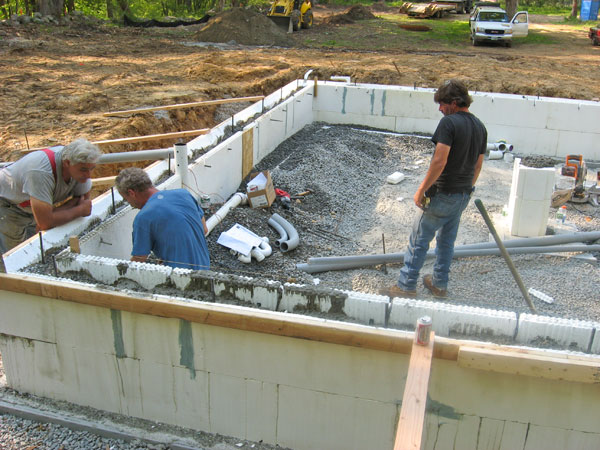 For most of Rossetto's clients, the first step is to hire a designer. "This is not a spur-of-the-moment construction idea; these people have been thinking about a house for a long time," said Rossetto."But I spend a lot of time with them during the design phase, to help make the building as simple as possible."
Energy Star booster
Rossetto is a big fan of the Energy Star Home program. "You get a free engineer whose job it is to look at your building," he explains. "This person comes to your house before it is sheetrocked to look for problems in the building envelope. Most importantly, when you are finished with the house, the auditor comes and does a blower-door test. Remember, this is all free." These services help reassure first-time builders. "I cannot stress enough how positive it has been for the owner-builders," said Rossetto. "The additional set of eyes looking over the plans and the on site, the thermal bypass inspection, and the blower-door test give them feedback on how their homes will keep them healthy and comfortable for years to come."
Putting the owners to work
In most cases, Rossetto's clients help erect ICFs and SIPs; many also help install radiant tubing and insulation. "The model I use is Habitat for Humanity," says Rossetto. "My clients always have a hands-on role at the job site. My attitude is, if I am going to be there helping you, you darn well better be there working too." Rossetto rarely wears a tool belt anymore. "As I get older, I'm doing less hands-on work," says Rossetto. "I usually just go on site as a supervisor." Rossetto advises clients to sub out most of the mechanical and finish work. "The cost of the shell is approximately 20% of the total cost of a home," says Rossetto. "The other 80% is spent on things that are best left up to people who do their trades everyday."
Al aims for affordability
Although most of the products and methods that Rossetto recommends — including frost-protected shallow foundations, Form-a-Drain footing forms, ICFs, SIPs, floor trusses, and ERVs — are more expensive than conventional products, Rossetto believes the money is well spent. "The products may not be cheaper, but the labor is," says Rossetto. "I believe in simplified systems. If you can do it by yourself, with maybe your brother-in-law and one guy that makes a modest wage supervising you, the house will cost less, even if some of the material costs are higher. These people are building five-star energy-efficient homes for $100 or $125 a square foot."
Satisfied clients are the bottom line
Rossetto's confidence is infectious. "With the help of Mr. Rossetto's contacts and experience, I followed a step-by-step program that made it possible for me to have the house of my dreams," wrote Rouleen Williams of Salisbury, N.H., in a letter to Rossetto. "I did not know that was possible. But with the encouragement of Mr. Rossetto, it became a reality."
Weekly Newsletter
Get building science and energy efficiency advice, plus special offers, in your inbox.