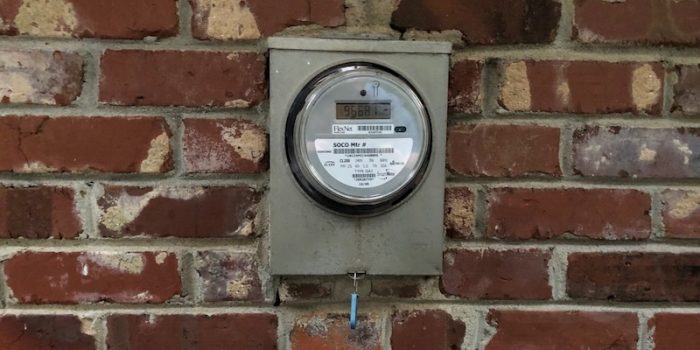 Among green building advocates, the trend today is to "go all-electric," meaning eliminate natural gas and instead use electricity for all of our domestic energy needs. It strikes me that Green Building Advisor supports this mission. In the article "Electrifying Buildings for Decarbonization," the authors state ". . . electrification is a lower-cost and lower-carbon solution than extending natural gas service, either to new or existing homes." Another article, "The Best Reason to Have an All-Electric Home," by Allison Bailes says, "When you have to make a choice between electricity or natural gas, it's clear that electricity is better for the environment and maybe for your checkbook too." Contributor Scott Gibson reinforced the message recently in his piece, "Going All-Electric," saying, "Weaning households off natural gas, heating oil, and other fossil fuels would mean significant reductions in carbon emissions. . ."
This case against natural gas simply isn't true. Here I will highlight data on emissions from the power generation industry that use a variety of sources to generate electricity. In my analysis, it is too early in the process of greening the electrical grid to make such broad claims.
What happens when we eliminate natural gas and instead plug everything into the wall? Where does the electricity come from, and what are its environmental and health care costs?
I was curious to find the answers. While I'm instinctively skeptical of broad proclamations, I try to approach this sort of information without bias. (I should note that I want the electrical grid to be a greener alternative to natural gas!) I am not an advocate of unfettered free markets, but neither do I believe that the world can be saved by good intentions that are not manifested in rational, data-driven policy.
Conventional vs. electric
Our electrical grid is greening by the month, with increasing no-carbon renewable energy sources such as solar and wind. We are told that a net-zero carbon grid is within our reach by midcentury. Such optimistic projections depend on a lot of things coming together, one of which is the elimination of coal from the energy mix. (West Virginia is the second largest coal producing state—behind Wyoming. In a U.S. Senate that is a 50-50 split. Guess who has a lot of influence? Conservative Dem. Senator Joe Manchin of West Virginia. Coal is not going away anytime soon. Lots of money will be spent on carbon sequestration and other "clean coal" initiatives, even as the cost of renewable energy decreases.) In my analysis, that is the major challenge. Until we greatly reduce coal usage, beyond where we are now, it may be beneficial to continue to burn natural gas as an alternative to going all-electric. So at what point does going all-electric make sense?
Advocates of going all-electric focus on carbon emissions and their global warming potential, but this is not the sole consideration. In addition to CO2 emissions, burning fossil fuels emit substances that are harmful to human and environmental health. It's important to consider the sources of greenhouse gases and other pollutants. Coal releases toxicants such as oxides of sulfur and nitrogen, particulate matter, and heavy metals. Mining coal comes at severe environmental costs, and coal combustion products such as fly ash must be buried or processed for commercial uses. Drilling for and burning natural gas is cleaner, with substantially lower sulfur dioxide, particulate, and heavy metal emissions. Additionally, natural gas combustion releases about half the CO2 emissions as coal. In 2019, coal supplied 27% of the total energy for the U.S. electric power sector, while natural gas supplied 31%. However, coal burning generated 60% of CO2 emissions, while natural gas generated 38%. (See the 2019 Estimated U.S. Energy Consumption flow chart from Lawrence Livermore National Laboratory.)
Looking at the source
Let's look more closely at regional electricity generation in the U.S. I am in no way an expert on the complexities of grid-based electricity and its supply/demand dynamics, but there are two main—well, three if you count Texas—interconnected grids that supply the eastern and western parts of the contiguous United States. All the electrical production within these entities is tied together during normal operations, so for purposes here, I assume that over the course of a year, one's base energy needs are met by the pooled outputs within one of these two entities. (You can get more specific data on electrical generation based on your area code here, and I would encourage you to do this.) For simplicity and brevity, I'm considering only the larger entities.
The Western Interconnection is overseen by the Western Electricity Coordinating Council (WECC), while the Eastern Interconnection is overseen by several regional councils. Electricity generation data is available for all North American Regional Councils (NERCs). Let's look at some details. Data exist for 2019; data for 2020 are forthcoming. The data given here are taken from the EPA, which presents them in an accessible graphical and tabular form called eGrid. Data discussed here are presented in the Table below.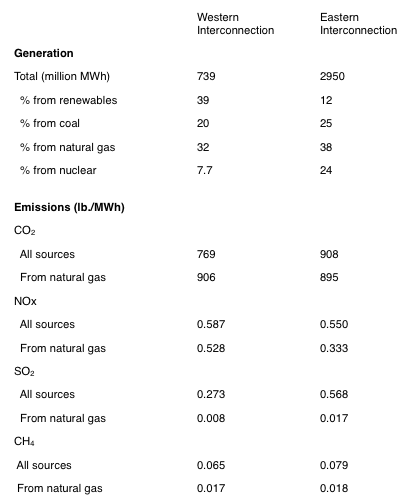 Of the 4140 million MWh generated in the U.S. in 2019, the WECC generated 739 or about 18%. Of these, about 39% were generated from renewable resources, making this by far the greener grid. Here it seems like a no brainer to go all-electric, right? But while renewables contribute a substantial amount, 20% of the energy still comes from the burning of coal, while 32% comes from natural gas. The EPA lists output emissions for the different sources of generation. Results are presented as pounds of pollutant per MWh electricity generated from the specified source. Let's compare total output emissions with those attributable to natural gas alone. Even for this greenest of grid sources, total CO2 emissions, though less than, were still comparable (85%) to the emissions attributable solely to natural gas. NOx were about the same, while natural gas emitted far less SO2 (3% of total) and methane (CH4, 26% of total).
For the Eastern Interconnection, I've pooled the outputs of 4 NERC regions, collectively generating 2950 million MWh in 2019 (71% of U.S. total). Renewables represent 12% of the total. As expected, toxic emissions exceed those of the Western Interconnection on a normalized basis (see table). Notably, total CO2 emissions from the Eastern regions are 908 lb./MWh, with 896 lb./MWh coming from natural gas. The SO2 and CH4 contributions from natural gas were substantially less than from the total mix.
Consider CO2. The EPA reports 906 lb./MWh for the natural gas component in the Western Interconnection, and 895 in the Eastern. These amounts seem to violate the law of mass balance. If every carbon atom of natural gas were converted to CO2, the total would be 400 lb./MWh. A not commonly known fact is that two thirds of the total electricity produced in the U.S. is "rejected". Rejected energy is that which is lost through waste heat; it includes the energy needed to generate electricity at the power plant, as well as transmission and distribution losses. The excess CO2 production over 400 lb./MWh is attributable to this rejected energy. On the other hand, just about all the natural gas produced and delivered to the home is efficiently burned and utilized. Natural gas is extracted from wells and distributed through pipelines. According to the Inventory of U.S. Greenhouse Gas Emissions and Sinks, in 2019, 1.3% of total extracted natural gas was vented or flared at the well site, and this represented an abnormally high amount. Another oft-cited source of greenhouse gas emissions from natural gas, in the form of methane, occurs from losses from transmission pipelines. 
An EPA study estimated that .401Tg are released annually.8 (A Tg or teragram is a lot…one billion kg, or 2.2 billion pounds.) Let's view it in context. The U.S. produced 32.1 Quads (quadrillion BTU's) of energy from natural gas in 2019, for all uses. The transmission loss of .401Tg comes to .094lb. of methane per MWh of energy. If we say that methane has a 25-fold greater greenhouse effect than CO2, this would come to an additional 2.35 lb./MWh equivalent CO2—not much in the larger scheme.
So which is really greener?
So being conservative, it seems reasonable to attribute no more than 450lb./MWh of CO2 from home heating and other domestic natural gas consumption. Now it appears that even the carbon balance of residential natural gas is "greener" than grid electricity from the Western Interconnection, even with 39% of the energy coming from renewables.
I recognize that these numbers are not cut and dry. For example, if you use an air-source heat pump, your energy in the form of heat from the unit exceeds your energy input from electricity by a factor called the coefficient of performance (COP). No, it's not magic; the heat pump moves heat but doesn't create it. A really great heat pump, such as the Fujitsu Halcyon RLS3HY non-ducted minisplit, has an ASHP-rated COP of 4.59 running at its rated output of 18,000 BTU/h at 47oF. Unfortunately, as it gets colder, the COP diminishes substantially. At 5oF running at maximum capacity, the COP is 2.07. Based on the data presented here, a COP of 2 or more seems like a realistic point where electricity may start to become a better option than an efficient natural gas furnace. For a range or stovetop, and for traditional (non-heat-pump-powered) hot water, natural gas remains a greener option than electricity.
You may or may not be concerned with out-of-pocket costs. In my Zone 5 area of cheap natural gas in the Appalachian foothills, I would need a COP of 4 as a financial break-even point to go with electric heat. I personally would pay the extra cost if the electrical grid were cleaner. We get our electricity from the ReliabilityFirst Corporation (RFC) west region, which produced 532 million MWh in 2019. Renewables contributed less than 4% of that, while coal supplied 44%. Toxic emissions exceeded national averages. In particular, CO2 emissions were 1166lb./MWh. Is anyone seriously going to tell me that electricity is a greener option compared with natural gas? Most people don't have the luxury of entertaining such decisions. Are we really going to tell them that they can no longer have natural gas because of dubious claims about the relative cleanliness of the electrical grid—especially considering outrageously high heat pump installation costs detailed many times here on GBA?
Others have pointed out dangers of having a combustion device in the house, and of health hazards related to natural gas combustion products. I have not considered these hazards, as they are quite simple to mitigate . . . make sure it's installed properly; make sure your stovetop is vented.
The contribution of renewable resources to the electricity grid is growing. Led by increases in wind and solar, early estimates are that renewables contributed 20% to the grid in 2020, up from 18% in 2019 and 17% in 2018. Frankly, increasing renewables by 2% of the total each year will not suffice. On the other hand, offshore wind represents a vast resource that is only beginning to be tapped. The development of utility-scale storage will decrease the amount of rejected energy. As these contributions increase, electricity will become cleaner than natural gas. In my evaluation, most regions of the country simply are not yet there. 
These are my opinions. Yours may differ but here is what I've concluded:
For existing homes that currently have a natural gas hookup, I would not yet cut the line. As the grid incorporates more renewable sources, and if these displace the use of coal (so far, the main coal replacement is, you guessed it, natural gas), then I would reevaluate at the end of service life of my furnace.
If I were building a new home, I would consider going all-electric, but only because of assurances that the grid will become sufficiently green at some point in the near future. I would investigate the electricity sources in my region, and I would consider special interests and political forces at work that may slow progress in the incorporation of renewables. Clearly, the decision is not as simple as others here and elsewhere would have us believe.
As a matter of national policy, I strongly disagree with prohibiting natural gas hookups in new construction. Good intentions, bad outcomes.
_________________________________________________________________________
Fred Frasch is a retired scientist who worked over 20 years at the National Institute for Occupational Safety and Health. His interest in green building principles began with his retirement project of building a home in the Appalachian Mountains of West Virginia.
Weekly Newsletter
Get building science and energy efficiency advice, plus special offers, in your inbox.