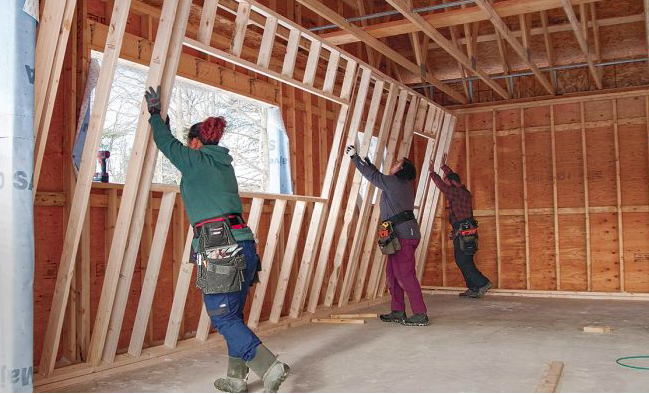 One of the many great things to come out of my work with Dan Kolbert in Portland, Maine, is our mutual desire to monitor the hygrothermal performance of what we are building. After some lengthy research, we settled on burying Omnisense monitors in our assemblies to collect data. It's a practice I've written about here before and have discussed on this BS* + Beer Show episode. 
We have a few years' worth of data under our belts at this point, so I want to throw some of it out there for discussion. What follows is a surface-level look at what's happening inside some of the double-stud walls Dan and I built together in Maine. 
Many of you may be aware of what Dan refers to as "the yeti of building science." I can't recall if he coined that phrase but it's a good one. This "yeti" is the idea that double-stud walls are going to have dangerous levels of moisture accumulation throughout the winter months that will result in anything from mold growth to catastrophic rot and failure. The joke here is that it's a yeti because it's often talked about but rarely, if ever, seen. 
So, let's dive into it.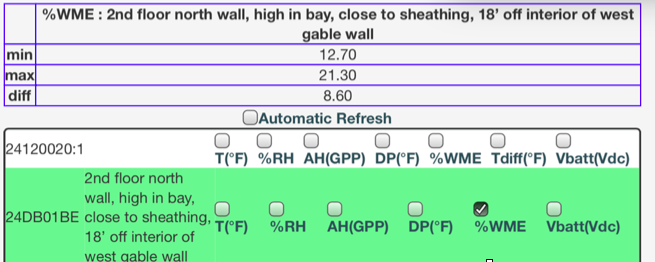 The data in the graph above represent three years—the spring shoulder seasons—inside a double-stud wall. This is a 12-in.-thick cellulose wall on a well-shaded north side. It has a vented rainscreen and corrugated metal cladding. The house tested .61 ACH50 and is served by a somewhat underperforming Panasonic ERV (but that's another story).  
The graph shows wood moisture equivalency (WME) measured in the stud adjacent to the sheathing surface. As one would expect, the wall begins its life with a higher peak, which accounts for the moisture contained in…
Weekly Newsletter
Get building science and energy efficiency advice, plus special offers, in your inbox.
This article is only available to GBA Prime Members
Sign up for a free trial and get instant access to this article as well as GBA's complete library of premium articles and construction details.
Start Free Trial
Already a member? Log in