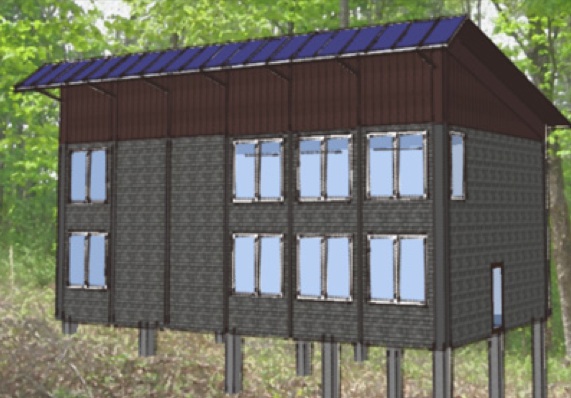 Blog posts are fairly common byproducts of Passivhaus residential construction. This is due in part to the relative novelty of projects aspiring to the Passivhaus standard, both in this country and in the United Kingdom. In dozens of blogs, homeowners and builders have chronicled the victories, challenges, and setbacks they faced on the way to Passvihaus certification.
Some paths to Passivhaus, though, seem more fraught with intensity and leavened with comic observation than you might expect.
Case in point is "Almost Passive House," a blog tracking the progress of a single-family project in Brattleboro, Vermont. Scott Gibson alerted GBA readers to the project back in April, and new developments have come into play since.
The blog is co-written by Andrea and Ted Lemon, who grew up in climates with cold winters (he in Massachusetts, she in Chicago), lived for a time in Tucson, and, upon moving to Vermont, decided they would build a very energy-efficient house. Although they initially weren't planning to seek Passivhaus certification, they were committed to putting in a fair amount of sweat equity into the construction of the house.
An evolving vision
Andrea points out that Ted is from a family accustomed to managing construction projects, while she is a Web designer whose familiarity with construction tilted steeply toward zero. "In my family we consider it a big accomplishment to hang a picture successfully…," she wrote in a June 2010 post. Since then, however, she has become immersed in the particulars, and she is now the project's general contractor.
The couple's posts highlight deliberations over materials, design and construction strategies, and a number of significant compromises: the 2,200-sq.-ft. house has been redesigned to be about 300 sq. ft. smaller than originally envisioned. Plans for a cathedral ceiling were scrapped in favor of a sloping shed roof. The footprint of the two-story house has been simplified to a 46-by-26-ft. rectangle, and budget priorities for finishes have been realigned.
The project also hasn't seen as much DIY activity as anticipated. Currently, the construction budget is creeping close to $450,000, including a photovoltaic system, solar hot water, and a detached two-car garage.
But still, construction is progressing. The house will sit atop recently installed piers of reinforced concrete, which are pinned to the rock sitting just beneath the topsoil on the sloping 2-acre lot. The garage foundation has been poured, woodcutting is underway, and decisions have been made on a number of important details.
According to Andrea:
The floor deck will be constructed of 11 7/8-in. I-joists (16 in. on center) and will be insulated with dense-packed cellulose with 4 in. of polyisocyanurate underneath.
Wall framing will consist of 9.5-in. I-joists, 24 in. on center, filled with dense-packed cellulose. The walls will be sheathed with 4 in. of exterior polyiso.
The rafters will be 24-in.-deep I-joists filled with dense-packed cellulose.
The windows are from Schuco (Schuco SI-82+). South-facing windows will have Climatop Max glazing (with a SHGC 0.6); Climatop Ultra-N glazing (SHGC of 0.5) will be used everywhere else.
The couple also has been comparing two heat recovery ventilators: the Zehnder ComfoAir 350 and the top-of-the-line Zehnder Novus 300, which costs about $1,400 more but operates about 10% more efficiently.
Going to the mat for Passivhaus
As for their Passivhaus/Almost Passive House debate, Andrea and Ted announced last month that, by unanimous vote, they decided to "bite the bullet" and go for Passivhaus certification. In a blog posted a few weeks earlier, Andrea summarized much of what went into their thinking on the subject: "Why bother? I don't think I'm attached to having a certified Passivhaus. As you can see from the name of the website, I'm quite satisfied with our not-quite-passiv status. Also, I seriously doubt it will make a difference on resale whether the house is certified or not, since it's going to be a freaky-efficient house either way.
"But there's a symbolic value to getting certified," she continued. "Only a handful of certified Passive Houses have been built in the United States, which means it's still an inspiring new concept. One of our major goals in building an energy-efficient house is to inspire other builders and homeowners, and having the Passivhaus label and certificate will help get the word out."
More recently, the couple has partnered with Efficiency Vermont – a ratepayer-funded utility that provides technical assistance to businesses and homeowners aiming to reduce their energy costs – which, Andrea says, plans to monitor the home's performance. The project team includes energy consultant Marc Rosenbaum of South Mountain Company, foundation and framing specialist Eli Gould of Ironwood Brand, consulting architect Camilo Cerro, and structural engineer Ben Brungraber of Fire Tower Engineered Timber.
Weekly Newsletter
Get building science and energy efficiency advice, plus special offers, in your inbox.