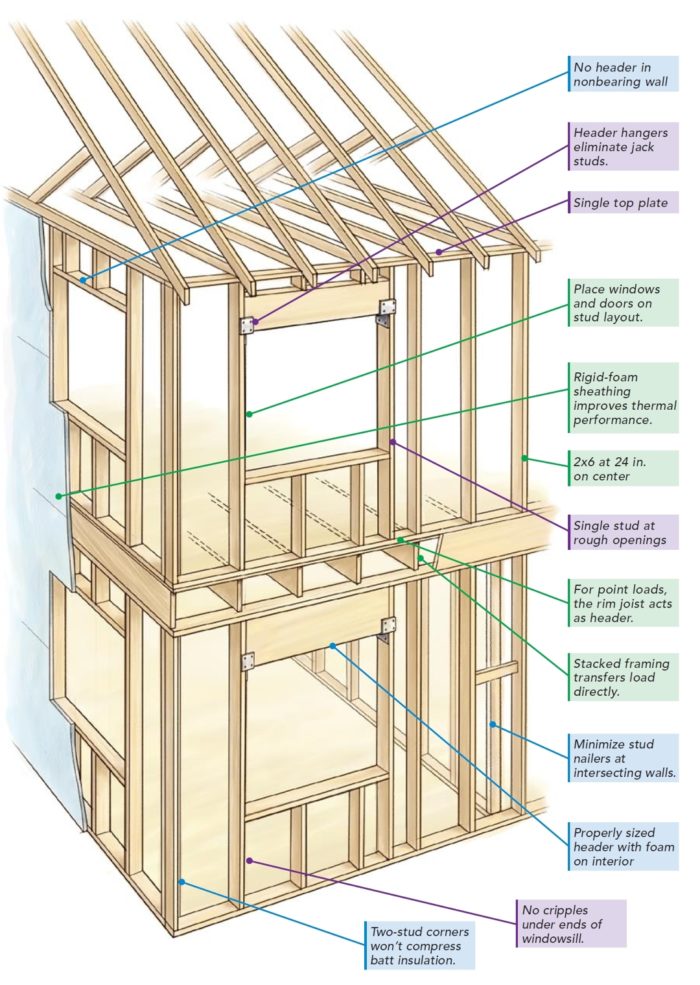 Advanced framing, also called optimum value engineering (OVE), is a framing system that aims to pare the amount of lumber used to frame buildings to the bare minimum. Advanced framing was developed in the 1960s by the Department of Housing and Urban Development as a way for builders to reduce costs.
In recent years, the decades-old framing system has been adopted by many green builders. These new advanced framing devotees are focused less on the cost-cutting aspects of the framing system than on its other virtues, including energy and materials savings.
How advanced framing saves lumber
If you want to adopt every principle of advanced framing, here's what you need to do:
Design your house with dimensions that fit a 2-ft. module.
Switch from 16-in.-on-center framing to 24-in.-on-center framing for joists, studs, and rafters.
Stack the wall, floor, and roof framing so that rafters, studs, and joists all line up.
Switch from double top plates to single top plates joined with steel strapping or splice plates.
Get rid of jack studs; instead, support headers with steel clips (Simpson HH header hangers).
Omit headers on gable walls and other non-loadbearing walls, and make sure headers are right-sized.
Switch from three-stud corners to two-stud corners with drywall clips.
Use ladder blocking at partition intersections.
In some cases, omit structural wall sheathing and substitute T-profile diagonal steel bracing.
Will your local code official balk?
Even though optimum value engineering has been around for decades, that doesn't mean your local code official won't raise his eyebrows. As one advanced framing guide puts it, these details "are likely to inspire questions from the building official." So it's best to discuss your plans with your local officials before you begin framing.
The International Residential Code (IRC) now recognizes some, but…
Weekly Newsletter
Get building science and energy efficiency advice, plus special offers, in your inbox.
This article is only available to GBA Prime Members
Sign up for a free trial and get instant access to this article as well as GBA's complete library of premium articles and construction details.
Start Free Trial
Already a member? Log in