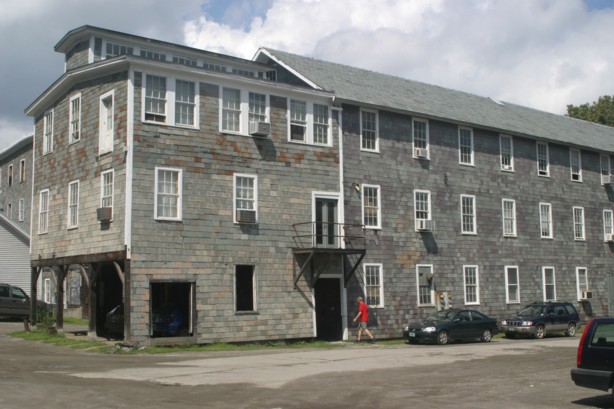 Last week, I reflected on Earth Day and how concern for the environment inspired me in school and then [no-glossary]led[/no-glossary] to my focus on renewable energy starting in the mid-1970s. This brought me to Brattleboro in 1980 to work for the Northeast Sustainable Energy Association, which I did from 1980 through 1985.
To continue:
In 1985 I was ready to leave the nonprofit world and see if I could make it focusing on writing as a career — with a continued focus on the environment. I had been writing for a few publications during my stint with the New Mexico Solar Energy Association and NESEA, most notably a monthly column on energy for the Journal of Light Construction, but I didn't know if I could make a livelihood out of that.
Freelance writing is a tough row to hoe
Indeed, when I started out on my own I worked two days a week for a local restoration builder. As my writing picked up I gradually shifted to writing full time. I was doing a mix of freelance writing for six or seven magazines, but learned pretty quickly that freelance writing is a tough row to hoe. I supplemented that writing with various technical writing projects for state energy offices, utility companies, nonprofit organizations, and a few manufacturers.
An early project was writing a series of home energy improvement pamphlets for the Massachusetts Audubon Society, and this led to writing the Consumer Guide to Home Energy Savings for the American Council for an Energy Efficient Economy in 1989. That little book was very well received, ultimately selling several hundred thousand copies and opening the door to lots of other writing opportunities in the energy field.
Teaming up with Nadav
One of my major writing projects during this time was a guide to energy-efficient construction for the Energy Crafted Home Program, a utility-funded initiative in Massachusetts. As work loads increased, I hired support staff to help with specific projects. One of those hires, very significantly, was Nadav Malin, in 1991.
As my freelance writing career grew, more and more of my assignments were on mainstream building practices and were driven by magazine advertisers: "Alex, we need an article on 'exterior insulation and finish systems' and, by the way, it should mention these four companies…" Whenever I got a chance I would write about the intersections of building practices and the environment — whether relating to ozone depletion, global warming, renewable energy, indoor air quality, or water conservation. But these opportunities weren't as frequent as I wanted.
A few articles on green architecture
In 1990 or '91 Architecture magazine, for which I was a contributing editor, decided to produce a special issue on "green architecture," a relatively new concept. I wrote several of the articles for that issue, which was well received, even winning an award as I recall. I began to wonder if there might be a niche for a publication focused specifically on green design and construction.
Nadav and I talked about this for a while, and in early 1992, we decided to give it a shot. If we succeeded, we could stabilize our revenue through subscriptions and be less dependent on the whims of other magazine editors and on contract work that took effort to drum up and could not always be counted on.
EBN is born
In the spring of that year, we sent a letter to a couple thousand members of NESEA announcing a new publication, Environmental Building News, and inviting them to subscribe at a special charter subscriber rate. We didn't really know anything about publishing or direct-mail. We figured if there was interest, recipients of the letter would send in checks. If not, we wouldn't have invested too much in the experiment. We could cut our losses and move on to the next contact-writing project.
But, lo and behold, we had an amazing 14% response to that mailing! (A rate just one-tenth that would be remarkable for any direct-mail campaign today.) Checks flooded in, and we printed our first issue in July, 1992. Remembering my frustrations with advertiser influence over editorial content in other magazines and knowing that we wanted to be able to say whatever we wanted about particular products and technologies, Nadav and I opted not to carry advertising.
Environmental Building News (EBN) grew, filling a need out there for the emerging green building community, and we soon had subscribers in all fifty states and in more than a dozen foreign countries. At the time, our business was called West River Communications, but when we launched our first website (in 1995, I believe) we changed our company name to E Build, Inc., to mirror the name of our ebuild.com website. (Later, we would sell ebuild.com and use the proceeds to put our green products database online).
Since launching EBN, we gradually grew the company, renamed it BuildingGreen, Inc. (after selling our ebuild.com domain), and launched other resources relating to green building products and the LEED Rating System. It has been an exciting — even if scary — time to be in publishing. We were an early adopter of desktop publishing and very early to the game with the World Wide Web. We have also bucked publishing trends throughout our history by shirking advertising (the primary revenue for most publications) and charging for Web-delivered content.
We have continued a mix of our own publishing and contract work, and we've been able to focus our contract work in ways that strengthened our in-house expertise in green building. Over the past two and a half decades, we've done work for the U.S. Department of Energy, Environmental Protection Agency, HUD, the U.S. General Services Administration, the American Institute of Architects, the U.S. Green Building Council, the Rocky Mountain Institute, and several national energy research laboratories. We even participated in the Greening of the White House project during the Clinton Administration.
Partnering with Taunton Press to create GBA
For two years, during most of 2008 through early 2010, we were partnered with Taunton Press and during that time created GreenBuildingAdvisor. GBA is a tremendous resource, but it was launched just when the building industry collapsed, and in the hard realities of the weak building economy since, GBA shifted in ways that challenged with original partnership. Both BuildingGreen and Taunton agreed that parting ways made sense, and we separated very amicably two years ago. BuildingGreen became an independent company again, and Taunton Press took full ownership of GBA — though we continue some level of involvement (including this blog).
As always during our two-and-a-half-decade history, BuildingGreen has remained true to our initial vision as a mission-driven company, focused on the environment. Our corporate mission statement reads, in part:
"…to facilitate transformation of the North American building industry into a force for local, regional and global environmental protection; for preservation and restoration of the natural environment; and for creation of healthy indoor environments."
We are now a 20-person company serving builders, architects, researchers, educators, and policy makers nationwide and even internationally. We work collaboratively with many partners around the country. While two of our employees work remotely and come into the office only occasionally, most of us are located in one of the historic Estey Organ Buildings on Birge Street in Brattleboro. Nadav took over as president several years ago and is ably leading BuildingGreen into the future as we try to keep making a difference.
Readers can learn more about BuildingGreen and our products on our website.
Alex is founder of BuildingGreen, Inc. and executive editor of Environmental Building News. He coauthored the just-published BuildingGreen special report, Better Window Decisions, which provides clear guidance on window selection. To keep up with Alex's latest articles and musings, you can sign up for his Twitter feed.
Weekly Newsletter
Get building science and energy efficiency advice, plus special offers, in your inbox.