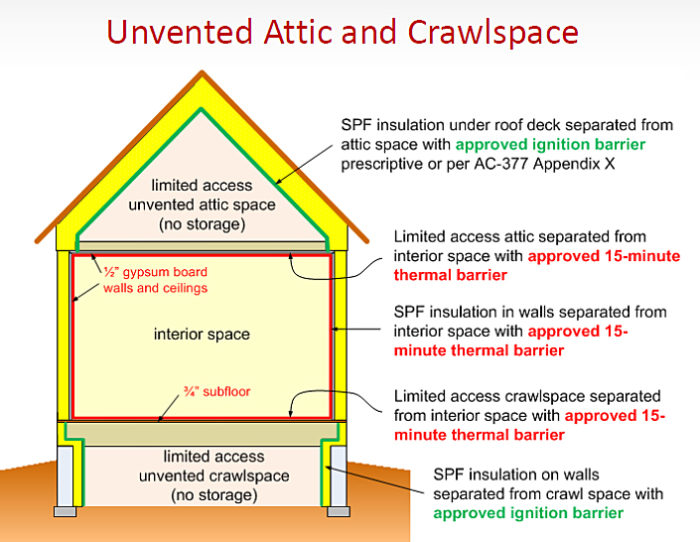 UPDATED on February 6, 2021 with new information on the use of mineral wool insulation as a thermal barrier.
Do building codes require spray foam insulation to be protected with a layer of drywall or a comparable barrier for fire safety? There is no simple answer to the question, for several reasons. The first reason is that the code is complicated.
The second reason is that the code is poorly written.
The third reason is that the code is subject to interpretation by local code officials.
And the fourth reason is that even when the code clearly requires spray foam to be protected with a thermal barrier or an ignition barrier, many code officials don't bother to enforce the code.
Unprotected spray foam can be a fire hazard
Exposed spray foam can be hazardous. According to a guide for spray foam installers, "Thermal Barriers and Ignition Barriers for the Spray Polyurethane Foam Industry," "When exposed to fire sources, such as trash fires, welding arcs, cutting torches, or red-hot metal, unprotected SPF [spray polyurethane foam] can ignite and may result in a flash fire."
If a house that includes spray foam ever burns down, lawyers will want to know whether the spray foam was installed according to code — so builders who don't pay attention to ignition barriers are taking on liability.
Distinguishing an ignition barrier from a thermal barrier
Before delving into this issue, we need to learn some code jargon.
The building code has two different terms to describe barriers to protect insulation from catching fire. The first term is "thermal barrier." (The ill-chosen phrase is code-speak. Most builders and scientists use the term "thermal barrier" to refer to insulation; unfortunately, code writers use words in a way that differs from most speakers of English. So for the purposes of…
Weekly Newsletter
Get building science and energy efficiency advice, plus special offers, in your inbox.
This article is only available to GBA Prime Members
Sign up for a free trial and get instant access to this article as well as GBA's complete library of premium articles and construction details.
Start Free Trial
Already a member? Log in