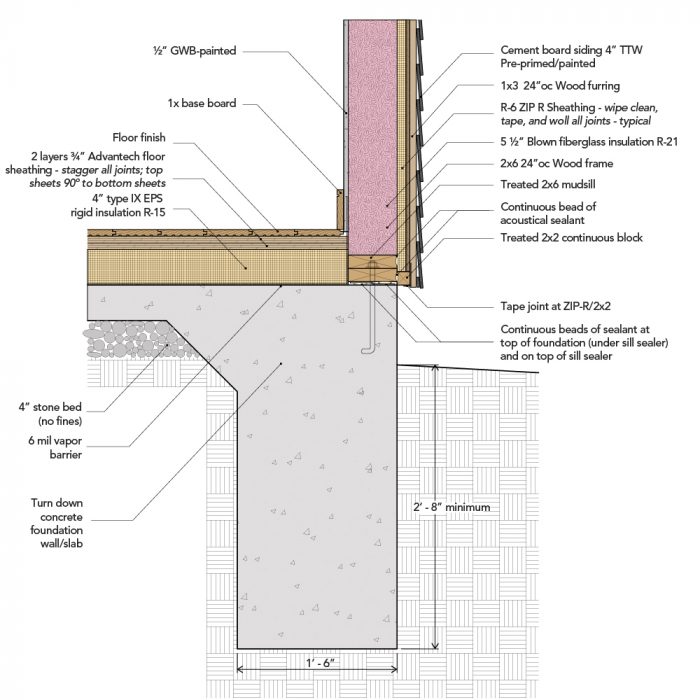 One of the most common foundations in the U.S. is a monolithic concrete turn-down slab. The beauty of this system is that the foundation wall and slab are created in one casting, which makes it efficient in terms of cost, labor, and time. One of the downsides, however, is that it can be difficult to insulate because its structural integrity relies on it being monolithic, meaning uninterrupted.
In conventional foundation systems, the slab is independent of the foundation wall, which makes it easy to incorporate the thermal boundaries within the assembly. The monolithic foundation system is not as straightforward. Because the outer edge of the slab is exposed, it includes a significant thermal bridge.
The easiest way to create a continuous thermal boundary while maintaining structural integrity is to keep the turn-down foundation outside the conditioned space. In this detail, 4 in. of expanded polystyrene foam board (EPS) is installed on top of the slab. This allows for the structural integrity of the foundation to remain intact while managing the thermal boundary for continuity. (This specific detail was designed for new construction in climate zone 5. The 4 in. of EPS can be climate-tuned to the building's location.)
Two layers of 3/4-in. floor sheathing is installed over the rigid foam to provide for floor finishes. The top layer is installed 90° to the bottom layer, and the joints are staggered 2 ft. in both directions. This creates a 1-1/2-in. raft section of floor sheathing that is not mechanically fastened to the slab; it floats above—hence the name raft. The advantage of this approach is that the rough finish—the 3/4-in. floor sheathing—is set to receive any floor finish.
One concern for new construction is moisture migration from the new slab upward into the finished floor. After consulting with professionals in…
Weekly Newsletter
Get building science and energy efficiency advice, plus special offers, in your inbox.
This article is only available to GBA Prime Members
Sign up for a free trial and get instant access to this article as well as GBA's complete library of premium articles and construction details.
Start Free Trial
Already a member? Log in