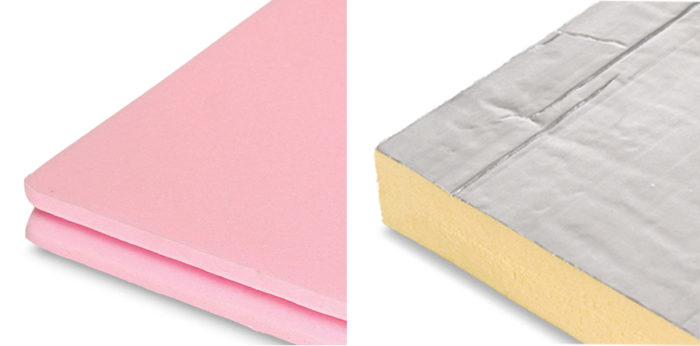 Most insulation materials have an R-value lower than R-5.6 per inch. As David Yarbrough, a nationally known insulation expert, explains, "At 75°F, the theoretical maximum R-value of a product is 5.6 per inch. That represents the maximum R-value if there is no convection and no radiation — it represents the pure conductivity of air. That's as high as you can go unless you are talking about a product that incorporates encapsulated gas, or a vacuum, or nano-scale powders."
Since this is a theoretical maximum, it isn't surprising to learn that cellulose, mineral wool, fiberglass, and EPS generally have somewhat lower R-values (in the range of R-3.5 to R-4.2 per inch).
Why have many manufacturers of polyisocyanurate, at least until recently, been touting R-values that are higher than this theoretical maximum? Because polyiso (like extruded polystyrene) includes encapsulated gas; as Yarbrough noted, insulation products with encapsulated gas can exceed the theoretical maximum R-value of R-5.6 per inch.
If the bubbles of air found in foam insulation are replaced with bubbles of a different gas — a gas with lower vapor conductivity than air — it's possible to achieve a higher R-value. The blowing agents used to produce polyiso and extruded polystyrene (XPS) fall into this category.
Thermal drift
Although the blowing agents used to produce polyiso and XPS successfully increase the R-value of newly manufactured rigid foam, they have an Achilles' heel: over time, these blowing agents dissipate. The gases gradually diffuse through the rigid foam, and as they dissipate, they are replaced by air. (Covering the rigid foam with a vapor-impermeable facing like aluminum foil slows, but does not prevent, this process.) Because this process results in a gradual reduction in the foam's R-value, it's often referred to as "thermal drift."
The blowing agents used to make expanded polystyrene…
Weekly Newsletter
Get building science and energy efficiency advice, plus special offers, in your inbox.
This article is only available to GBA Prime Members
Sign up for a free trial and get instant access to this article as well as GBA's complete library of premium articles and construction details.
Start Free Trial
Already a member? Log in