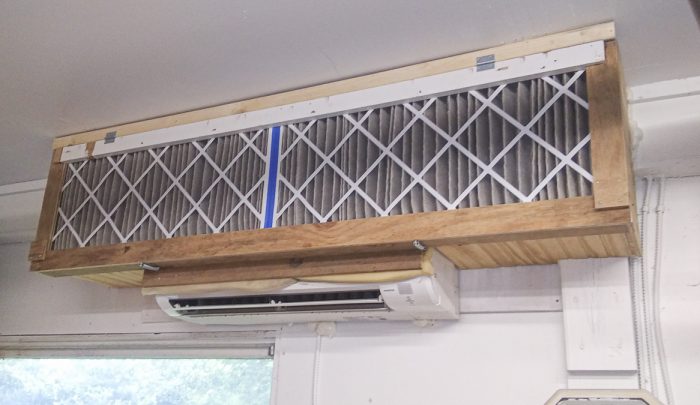 Writing from central North Carolina, in climate zone 4, a reader named Tvrgeek wonders why his Mitsubishi minisplit heat pump does such a poor job of dehumidifying the air inside his 16-ft. by 32-ft. workshop.
"As far as temperature, it works great (it surprised me how good they have gotten)," he says in this recent Q&A post. "But, it does a terrible job of dehumidification. I have had it looked at twice and it is running as it should. Coils are running about 5o°, but darn little moisture is removed."
Ideally, Tvrgeek would like to see indoor relative humidity in the 50% to 55% range. But in summer, it's now closer to 70%—at least it was until he added an inexpensive dehumidifier. While the arrangement works, the dehumidifiers seem to last only about a year, and that has Tvrgeek looking for a more permanent solution.
"Is this normal for a minisplit?" he asks. "The dehumidification mode does nothing."
Tvrgeek's clammy workshop is where we begin this Q&A Spotlight.
Reduce the airflow
In general, air conditioners have a tough time removing much moisture from the air when they don't run long enough, and that may be what's at work here, suggests Jon R. "Poor dehumidification at less than rated load is common," he says.
The Daikin Quaternity minisplit is a good alternative to the Mitsubishi, he adds, but it's expensive. Another option would be to reduce the airflow through the fan-coil unit indoors, which should increase its dehumidifying efficiency.
But Tvrgeek has been down that road already and discovered that reducing the airflow didn't help matters very much. In fact, the experiment just led to problems.
"I found out the hard way," he explains. "It is in my woodshop, so before I upgraded my…
Weekly Newsletter
Get building science and energy efficiency advice, plus special offers, in your inbox.
This article is only available to GBA Prime Members
Sign up for a free trial and get instant access to this article as well as GBA's complete library of premium articles and construction details.
Start Free Trial
Already a member? Log in