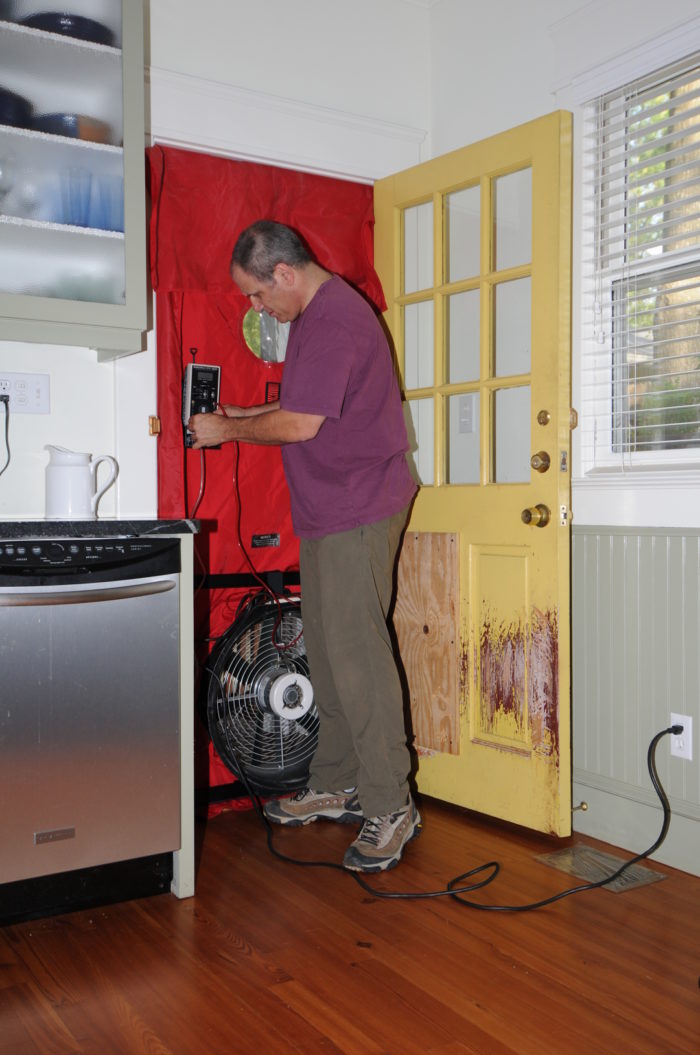 I had a discussion several months ago with a designer I know regarding energy efficiency in a project she is working on. She recently took the initiative to become a licensed residential contractor and is now managing entire projects. I applaud her for making this transition and for working hard to maintain her professionalism in an industry where there are a lot of fly-by-night operators. The homeowner is interested in making the house more efficient, and our conversations focused on those aspects of the project. I offered my services as a consultant to evaluate the house and make a set of recommendations for improvements to consider.
Well, I ran into her recently and asked about the project, which is just underway. She asked me about coming in to do blower door and duct blaster tests when the project is finished, to see how it turned out. Since I don't find running test equipment that much fun, and I believe that my particular talents are better applied earlier in the job, I declined the invitation. During this discussion, it occurred to me that here was a residential designer with little, if any, training or experience in building performance making decisions on insulation, air sealing, HVAC systems, and other critical details. Any wrong choices in products or installation methods on this project would very likely create long-term problems that could be avoided with proper advice up front.
Expertise worth paying for goes both ways
This designer is very professional, places a value on her expertise, and expects to be paid for it. She is very experienced in kitchens, baths, and interiors, and, in fact, I hired her to assist in the new house I was attempting to build. I trusted that she has the proper knowledge in her area of expertise and engaged her to take advantage of her abilities. It appears that she was not as respectful of my expertise, and assumed that she could make appropriate building performance decisions by herself, with assistance from the insulation, HVAC, and other trade contractors on the project, then bring me in to confirm her decisions after the fact.
In my curmudgeonly style, I pointed out to her that if she thought that she was qualified to make those decisions, what would keep me from thinking I am qualified to design a kitchen or bath, without any training or experience? If she didn't use qualified professionals for their expertise, why should she expect anyone to use hers? This seemed to get her attention, and I expect that I may be hearing from her soon about some consulting work.
The implications of insanity
What occurred to me through this interaction was that there is a general attitude in the marketplace that residential construction isn't very difficult, and pretty much anyone can do anything. Homeowners build and renovate their own homes. Trade contractors make decisions about products and methods without consideration of their impact on the entire project. Mechanical systems are installed without taking into account the overall building performance. This behavior perpetuates inferior buildings, and must change. Einstein's definition of insanity is doing the same thing over and over again and expecting a different result. Unless we change the way we build and renovate, we are insane and will continue to get the same result: poorly performing buildings.
Weekly Newsletter
Get building science and energy efficiency advice, plus special offers, in your inbox.