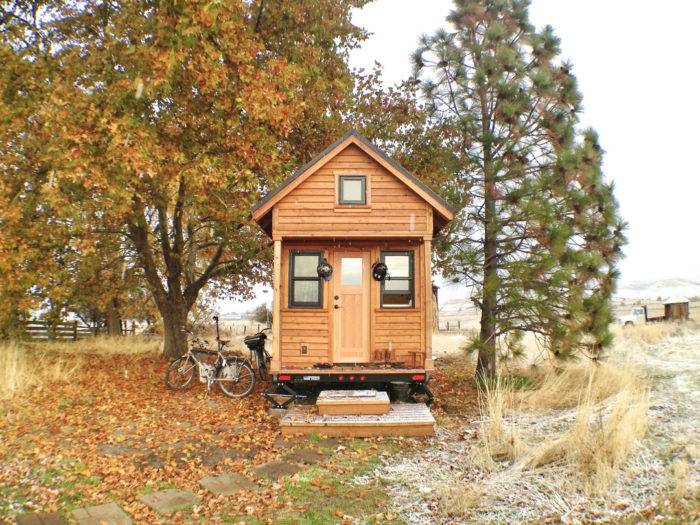 Pima County, Arizona, has eased rules on houses of less than 400 square feet, making them legal anywhere that's zoned for single-family dwellings as long as they sit on permanent foundations.
According to a post at Construction Dive,Pima County has also relaxed some building code minimums that aren't deemed necessary for really small buildings, including minimum dimensions for rooms, ceilings, and windows. Ladders can replace stairways to lofts, and loft areas may have "reduced fall protection."
In other respects, tiny houses still have to comply with the Pima County building code, according to a summary of the regulations posted online. Pima County includes the city of Tucson.
Putting buildings on trailers had been a way of getting around stringent zoning requirements in the past, but they're now covered by more restrictive zoning regulations and permitted only in specific zones. The new rules also make a distinction between tiny houses built on a chassis with its suspension and axle components removed and those that are build on a mobile chassis.
More communities are popping up
Advocates of tiny houses point to simpler lifestyles with fewer possessions and lower mortgage costs as major advantages of living in houses far smaller than the norm. Zoning and building regulations are often a sticking point, but Construction Dive says that the changes in Pima County and elsewhere are a sign that objections are beginning to wane.
Washington, D.C., last month changed its accessory dwelling regulations in some neighborhoods, allowing homeowners to build small buildings on their lots and either rent them or allow family members or employees to live in them. The changes, which go into effect in September, include some restrictions but will help to ease a housing shortage as well as benefit homeowners, according to advocates.
Tiny house communities are beginning to appear around the country, but whether the boomlet constitutes a "trend" depends on who you talk to. Some, like Professional Builder editor Amy Albert, think the growing appeal of tiny houses could have major implications for housing, an earlier Construction Dive report said, while major builders have largely stayed away.
"Fundamentally, ground-oriented housing is not efficient, and proportionately, too much of the cost is chewed up by high land cost," Mattamy Homes COO Brian Johnston told Construction Dive. "The answer is going up in the air, not trying to cut construction costs by building smaller homes."
Communities of tiny houses have appeared in Washington, D.C., Washington state, Colorado, and Texas. Building materials supplier 84 Lumber has started offering tiny house kits, and a few architectural firms are working on floor plans for tiny houses on the hunch they will continue to become more appealing.
There is also continued resistance. In Tallahassee, Florida, for example, people who would be living near a proposed development of affordable tiny houses have gone to court in an effort to block the $7.8 million project, The Tallahassee Democrat reported. "The Dwellings" would include homes ranging in size from 250 to 400 square feet.
"I was devastated when I heard this news," said a potential neighbor who bought a house near the proposed development eight months ago. "It's like an omission of the truth. An omission, in my opinion, is deceitful."
Weekly Newsletter
Get building science and energy efficiency advice, plus special offers, in your inbox.