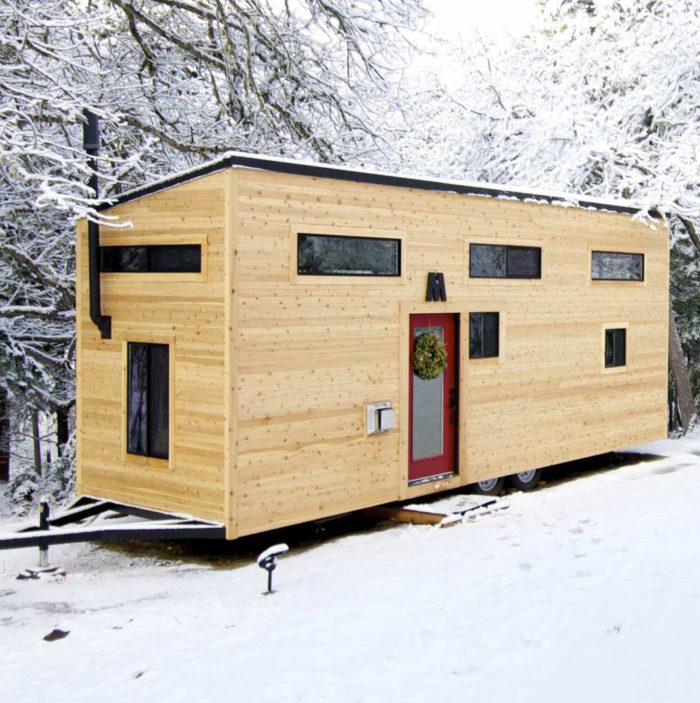 The tiny house movement got an early Christmas present this year: a place in the country's dominant model building code.
Members of the International Code Council, the group that publishes the International Residential Code, have approved a proposed standard written specifically for houses smaller than 400 square feet. It's the first time these very small dwellings have been covered by the model building code, and a major boost for the loosely knit coalition of builders and homeowners advocating a lifestyle based on downsizing and simplifying.
The victory comes in the form of an appendix to the next version of the IRC, which could be adopted by local jurisdictions in 2018. The standard covers details such as minimum loft dimensions, stairways, landing platforms, loft guards, and emergency openings — areas where tiny houses have been unable to meet code provisions for standard-sized homes.
Andrew Morrison, a builder and tiny house advocate who led the effort to get tiny houses covered in the code, made the announcement at his website, TinyHouseBuild.com, on Dec. 6.
"As you can likely imagine, I am more than completely, utterly, and totally excited to share the news that the tiny house appendix passed," Morrison wrote. "This is huge news for the tiny house community. It means that we will be able to work towards adoption across the U.S. now. That's another challenge that will take a lot of effort, but we can do it!"
Morrison, who lives in a 317-square-foot house on wheels in Oregon with his wife Gabriella and their daughter, said more than 162,000 votes were cast in the electronic balloting on the dozens of code changes up for approval. (Gabriella Morrison wrote about their house in a blog at GBA last year.)
Vote totals weren't posted at the ICC website, and the ICC did not return a telephone message seeking comment. The results must still certified.
In a blog posted at Fine Homebuilding in November, Morrison wrote the issue of code compliance was moving to the front burner as more people built or purchased tiny houses.
The houses have become increasingly popular, not only on the part of homeowners who want cheaper, smaller places to live, but also by communities looking for alternatives to low-income housing and new ways to beef up existing housing stock.
Where tiny houses go from here
Passage of the appendix is a major step toward encouraging more people to build tiny houses, Morrison said in a telephone interview.
"Exactly how it will play out I don't know, but basically it provides a national code for tiny houses," he said. "The biggest impact is going to be the number of people who have wanted to build something tiny but haven't been able to do so legally. I think it's going to open a big market for those people to step into the tiny house concept and build tiny houses all over the country — legally."
One issue that isn't quite settled is what many tiny houses are built on — a trailer. The new standard does not address that directly, leaving it up to individual homeowners to convince local building officials to permit a moveable house.
"That's going to be our next move in the next code cycle," Morrison said. "We're going to put another appendix that addresses moveable tiny houses. That said, [the appendix] addresses basically all of the issues that people with moveable tiny houses have — ceiling heights, sleeping lofts, emergency rescue and escape — all those sorts of things. The only thing it doesn't cover is the trailer itself."
Applicants will be able to seek local approval through Section R104.11 of the IRC, which permits alternative designs and materials.
"They could go in with an engineered plan for their foundation, i.e. the trailer, and that would be their only hiccup or hurtle they would have to prove to the building department that was worthy of acceptance," Morrison said.
Appendix must be adopted separately
Morrison and other advocates still have some lobbying to do. Jurisdictions adopting the 2018 IRC don't automatically endorse the appendix covering tiny houses, Morrison said. That's one of the quirks of the system.
"You can take them or you don't have to," he said of any appendices attached to new versions of the IRC. "Our goal is to get all of the jurisdictions that we can to adopt the appendix, and then after that, or maybe simultaneously to that, will be to write the moveable tiny houses proposal and get that moving through the next code cycle for the 2021 IRC."
The IRC is updated every three years, but it takes years for new versions to filter their way into law. Although Morrison and others are looking ahead to the 2018 code, many states are still using versions of the IRC from 2012 and even 2009.
Weekly Newsletter
Get building science and energy efficiency advice, plus special offers, in your inbox.