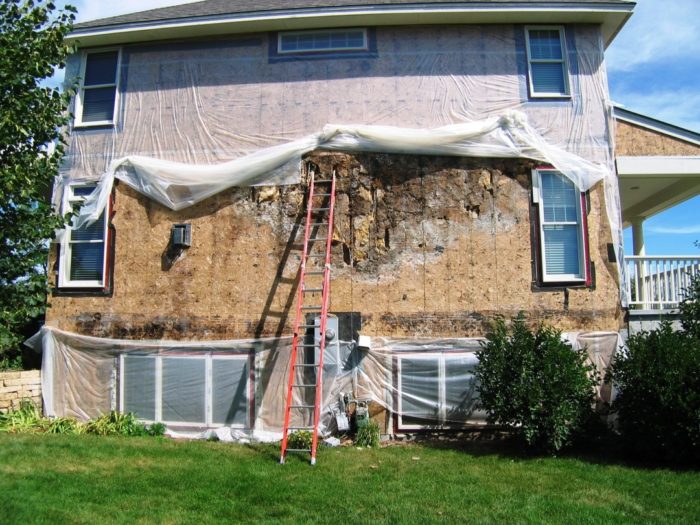 In many areas of the country, hundreds of stucco-clad homes have suffered wall rot. Although building scientists are still researching the causes of wall rot behind stucco, it's clear that all of these walls got wet and were unable to dry.
Among the reasons that have been proposed for the recent epidemic of stucco-clad homes with wall rot:
Many of the houses had OSB sheathing, which is more susceptible to rot than plywood or board sheathing.
Many of the houses had only one layer of Grade D paper or asphalt felt under the stucco rather than two.
The homes lacked a ventilated air gap between the stucco and the sheathing.
In many of the homes, interior polyethylene prevented the walls from drying to the interior.
Many of the homes had flashing errors.
Some of the homes had high indoor humidity coupled with an imperfect air barrier.
If you're planning to install stucco on a wood-framed wall, you can benefit from the many lessons learned from all of the failed stucco installations of the last twenty years. Before we tackle the question of how to avoid such failures, however, let's delve into some stories from the recent wall-rot plague.
A failure rate of 51%
I wrote a special report on rotting stucco-clad walls in Minnesota for the May 2006 issue of Energy Design Update. The article began, "In Minnesota, home inspectors have discovered that hundreds of recently built homes — especially stucco-clad homes — have rotting walls. In spite of years of efforts by construction experts to educate builders on improved water-management details, wet walls continue to take a staggering toll on builders and insurance companies.
"According to Ron Glubka, the chief building official in Woodbury, Minnesota, the city's wet walls represent 'the largest construction defect problem in local history.' … Glubka…
Weekly Newsletter
Get building science and energy efficiency advice, plus special offers, in your inbox.
This article is only available to GBA Prime Members
Sign up for a free trial and get instant access to this article as well as GBA's complete library of premium articles and construction details.
Start Free Trial
Already a member? Log in