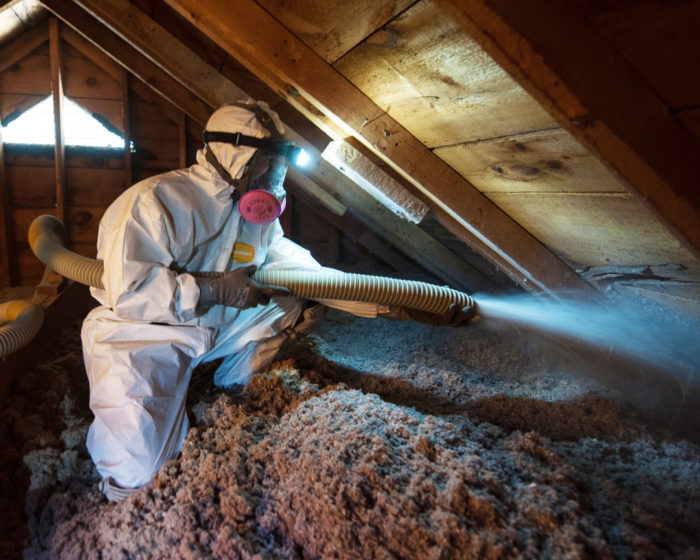 The International Energy Conservation Code (IECC) is revised every three years, and in the just-published version for 2021 the amount of attic insulation in climate zones 2 and 3 has been increased from R-38 to R-49. Commenting in a recent Q&A post, James Boris doesn't get it.
"I can't imagine it would save much energy," Boris writes. "What reasons for this increase might I be overlooking? Or, more generally, what other considerations go into setting code insulation levels?"
To bolster his case, Boris offers these rough calculations: With an outdoor temperature of 100°F, an average roof temperature of about 160°F, and the air conditioner set at 78°, the difference between the roof temperature and indoor temperature is 82°F (the Delta T, or ΔT, as engineers and energy hobbyists like to call it).
Under the previous IECC, R-38 of continuous exterior foam insulation yields a ceiling temperature of 79.94°F. Under the 2021 IECC, with insulation increased to R-49, the ceiling temperature becomes 79.51°F.
"Any indoor air stratification would raise the ceiling's base temperature, reduce Delta T, and thus lead to less difference between R-38 and R-49," Boris says. "Am I missing something here, or putting too much emphasis on the difference between ceiling temps?" Additionally, Boris wonders how these calculations might change when comparing an unvented cathedral ceiling to a traditional, vented attic.
Boris's questions about more stringent energy requirements are where we start this Q&A Spotlight.
First, use a simpler calculation
The real point is energy use, replies Charlie Sullivan, and the increase in attic insulation will make a difference.
"The good news is that's a simpler calculation," Sullivan writes. With a Delta T of 82°F, as Boris had assumed, the heat transfer is about 500 Btu/hour less with roof insulation of R-49 than it would be…
Weekly Newsletter
Get building science and energy efficiency advice, plus special offers, in your inbox.
This article is only available to GBA Prime Members
Sign up for a free trial and get instant access to this article as well as GBA's complete library of premium articles and construction details.
Start Free Trial
Already a member? Log in