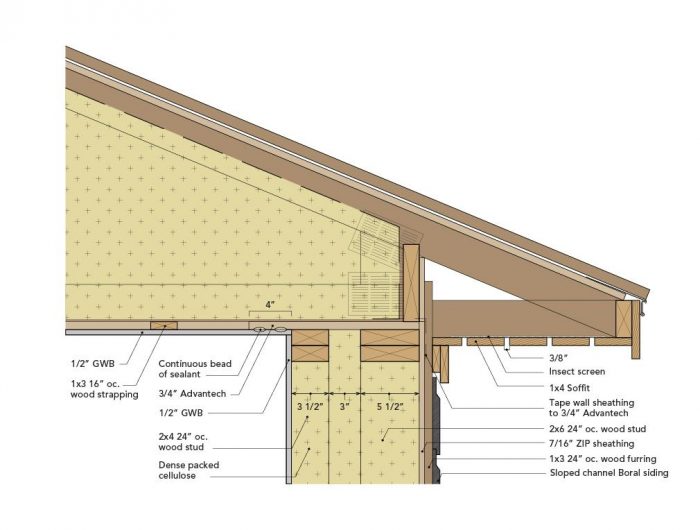 When it comes to control layers for managing water, air, vapor, and heat movement, continuity is key. This month, I address the air barrier specifically. Rather than illustrating a detail with the air barrier on an even plane, this detail demonstrates how to switch from the vertical plane of a wall to the horizontal plane of a ceiling without any gaps. There are many ways to go about this detail. In this case, the parameters driving the decision were cost, buildability, and durability.
Note the Zip sheathing on the wall plane; it is not only the exterior closure for the stud cavity, but also the primary exterior air barrier. In combination with the AdvanTech sheathing, it adds structural integrity as a shear panel. (The reason for using AdvanTech rather than, say, rips of the Zip sheathing is that it is dimensionally similar to the 1×3 strapping. The Zip is 1/2 in. and the strapping is 3/4 in., which means rips of Zip would require changing the strapping to something closer in size.) When working with Zip sheathing, all joints are wiped clean, taped, and rolled to provide the proper seal between panels.
On the ceiling plane, the gypsum board is installed as the primary air barrier, and the taped seams provide continuity. One of the challenges at the ceiling is interior partitions. One approach is to install the drywall prior to adding interior partitions. This ensures a wide-open ceiling plane without interruptions. With the exterior air barrier at the wall and the interior gypsum board at the ceiling, the challenge becomes creating continuity at their intersection.
Here, the wall assembly is a double-stud frame—though a similar detail can be used for single-framed 2×6 and 2×8 walls. For continuity at the intersecting planes, the air barrier is folded 90 degrees from the wall to…
Weekly Newsletter
Get building science and energy efficiency advice, plus special offers, in your inbox.
This article is only available to GBA Prime Members
Sign up for a free trial and get instant access to this article as well as GBA's complete library of premium articles and construction details.
Start Free Trial
Already a member? Log in