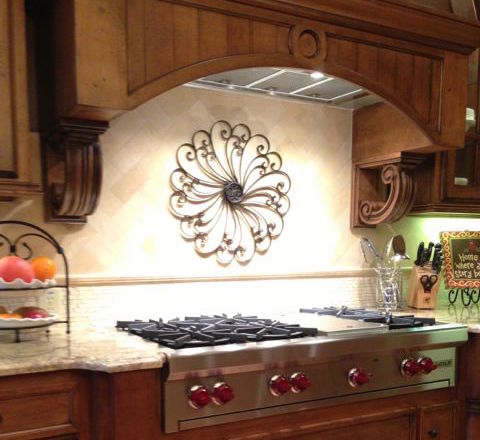 Energy efficiency is a gateway drug to building science.  When you really start learning about it, you come to the inescapable conclusion that there's so much more to making homes better than just saving energy.  A house is a system, you know.
There's moisture and comfort and indoor air quality and more.  Today, let's home in on the indoor air quality part, specifically as it relates to kitchens.
Indoor air quality in the home
I keep an eye on the work of some of the researchers who investigate indoor air quality:  Dr. Brett Singer, Professor Jeffrey Siegel, Professor Shelly Miller, and Professor Richard Corsi, to name a few.  One thing I've heard loud and clear from them and from the mechanical ventilation crowd (Dr. Joe Lstiburek et al.) is that the first step to good indoor quality is source control.
That can mean just not bringing in materials that are going to have a negative effect on the indoor air quality, like avoiding furniture made with materials that offgas urea formaldehyde.  It can also mean attacking the source of indoor contaminants.  A kitchen range hood does that by removing the harmful stuff that gets into your air whenever you use your range or oven.
At Building Science Summer Camp this year, Dr. Singer gave an update on indoor air quality in the home.  Naturally, what happens in kitchens was a significant part of it.  Here's his slide on the contaminants that come from the cooktop.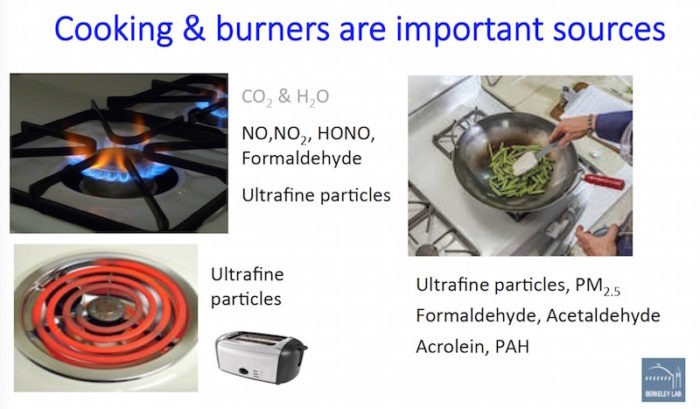 As you can see, your indoor air quality is diminished not only by cooking but also by the burners themselves.  Burning gas is the worst but those electric resistance burners put a lot of ultrafine particles in the air.  The best way to cook if you want to minimize your impact on IAQ is to use an induction cooktop.  Then you just have the stuff that comes from the act of cooking itself.  As you can see above, that can be pretty bad.
In addition to those, I saw this tweet from Florida Solar Energy Center researcher Danny Parker:
Singer didn't mention that on his slide, but if you check out the Wikipedia page on sulfur dioxide, it might help you remember to turn that range hood on every time you fry some up.
And that's just what happens on the cooktop.  If you have a gas oven, you could be dumping toxic levels of carbon monoxide into your air.  I once tested a brand new gas oven and it spewed about 1,000 parts per million of CO at startup.
Clearly, the best solution for these poisonous and toxic contaminants is to get rid of them at the source.  That means using the exhaust fan that you should have right there over the cooktop and oven.
And that leads us to the two main problems I promised in the title.  They are:
1.  Not using a kitchen exhaust fan
Most times people have the fan right in front of them when they're at the stove cooking.  Many of them fail to turn it on.  Other times there's not a fan installed.  Yes, it happens.  Here's another slide from Singer's presentation: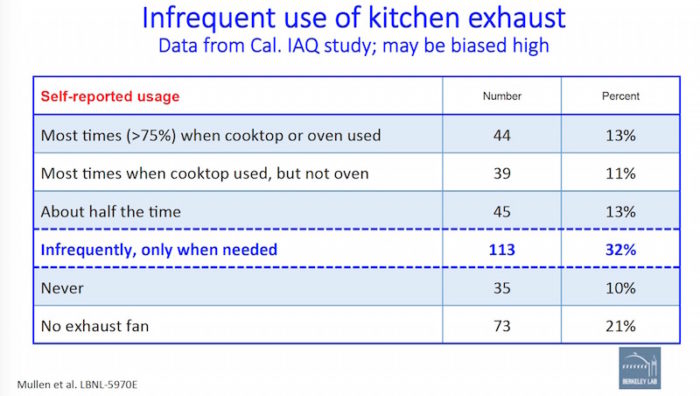 Only 13% of people in this study used the kitchen exhaust fan most of the time.  Ten percent never used it and 21% didn't even have an exhaust fan.  Only about a third of the participants in the study used the exhaust fan half the time or more.  The most common reason they gave for not using the exhaust fan was they thought it wasn't necessary (48%).  The next most common reason was noise (21%).
This is probably the easiest thing anyone can do to improve their indoor air quality.  When you're standing there in front of the stove, reach for the range hood switch before you turn on a burner or the oven.
2.  An ineffective kitchen exhaust fan
Turning the kitchen exhaust fan on is a great first step in source control for better indoor air quality.  But that doesn't guarantee you're getting rid of all the bad stuff generated on your cooktop or in the oven.  Here are some of the reasons why it doesn't all get sucked out of the house:
The exhaust fan doesn't vent to the outdoors  –  Yes, it's true.  Some are recirculating hoods that usually pull the air through a little filter and send it back into the room, often greasing your forehead on the air's way back in.  They're standard in Passive House certified homes to prevent extra penetrations of the building enclosure, but in those cases, they still have kitchen exhaust via the ERV.  (I still prefer direct exhaust ventilation from the hood myself.)
The exhaust fan makes a lot of noise but doesn't move much air  –  Bad ducting of kitchen exhaust reduces the air flow, just as it does with bathroom exhaust fans.
The range hood has a low capture efficiency  –  Unfortunately, you can't go out and comparison shop based on this metric.  The researchers at Lawrence Berkeley National Laboratory, including Dr. Brett Singer, are spearheading this work.  They're not there yet but someday you'll be able to sort range hoods by color, size, air flow in cubic feet per minute, and capture efficiency.
What you can do to improve your indoor air quality
Kitchens dump a lot of indoor air contaminants into our homes.  You can mitigate that by always using your kitchen exhaust.  And if you're in that group that doesn't have any exhaust fan in your kitchen, get one installed as soon as you can.  To improve your capture efficiency, cook on the back burner as much as possible.
If you happen to building a new home or remodeling the kitchen in your existing home, make sure you put in a range hood, get one that completely covers all the burners, and make sure the duct is sized and installed properly and vents to the outdoors.  Oh, and don't install a microwave with a built-in exhaust fan over the cooktop.  Their capture efficiency is poor.
Allison Bailes of Decatur, Georgia, is a speaker, writer, building science consultant, and the author of the Energy Vanguard Blog. You can follow him on Twitter at @EnergyVanguard.
Weekly Newsletter
Get building science and energy efficiency advice, plus special offers, in your inbox.