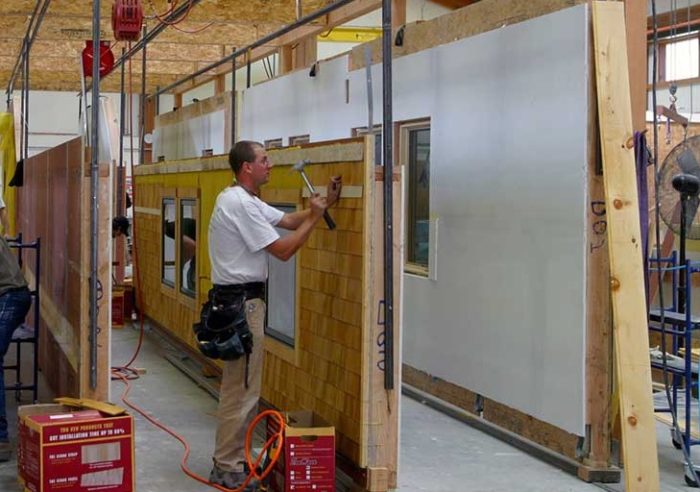 Like many builders, Tedd Benson and his team at Bensonwood Homes have taken an active interest in the emerging market for energy-efficient homes. In addition to developing panelized construction techniques and producing many custom timber frame commercial and residential buildings since its founding in 1974, Bensonwood built a home in Norwich, Vermont, to the Passivhaus standard.
The Passivhaus project was instructive, Benson noted in a recent email to GreenBuildingAdvisor, not only because the building maximized energy performance as designed, but because it highlighted a performance feature – the Passivhaus standard for airtightness – that could be applied cost-effectively to other projects. The most visible of those "other projects" is Unity Homes, a separate homebuilding company that offers four basic designs, relies heavily on prefabrication, and builds its homes to meet or exceed the Passivhaus airtightness requirement: 0.6 air changes per hour at 50 Pascals pressure difference.
Passivhaus certification is optional
Benson, who is chief of Unity, makes a point of noting that while airtightness and energy efficiency are virtues of Unity's houses, Passivhaus certification is not a requirement.
"Because of how our building systems work, and our off-site fabrication precision and control, we decided to make the (Passivhaus) airtightness requirement the Unity Homes standard," Benson explained. "But we did not decide that all of our homes will be PH!"
Other minimum performance standards for Unity include wall insulation to R-35 and roof insulation to R-44.
Four basic styles, one airtightness standard
By the time Benson announced the company's launch, in an October 9 post on this blog site, "The New House Rules," the company's first two homes were already in production.
The Unity lineup includes a two-story traditional style home, the Tradd, offered in configurations ranging from two to four bedrooms; a single-story cottage, Xyla, in configurations ranging from one to three bedrooms; a two-story Swedish-inspired home, Värm, available with two to four bedrooms; and the modern-style Zum, a single-story with two to four bedrooms.
Prices cited on the Unity Homes website exclude land, permits, site improvements, taxes, and shipping and onsite assembly charges for locations more than 50 miles from the company factory, in Walpole, New Hampshire. Unity has tried to keep prices relatively affordable. A 2,056-sq.-ft. configuration called Tradd 212, with two bedrooms and two and a half baths, for example, starts at $339,500.
The Zum line, meanwhile, is designed for maximum passive solar benefit and tends to be a little more costly per square foot. It starts at $298,500 for a 1,594-sq.-ft. two-bedroom, two-bath called the Zum 212. And though slightly smaller than the Tradd 212, the Zum 233 – a 1,773-sq.-ft. three-bedroom, two-bath – starts at $373,250.
For now, at least, distribution is geographically limited
Benson says that while most of the company's focus is on the Northeast, the plan is to expand production to other parts of the country with the help of additional partners and investors. And with expansion should come economies of scale, Benson adds, that will help drive down costs. Still, the current prices offer good value, he says.
"We know we're starting out well enough in pricing that these homes will be competitive with very inferior conventional alternatives in many markets."
Weekly Newsletter
Get building science and energy efficiency advice, plus special offers, in your inbox.