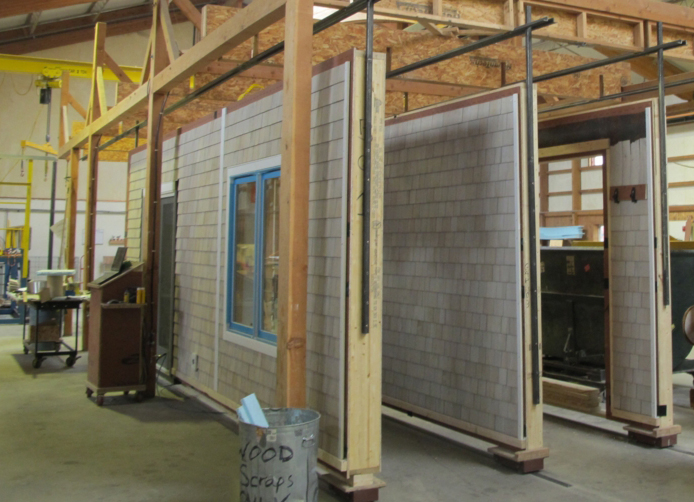 A few weeks ago I spent a half day with my good friend Tedd Benson learning about his new company Unity Homes. This Walpole, New Hampshire company is on the cutting edge of home building today, with its focus on energy performance, building science, green building, and (relative) affordability.
This week I'll describe some of Tedd's work that led to the creation of Unity Homes, and next week I'll go into more detail about this new company and the state-of-the-art green homes that he and his team are cranking out.
The timber frame revival of the 1970s
For those not familiar with Tedd, he is responsible — more than anyone — for the emergence of the modern timber framing movement some four decades ago. In 1973, initially to save money, Tedd and his brother Steve used timbers salvaged from old barns to build a workshop in Alstead, New Hampshire for the fledgling Benson Woodworking Company that they had launched a year earlier. (Steve died tragically in a car accident in 1974, and Tedd and his wife Christine continued the business.)
Their work with old timber frames — fixing up old ones in the New England homes they renovated and in building their own shop — fueled an interest in this durable and beautiful building system, which was used by our ancestors in Colonial America. Tedd evolved his business to specialize in timber framing, and in 1979 he wrote Building the Timber Frame House: The Revival of a Forgotten Craft, which became the bible of the emerging timber framing movement.
A few years later Tedd and a handful of timber framers in the region launched the Timber Framer's Guild, providing a forum to share ideas and have fun doing it. (I can attest that the early gatherings of the Timber Framers Guild were indeed incredibly fun, and I look forward to returning to their annual conferences later this year — many years after my last participation in the event.)
Tedd's company, renamed Bensonwood, became a leading builder of beautiful custom timber frames, ultimately producing frames for high-end homes and commercial buildings in 49 states. Here's our listing of the company from our GreenSpec database.
One of the largest frames that the company ever built is The Vermont Building on Putney Road in our town of Brattleboro, where one can see their handiwork using massive Douglas fir timbers.
A shift to lower-cost homes
But Tedd had growing frustration building houses only for the wealthy. He wanted a building system that would reach more of Middle America. In 1991 the company began the long-term process of standardizing home designs and using computer-assisted design (CAD) software to optimize designs.
Influenced by Steward Brand, Dutch architect John Habraken, and others, in 1994 Tedd developed the Open-Built platform that allowed easy modification of structures as needs change (a key argument presented in Brand's book, How Buildings Learn). Design elements of Open-Built included a baseboard raceway that provided access for electrical and data wiring and an accessible ceiling system that could be used for recessed lights, wiring, plumbing, and ducts for heating and ventilation.
This work led to a longstanding research collaboration with the Massachusetts Institute of Technology (MIT), the Open Prototype Initiative, to develop affordable, flexible, high-performance houses. While Tedd had done some of the earliest work with stress-skin panels (a.k.a. SIPs) for enclosing timber frames (working with Winter Panel Corporation in Brattleboro — now Vantem Panels), he eventually shifted away from foam-plastic insulation with his building system.
In 2010 in this blog I wrote about Bensonwood's OBPlusWall system, which is a cellulose-insulated panelized wall and roof system. With this system, Bensonwood achieved an extremely tight, R-35 wall system. A frequent traveler to Europe, Tedd adapted leading technologies and materials from Sweden, Switzerland, Austria, Germany, and elsewhere for this building system.
One of their European technologies that made possible Bensonwood's building system has been an automated, precision cutting system made by the German company Hundegger. This is referred to as a CNC (computer numerical controlled) machine. Cut lists produced by Bensonwood's CAD software are transmitted to the Hundegger, and the pieces are cut at precise angles with dogged consistency and accuracy finer than the increments on standard measuring tapes.
Unity Homes launched
Bensonwood built a number of houses using this approach and has now launched a new company, Unity Homes, to scale up production and drive costs down through manufacturing efficiency, supply chain development, and continued building systems innovation. Tedd thinks they can eventually roll out more than 100 houses per year from their Walpole facility, and if all goes well, production facilities could be built in other parts of the country with the help of investment capital he's seeking.
"I have long believed that the average American home should have a much higher standard of build quality, durability, and energy performance," Tedd told me. "In that regard, home building has long been under-performing compared to other industries. In fact, homes have been considered by some to be the most deficient and defect ridden product consumers buy," he said.
Tedd believes that we can do better, arguing that homes are important both for the quality of life they deliver and for helping us achieve environmental sustainability. "They should be leading the way in product quality to provide people with uncompromised energy efficiency and long term security," he says. "It's our mission to prove that point with Unity Homes."
In next week's blog, I'll get into some of the innovative details and features of Unity Homes — including the impressive per-square-foot pricing they've been able to achieve.
Alex is founder of BuildingGreen, Inc. and executive editor of Environmental Building News. In 2012 he founded the Resilient Design Institute. To keep up with Alex's latest articles and musings, you can sign up for his Twitter feed.
Weekly Newsletter
Get building science and energy efficiency advice, plus special offers, in your inbox.