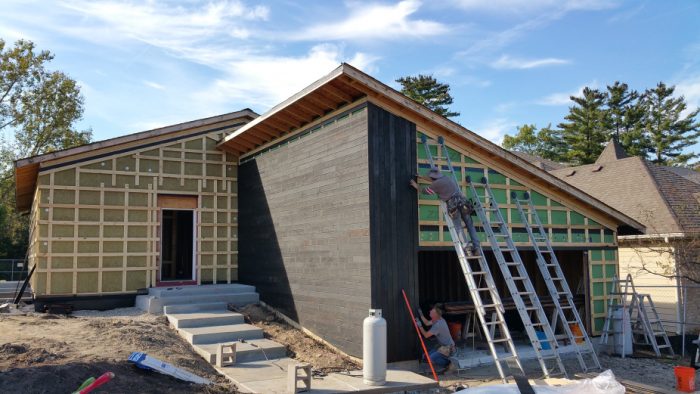 Editor's note: This post is one of a series by Eric Whetzel about the design and construction of his house in Palatine, Illinois, a suburb of Chicago. A list of Eric's previous posts appears below. For more details and more photos, see Eric's blog, Kimchi & Kraut.
We wanted the process of creating our new home to be fun, so from the outset we approached the build as a mix of science and art.
For the structure, this meant utilizing building science research to properly air seal, insulate, and ventilate to ensure that we ended up with a house that's hopefully durable, stingy with its use of electricity, and that functions well on a daily basis for many years to come.
In terms of design, it meant spending an inordinate amount of time on the floor plan, carefully defining how we would move through and live in the structure, while also carefully considering the seemingly infinite options when it comes to finishes, both for the interior and the exterior of the home (with an emphasis on low or no VOC products to protect indoor air quality).
With most of the wall assembly details finally in place, putting up the charred cedar siding represented the first real transition from science to art. And with Passive House details mostly taken care of, we could begin to make decisions in real time regarding how we wanted the house to look, both inside and out.
Massing: basic forms
Our house is a basic box with a gable roof (long sides face north and south with the gable ends to the east and west). It's not unlike the basic form most children would come up with if prompted to draw a house. We really like the simplicity of this kind of roof style for aesthetic reasons, but also for the ease of installation and for durability.
Bronwyn Barry has even coined a hashtag for this use of very basic forms,  #BoxyButBeautiful, especially popular with Passive House design since it can help eliminate thermal bridges while making air sealing more straightforward.
We tried to avoid having the garage as part of the front of the house, in particular having the garage door facing the street (a look I'm not fond of), but physical limitations, in terms of the lot itself, left us with little choice in the matter. So rather than repeat the gable roofline of the house, we went with a shed roof for the garage. The shed roof adds some visual interest, while it also ensures that any rainfall in this area immediately gets sent to the north side of the house where we want it—away from the foundation as well as bypassing the driveway altogether (water flows to the north on our street).
We also felt that these two rooflines fit in well with our Urban Rustic design aesthetic. As a mash-up between early 20th century city and farm, both the simple gable and stark shed rooflines would be equally at home in an agricultural setting or on a densely packed inner city block.
In addition, it was important to us to have some fun with color, so on the exterior using black charred cedar with some natural highlights would give us the bold look we were going for, while accent walls inside with bright, playful colors would help bring the interior to life.
Siding layout for our charred cedar
Since we were building custom, rather than working within the constraints of tract housing in a larger subdivision (as we did with our first house) where many of the design choices are already made for you, we knew we wanted to take some chances in terms of materials and layout.
It also helps that we're in a neighborhood with mixed architectural styles, including single-family homes and townhomes, with structures and exteriors running the gamut between old and new, as well as traditional and contemporary. We felt like this gave us more latitude to try something different without upsetting the overall look of the neighborhood.
With a smaller structure and only two basic rooflines, we knew any experimentation or design risk was going to have to occur at the level of siding materials and their orientation.
Knowing its weaknesses, I never imagined using wood for any part of the exterior of my house should the day come when I could build my own home. Brick, stone, metal, any number of man-made products (e.g. PVC or Boral), all seemed like the smarter way to go to avoid maintenance headaches and costly repairs. I assumed we'd end up using Hardie plank siding, or one of its paneling configurations, or maybe even some kind of metal product.
But then I came across charred cedar, or shou sugi ban.
It's hard to remember now exactly where I saw it for the first time but I think it was a Dwell magazine profile of Terunobu Fujimori's work. I may have even first seen the same architect featured in Philip Jodidio's book Architecture Now! (HOUSES, volume 1). Regardless, once seen, it was hard to forget.
When we first began working with our initial builder, Evolutionary Home Builders, I brought them some rudimentary drawings I had done, expressing our desire to try something creative and out of the ordinary, especially in terms of siding layout.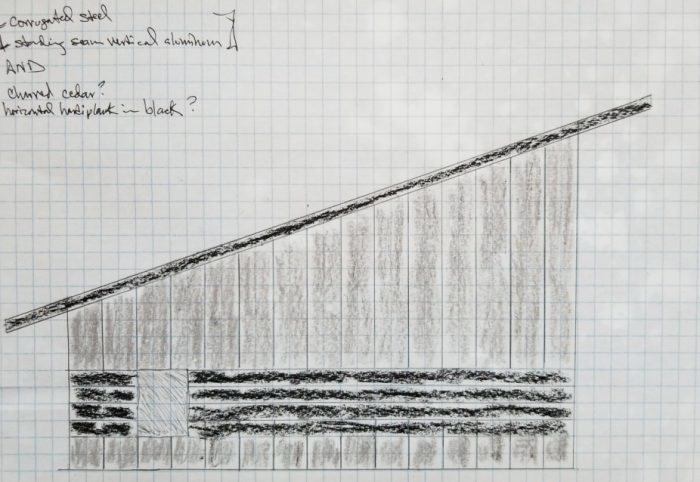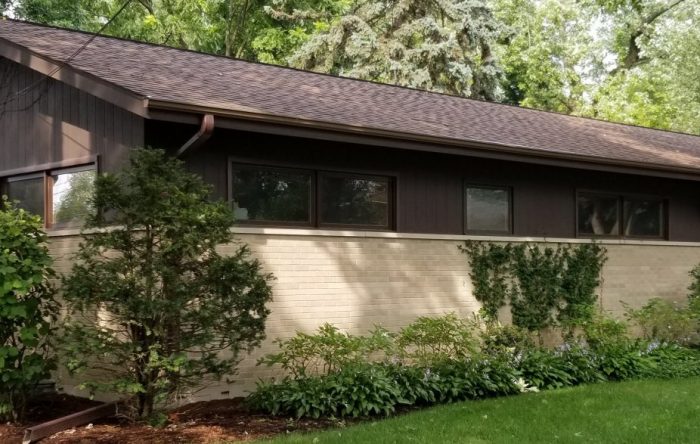 Finally, since we felt the charred wood next to the natural was visually so electric, I thought it best to limit the combination to try and heighten the effect.
Installing the charred cedar
With all of the components of our wall assembly in place, Wojtek and Mark finally started installing the charred cedar on the house, beginning with the garage. This easily was one of the most exciting moments of the build.
I think Wojtek and Mark were secretly excited, too, if only because they were finally finished with all of the insulation and layers of strapping. It was more than a little exciting to see the first pieces going up, especially considering how far off-track our project had gotten early on.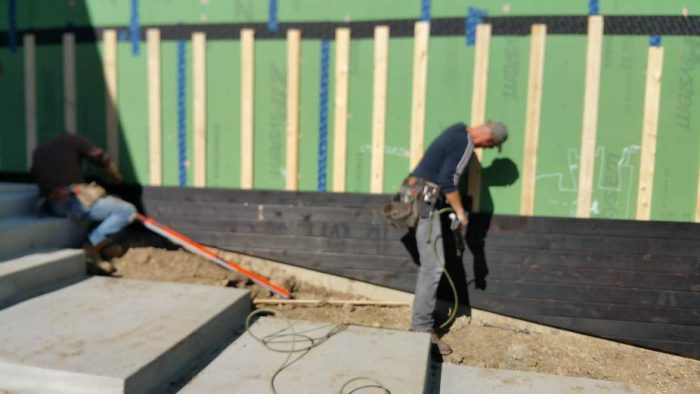 In doing so, on the south side by the front porch this horizontal orientation would draw in the viewer's attention, hopefully pointing it towards the front door of the house. Even as you walk up the front steps, this horizontal orientation, I would argue, does its subtle magic fairly well. At the street, or out in the front yard, this effect seems to work even better (have a look at the photo at the top of this column).
In mixing the siding's orientation in this way it also helps to show what the material can do visually. Lastly, having these two sides of the garage oriented horizontally should also emphasize that this portion of the structure serves a different function (garage vs. house).
In keeping with our Urban Rustic aesthetic, the charred cedar—which would look just as good on a farmhouse or outbuilding as it would on an early 20th century artisan workshop or small factory warehouse—also represents our desire to bring in elements that reflect the Japanese notion of wabi-sabi.
Stressing the wood with fire instantly gives it an aged appearance, and the amount of variation also makes clear it's a natural material, as opposed to an industrial product manufactured to meet narrow and precise tolerances. Whether it's the knots, the lighter or heavier areas of char, some areas of natural cedar peeking through, or the oil stain marks, the charred cedar emphasizes and celebrates imperfections and inconsistencies in the wood.
Soffits and air vents
For the soffits, we were initially going to use a Cor-A-Vent product, PS-400 Strip Vent, to complete our cold roof assemblies, which included a ridge vent. But after opening the box and really taking a look at the strips, they just seemed really flimsy. I'm sure they would work fine, but holding them in your hand doesn't exactly breed confidence. Also, seeing Wojtek's stink face as he carefully studied a couple of pieces only confirmed that we needed another option.
After looking around online, I ended up finding a product at a local Home Depot—Kwikmesh galvanized mesh from Construction Metals, Inc. Not only did the metal mesh appear more substantial, I thought it would look better with the charred cedar than the PS-400, making for a nice contrast with the wood.
We were going to copy a Hammer and Hand diagram for the top of a wall, in particular their rainscreen detail for the frieze board.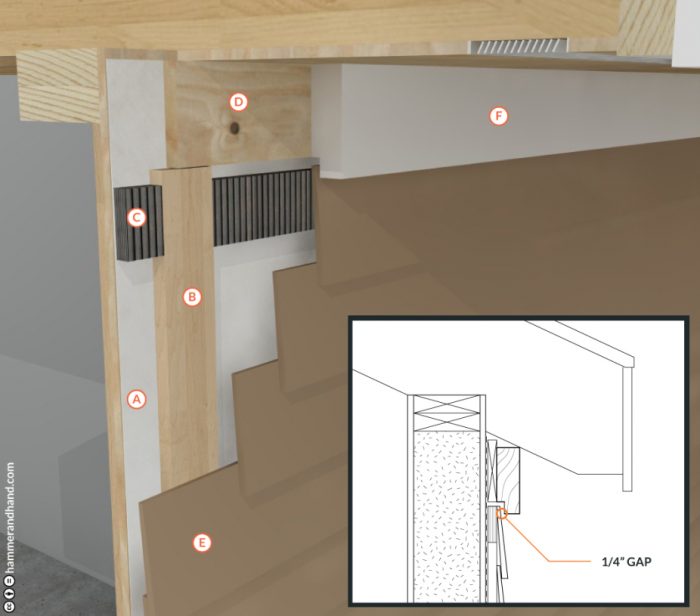 After talking through the details, Wojtek and Mark found the notch in the frieze board to be an overly fussy detail. They preferred keeping this piece fully intact. To do this, they ripped down 2×2 furring strips to a thickness they could use as blocking behind the frieze board, pushing the frieze board out just beyond the plane of the siding to leave a roughly 1/4-inch continuous gap.
Apart from slightly more room directly above the Cor-A-Vent strip, the end result is much the same—a small gap between the frieze board and the top piece of tongue and groove siding allows air behind the siding to flow freely up and out of the wall assembly through the top of the Cor-A-Vent strips.
The Cor-A-Vent strips are kept about 1/4 inch below the initial blocking directly above them.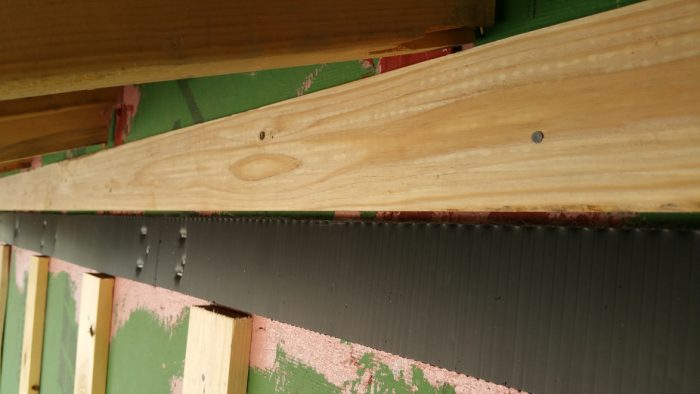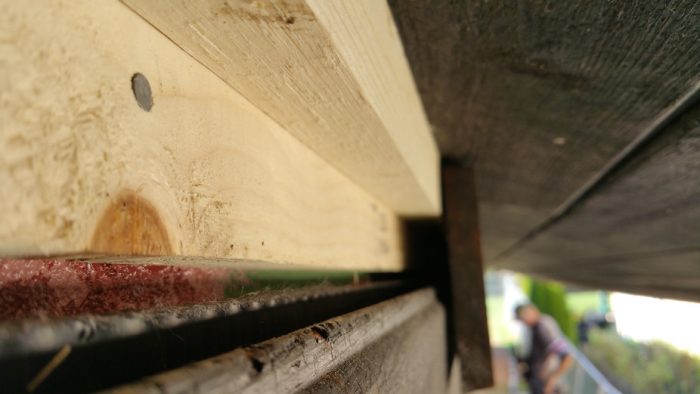 On the north side of the house I wanted to keep the charred cedar a monolithic black. The only real relief from this was the change in orientation of the siding from the north side of the garage to the house, along with a single window for my daughter's bedroom. Knowing that the other three sides of the house would be getting some natural cedar accents, I thought keeping at least one side of the house entirely black would make for a nice overall effect.
Installing natural cedar accents
The west side of the house would be the first opportunity to use some of the natural accents. Based on my initial drawings and the sample board, I wanted to limit the natural wood as much as possible while still allowing it to have a strong visual punch.
I wanted to take advantage of the drop-off in grade in the backyard by using the natural boards around the window on the left. In doing so, it would draw attention to the change in grade, emphasizing that the left side of the west facade is significantly taller than the right side.
Using the structure of the window itself as a guide would help me to decide exactly how many natural boards to use. In addition, I knew I wanted a more informal look, making it consistent with our Urban Rustic and wabi-sabi design goals. Using an odd number of boards in an asymmetrical way would help achieve this.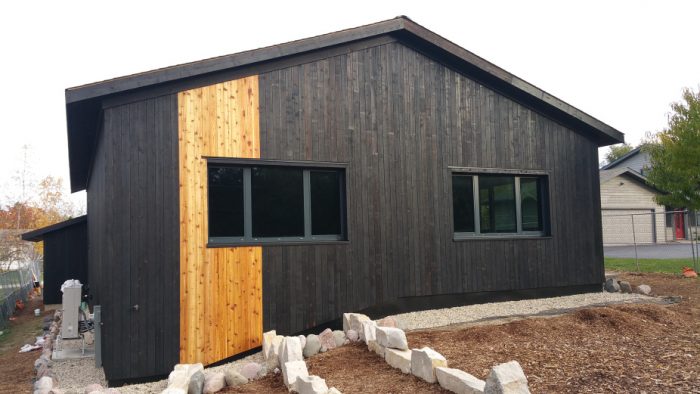 By going just past the first piece of glass, the natural boards have a nice asymmetrical look to them—hugging or slightly wrapping around the window just enough, making a connection, but not too much.
After so many months of planning, worrying, and waiting—and then finally getting to see this combination of charred cedar with the natural cedar—watching the siding go up was easily one of the most gratifying parts of the entire build.
On most houses the back side tends to be rather boring, as if it were mostly forgotten about (at least in visual terms). In part this is no doubt because the details used to create visual interest are normally reserved for the front elevation where they can show off to the street. Where the front might be covered with stone accents, metalwork, elaborate lighting fixtures, or some other decorative accents, the other three sides tend to blend together as the basic siding material just continues its standard layout or pattern around the perimeter of the house. These decorative accents add cost to a build, so it makes some sense to reserve them for the side of the house that most people will see.
Sometimes, however, this effect can be jarring. A lack of cohesiveness can lend a kind of sadness to a house, as if it announces that the elaborate plans for the exterior cladding were ruined by unexpected budget constraints.
Consequently, we felt it was important to give each side of the house its own distinctive face. Because of the size and layout of our lot, and the way the houses next to us are positioned, it's difficult to view more than one side of our home at any one time, which only encouraged us to make this a priority.
The effect of the natural cedar is also reminiscent of racing stripes, especially those seen on sports cars or muscle cars, or even motorcycles (e.g. the graphics on racing sportbikes). This was partly done with tongue planted firmly in cheek—if high-performance cars and motorcycles look good with racing stripes why not on a high-performance home?—but mainly because I've always enjoyed the visual power of these types of graphics.
For the south side, we decided to use the kitchen door as our guide for putting up the natural cedar, while the front door would be used on the east-facing facade.
Another element around the two doors to consider was exterior lighting. A single fixture at each door would project an upward and downward concentrated beam of light, highlighting the natural boards in the dark as they pinpoint their focus on this band of natural wood surrounded by total blackness. We started the natural boards to the right of center of the door's glass, cheating a bit so that they started pretty much directly above the door handle.
We ended up at five boards for this side of the house, allowing the striping to stay proportional to the size of the opening while sitting just beyond the eventual light fixture. It also helps that the kitchen door, made up largely of glass and a neutral gray color, doesn't take any attention away from the natural boards.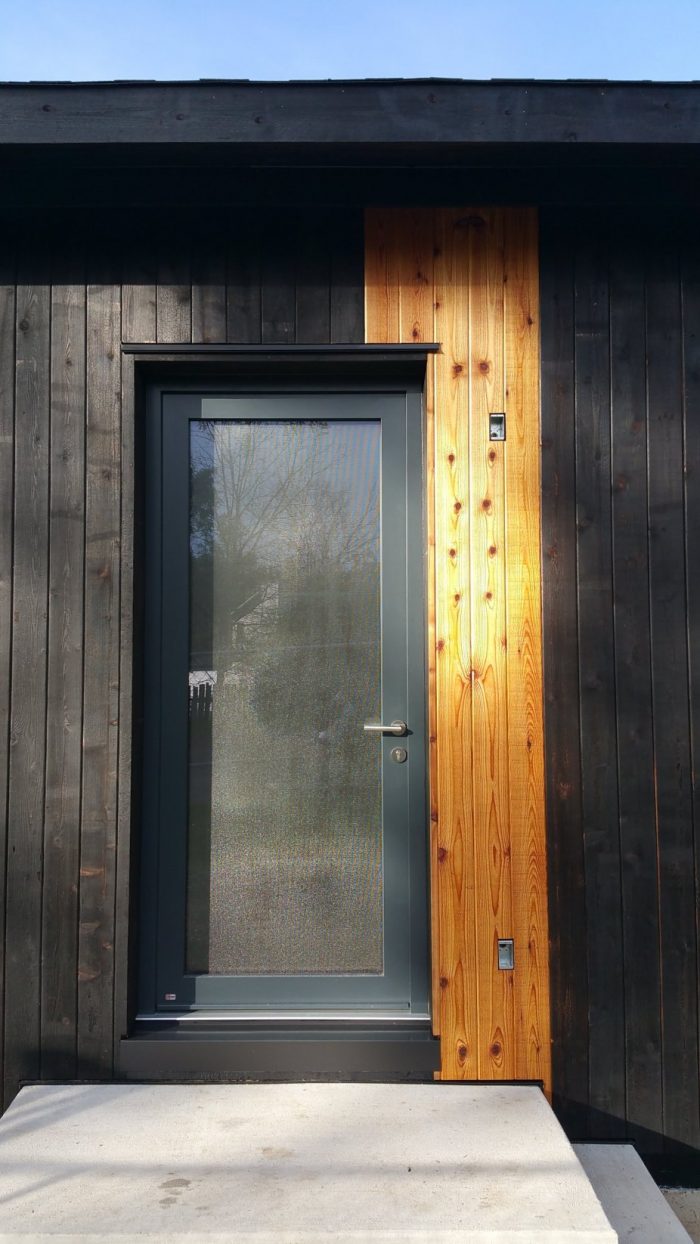 At the front door, I initially pictured the natural boards installed on the right side of the entryway. In two dimensional drawings this seemed to make sense, but after seeing everything in place in reality, it became pretty clear that to the left of the front door would be far better. To the right of the front door the natural boards would have seemed squeezed.
Many thanks to Wojtek and Mark for their patience in playing along as I figured out exactly how many natural boards to use, and exactly where they should be positioned.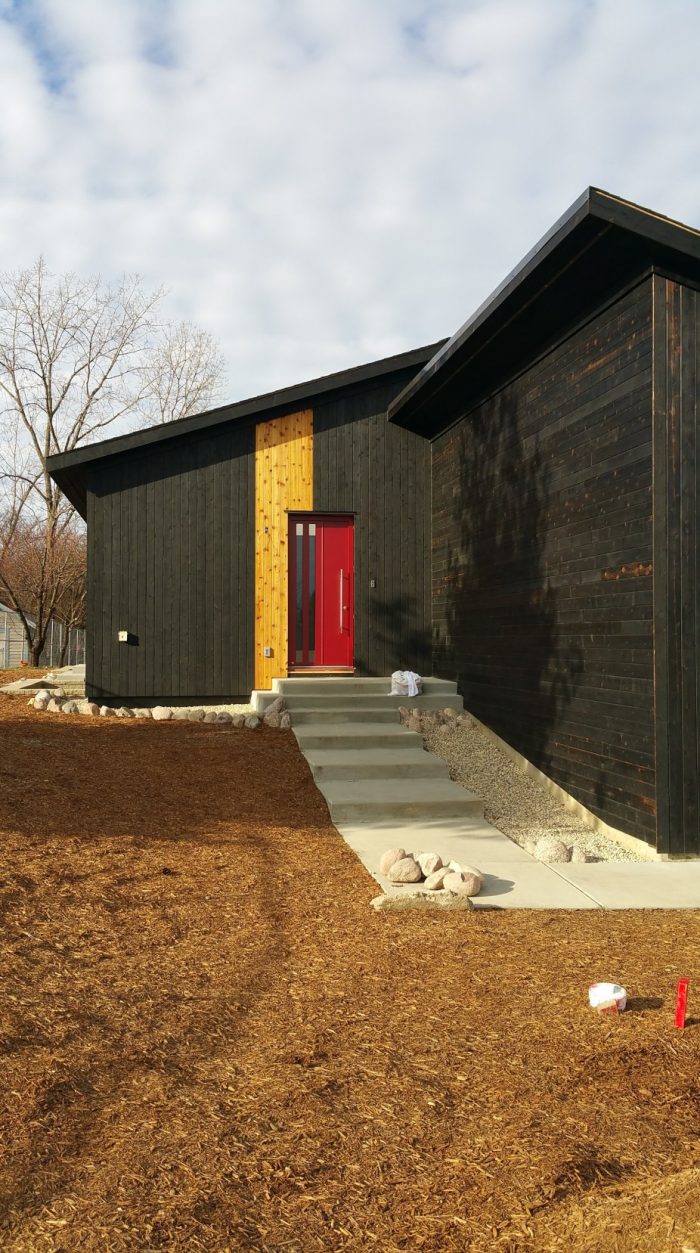 Sill pans, gutters and downspouts
When most of the siding and overhangs were complete, Wojtek and Mark started installing the metal sill pans for all the windows and doors.
In the photo below you can see the horizontal layer of 1×4 strapping, which becomes a nailing surface for the 1×6 cedar board that will be used as a return back to the window frame.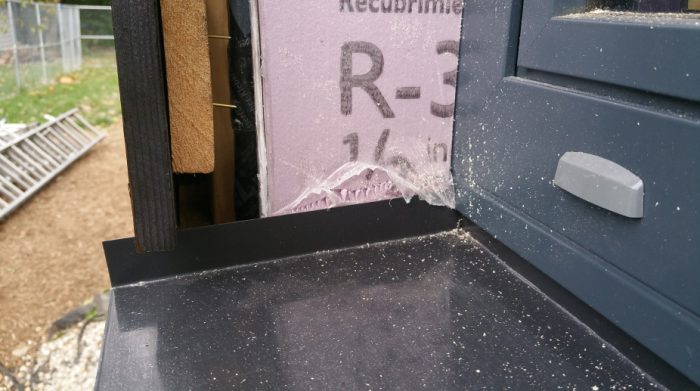 We were going for a frameless look for the windows; meaning, once all the trim was installed, very little of the window frame is left exposed.
For the gutters and downspouts we went with Nordic Steel. They're expensive, but they've lived up to the marketing claims: with a larger half-round gutter and wide diameter downspout, we've never had to clean out our gutters (so far, anyway). They also look really nice, and they fit in well with the Urban Rustic feel we're going for.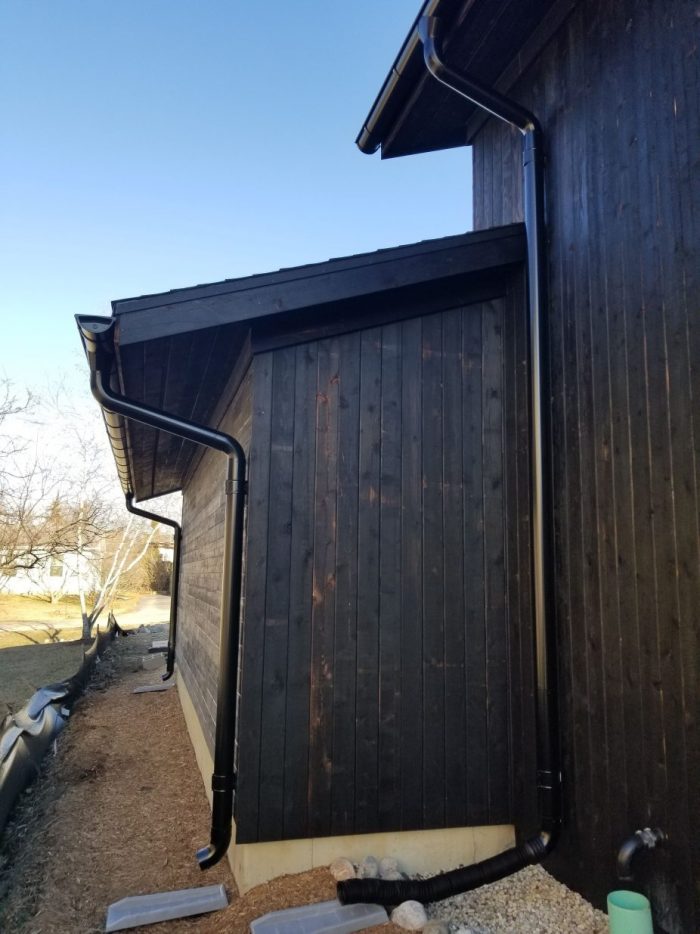 How durable is charred siding?
Initially at least, our luck hasn't been great with the charred cedar.
During our first summer with the siding last year we noticed that we had some carpenter bees buzzing around the house. At first, I didn't think much of it since the charred cedar is supposed to be insect-resistant. But then I noticed a bee digging a hole above one of the windows and realized something needed to be done.
After reading up on their lifecycle, I used a spray inside the holes that were present (about 10 total after I went looking), following up a couple of days later with a few puffs of diatomaceous earth. After waiting two more days, I then stuffed each hole with some steel wool before covering each entry point with some black sealant. Once patched, these areas are virtually invisible.
After the siding had been up for about a year, especially after its first summer, it started to show some wear. Since the north side has held up the best, I can only assume it's exposure to the sun that caused most of the wear to occur on the other three sides of the house and garage (although I'm sure rain played its part, too).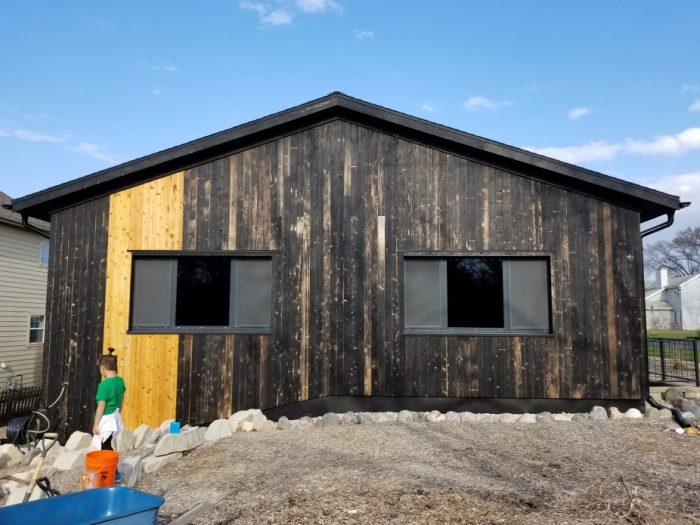 In general, areas with a heavier layer of char have held up better, but sometimes even in these areas we've seen some missing char develop.
Although the charred wood wasn't in any immediate danger, and I enjoyed this aged look, my wife said she preferred the original, more opaque, black look of the siding. And to be honest, since many of these exposed areas were turning gray, I worried about how well any product we might try in the future would soak in and adhere, so I decided to address it this year rather than wait any longer.
Thankfully, I was aware of Kent's blog, Blue Heron Ecohaus, having seen it featured on GBA. He goes into detail regarding his decision to use Auson black pine tar instead of a shou sugi ban finish.
Our siding was installed in the fall of 2017, and last summer I experimented with the recommended 50/50 mix of Auson and linseed oil, using it to touch-up a handful of boards, including all the cut edges that Wojtek and Mark had meticulously burned. Without any tung oil, these exposed edges had faded badly, almost to the same consistent gray on every piece. Again, this may be because they didn't receive an especially heavy level of char when burned, but I can't know for sure.
Even though the charred wood is said to easily last for decades, we also knew that it should get oiled about every 15 years to improve its durability, so having to do touch-ups wasn't as heartbreaking as it might otherwise have been. I guess our 15-year mark came early.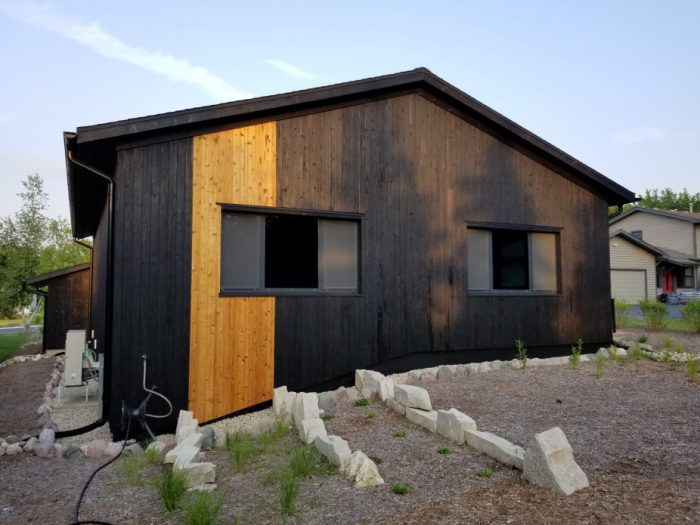 If I was going to do charred cedar, or shou sugi ban, again—at this point, that's a big if—I would insist on doing a uniformly heavy char finish (or 'gator' finish), and I would use the black pine tar to try and seal-in the char as much as possible. As beautiful as the lighter charred areas were when they first went up, they just couldn't stand up to the weather.
Nevertheless, the pieces of shou sugi ban that we've incorporated into our interior have held up nicely with just a tung oil finish, showing no signs of deteriorating, presumably because they've avoided any direct sun or rain (more on these areas in a future post).
So even with all the time, effort, money, and frustration that's gone into making the charred cedar work, I still love the way it looks every time I pull into the driveway, or notice it while working in the yard. It's just important to understand that as with anything worth doing, or any labor of love—like building our house, it could be said—it comes at a price.
Other posts by Eric Whetzel
Weekly Newsletter
Get building science and energy efficiency advice, plus special offers, in your inbox.