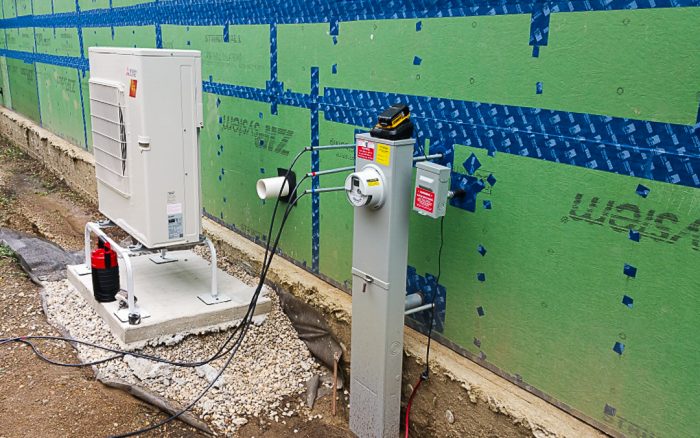 Editor's note: This post is one of a series by Eric Whetzel about the design and construction of his house in Palatine, Illinois, a suburb of Chicago. A list of Eric's previous posts appears below. For more details, see Eric's blog, Kimchi & Kraut.
The plan for our house was to combine an HRV or an ERV (for a continuous supply of fresh air) with a ductless minisplit air-source heat pump system for our ventilation, heating, and air conditioning needs. Almost all of the projects I had read about utilized this same combination, especially here in the U.S.
The only real debate, apart from specific brand options, was whether to use a single distribution head on our main floor, as opposed to installing multiple heads for a more dialed-in level of comfort (e.g., in the basement or the bedrooms).
Suggested equipment was grossly oversized
Our original builder had called for one head in the kitchen/family room and one in the basement, which was pretty standard for a Passive House level project. It was, therefore, pretty shocking to find that our second builder (there were two partners) and their HVAC subcontractor were suggesting a system that was grossly oversized for our needs. You can read about the details here.
This was just one of many red flags that convinced us to move on and GC the project ourselves. It's also a reminder that old habits die hard, meaning that even seasoned contractors, in any trade, need to be willing to learn new ideas and techniques if they want to truly be considered professionals and craftsmen.
One of the disappointments associated with our build is, in fact, the disinterest (in some cases even outright hectoring contempt) shown by various tradespeople in our area for green building generally. Doubtless, at least a partial explanation for why much of the Midwest seems so far behind in adopting green building techniques, especially when it comes to air sealing, insulation, and indoor air quality beyond code minimum standards. Hopefully this changes significantly in the coming years.
Right sizing starts with a Manual J calculation
Consequently, I took Steve Knapp's advice (from the comments section of my Q&A post on GBA) and contacted Home Energy Partners (their new name is HVAC Design Pros). Isaac responded quickly and eventually did our Manual J, confirming that we needed a much smaller system, one that is more consistent with a Passive House project.
Once we were on our own, in addition to going with a Zehnder ERV and a Mitsubishi ductless minisplit air-source heat pump system, we also pursued the possibility of using a Sanden heat-pump water heater. After seeing it used on a Hammer and Hand project, we thought it was a really interesting piece of cutting-edge technology.
Unfortunately, after getting a quote from Greg of Sutor Heating and Cooling, and a poor response from Sanden on questions we had about the system (they were unresponsive to emails), we decided to stick with our Zehnder, the Mitsubishi heat pump, and go with a Rheem heat-pump water heater. (Going with the Rheem saved us just over $6,000 in initial cost.) Hopefully, as it becomes more popular in the U.S., the Sanden can come down significantly in price, or maybe less expensive copycat products will someday show up on the market.
Greg was initially willing to work with us, even though we were technically out of his service area. He was nothing but professional, taking the time to answer any number of technical questions and offering what proved to be sage advice regarding various details for our system. But because we were installing only the minisplit and not the Sanden, he suggested we find an installer closer to us.
Finding our installer
We were lucky to find Mike from Compass Heating and Air. He came out to the job site and we walked through the details together. He proved to be knowledgeable, helpful, detail-oriented, and extremely professional. Installing our Mitsubishi ductless minisplit system with Mike proved to be one of the easiest portions of our build. We never felt like we had to look over his shoulder, making sure he got details right, or that we had to constantly confirm that he did what he said he was going to do — in fact, it was the opposite: Mike's on site, so that's one less thing I have to worry about.
Mike also confirmed what Greg and Isaac also pointed out: comfort issues may develop if we tried to get by with just one distribution head on the main floor.
In fact, looking back through old emails, Greg was nice enough to walk me through some of the options employed by those trying to get by with a single head for an entire floor (sometimes even two floors), including leaving bedroom doors open throughout the day (ideally, even at night), and even the use of Tjernlund room-to-room ventilators.
Again, to his credit, Greg tried to stress how important it was that homeowners have realistic expectations regarding the overall effectiveness of these techniques and options.
He also was at pains to make clear how the work of any competent HVAC installer can be easily undermined by a structure that underperforms. In other words, they can design an appropriately sized HVAC system for a Passive House, but if shortcuts occur during the build and the final blower door number comes in higher than expected, or the budget for insulation gets cut, reducing R-values in the structure, then the system they designed has little chance of working as intended. Based on what he wrote, I'm guessing he has dealt with exactly this outcome in the real world — not fun for him, or the homeowners to be sure.
By the time Mike got involved, we had pretty much decided to use multiple heads. In the end, we decided to delete the head in the basement, instead going with three separate heads on the main floor — the largest in the kitchen/family room, and the other two in our bedrooms.
Here are the specs for our system:
Hyper-Heat Compressor (30,000 Btu).
MSZ-FH15NA  (kitchen/family room).
MSZ-FH06NA  (master bedroom).
MSZ-FH06NA  (2nd BR).
Living with a ductless minisplit
Having lived with the HVAC system, both the heat pump and ERV, for about a year now, our only real complaint is summer humidity, which I discussed in a previous post.
This summer we're going to try using a dedicated whole-house dehumidifier, which we think should resolve the issue. Otherwise, our system has been trouble-free.
In winter, the heads do make some noise, tending to crack or pop, especially when first turning on, or when they come out of defrost mode. Although I've read complaints about this online, it's never really bothered us. I remember how loud our conventional gas-fired furnace was in our last house, especially when it first turned on, so I think it's important to remember the level of certain sounds in their appropriate context.
Also, this crack or pop sound is, I suspect, louder than it otherwise would be in, say, a conventionally built home. Passive Houses are known to be significantly quieter because of all the air sealing and, in particular, all of the insulation surrounding the structure.
There's also a noticeable humming sound when the compressor is going through a defrost cycle (especially noticeable at night when the house is otherwise quiet). The heads also temporarily send out cooler air during this defrost cycle, but the cycle is short enough that it hasn't posed any real comfort issue for us.
In other words, having blocked out, or at least muffled, most of the noise from outdoors (due to extensive air sealing and extensive insulation), any noise indoors becomes much more noticeable and pronounced. The Rockwool we installed between bedrooms-bathrooms, and the kitchen-utility room for sound attenuation definitely helps in this regard (more on this in a later post).
As far as extreme cold outdoor temperatures are concerned, the system experienced a real test with our recent Polar Vortex weather. Mike was nice enough to check in with us the day before it started just to remind me that the system could shut down if temperatures fell below -18° F, which is what our local weather forecast was predicting.
In fact, this proved entirely accurate. As temperatures eventually fell to -24°F overnight, the system was, in fact, off for a few hours (the Mitsubishi shuts off to protect itself).
With the Zehnder ERV already set to low, and using just a couple of small space heaters (one in each bedroom — roughly equivalent to running two hair dryers simultaneously), it was easy to get the interior temperatures back up to 68-70°F in less than an hour (from a measured low of 61° F when we first woke up), at which point we turned off the space heaters.
And it was just under two hours before the temperatures rose enough outdoors for the heat pump to turn back on. On the second day, the system again turned off, but the interruption was even shorter this time, so we didn't even bother to turn on the space heaters.
On both days the sun was shining, which definitely helped as light poured in through our south-facing windows, mainly in the kitchen and family room. Even with no additional heat, either from the heat pump or the two small space heaters, the kitchen remained a comfortable 70°F throughout that first day, regardless of the temperature outside.
In the summer, when we have the AC running, we just set the desired temperature on the remotes and largely forget about the system. The three heads together, even in each individual space, have no problem keeping the house and individual rooms cool enough. In this case, it no doubt helps that we have a substantial overhang on the southern portion of our roof, mostly denying the sun an entry point into the home during the hottest days of the year (and the Suntuitive glass on our west-facing windows takes care of afternoon summer sun).
As far as using a single head to try to heat and cool the entire first floor, in our case about 1500 sq. ft., I can only say that I'm glad we chose to use multiple heads. This really hit home as I was completing interior finishes. For instance, there were times when only the head in the family room/kitchen area was running. When you walked into the bedrooms you could definitely feel the temperature difference since those heads had been turned off (roughly a 5-10° difference). As Greg, Isaac, and Mike — to their credit — were all quick to point out, for some homeowners this temperature swing would be acceptable, even something that could be calmly ignored, while for other homeowners it might well be a heartbreaking and deeply frustrating realization.
Depending on how sensitive someone is to these temperature differences, it could  prove a devastating disappointment if the homeowner is expecting uniform consistency throughout their home. Also, since much of the selling point of Passive House techniques is, in the end, occupant comfort, and not just reduced energy consumption, moving from a comfortable kitchen, for example, to a bedroom that some would find outright chilly, might induce some homeowners to wonder what the point was of all that air sealing and insulating.
Obviously it's only our opinion, but if it's at all possible to fit it into the budget, by all means utilize more than one distribution head. Even if you yourself never feel compelled to turn on any of the other heads in a multi-zone system, a spouse, one of your kids, or a guest probably will want to have the option at some point.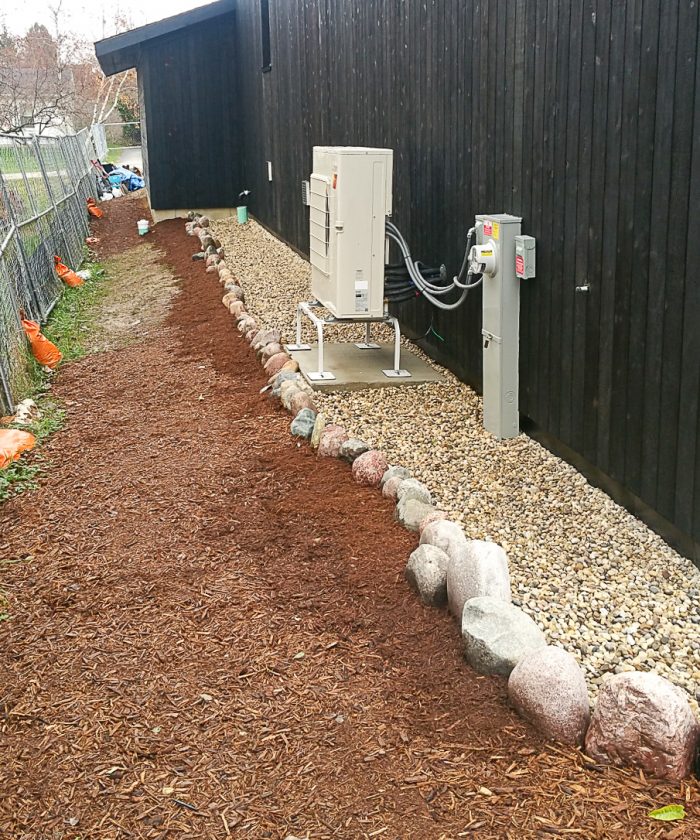 The one real risk we took with our HVAC set-up was foregoing any direct conditioning in the basement, either heat or AC. In the summer, no matter how high the temperatures outdoors, the basement stays within 5 degrees of the upstairs temperatures and humidity, so no comfort issues in this regard have presented themselves. In the winter, however, the temperature remains in the 59-61° range, with almost identical humidity readings as the main floor.
Mitsubishi wall-mounted heads: beauty or beast?
I've read that some interior designers, and even some homeowners, have expressed aesthetic concerns about the distribution heads. If you go on design-oriented websites like Houzz you can come across some really strong negative opinions on the topic.
For us, they've never been a problem. Much like the Suntuitive glass on our west-facing windows, or even a dark or bright color on an interior accent wall, after a few days, like anything else, you just get used to it. I never found them to be ugly in the first place though.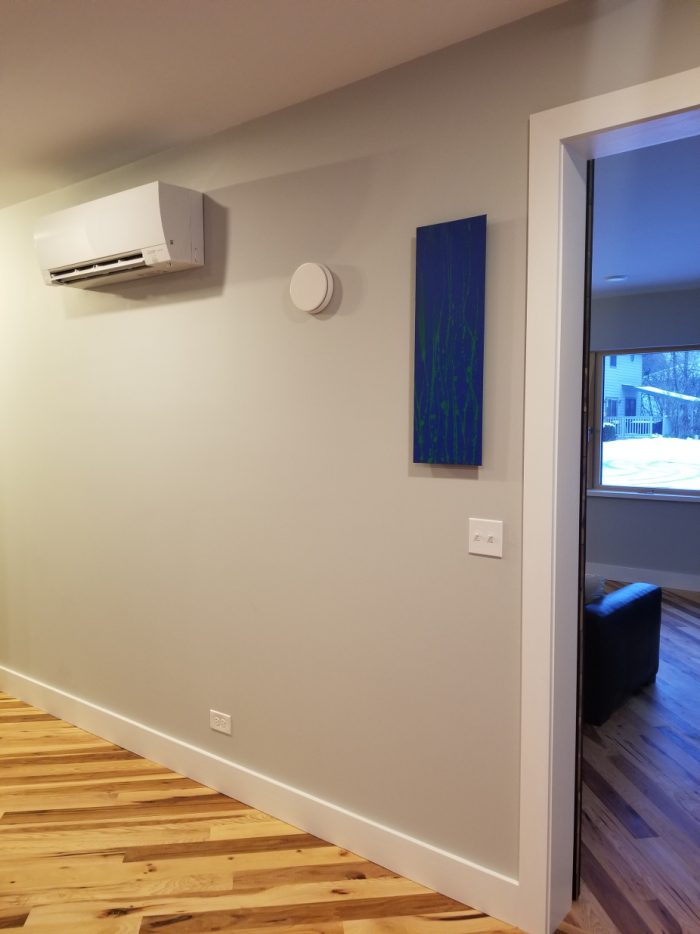 I also grew up with hydronic metal baseboards for heat, while in apartments and our first home we had the typical floor supply and wall return grilles for a gas furnace. Point being, the details of any HVAC system are never completely absent from any living space. There's always something that shows up visually and, typically, that needs to be cleaned at some point.
In addition, the Zehnder ERV and the Mitsubishi heat pumps meant we didn't have to use any framed soffits or duct chases (at least in the case of our specific floor plan) in order to hide bulky runs of traditional metal ductwork, typical in most homes when using a normal furnace. Unless designed with great care, these tend to be obtrusive, taking up premium ceiling, wall, or floor space. And if randomly placed simply for the convenience of the HVAC contractor, they can be downright ugly.
In other words, it doesn't really matter if you're building conventionally or if you're building a Passive House, all the details of an HVAC system — whether it's individual components, or even how these components will be placed inside a structure — should be carefully thought through (again, ideally before construction begins) to address any performance or aesthetic concerns.
Operation and maintenance
As far as the remote controls for the individual heads, we haven't had any issues.
For the most part, we set them to either heat or AC (roughly 70° and 74° respectively), and then forget about them. And when the weather is pleasant outdoors, we take every opportunity to turn off the system completely and open windows.
The system could be combined with a Kumo cloud set-up, but we've been happy with the hand-held remotes so far.
I try to check the filters for the individual heads at least once a month (more like once a week when I was still doing interior finishes). Just as it takes much longer for the Zehnder filters to get dirty now that construction is over, and the same has proven true for the blue filters in the Mitsubishi heads. It seems like about once a month is sufficient to keep up with the dust in the house.
Overall, we've been very happy with our HVAC set-up, including the Zehnder ERV and our Mitsubishi ductless minisplit. As long as the units don't have any durability issues, we should be happy with these systems for many years to come.
Other posts by Eric Whetzel:
Weekly Newsletter
Get building science and energy efficiency advice, plus special offers, in your inbox.