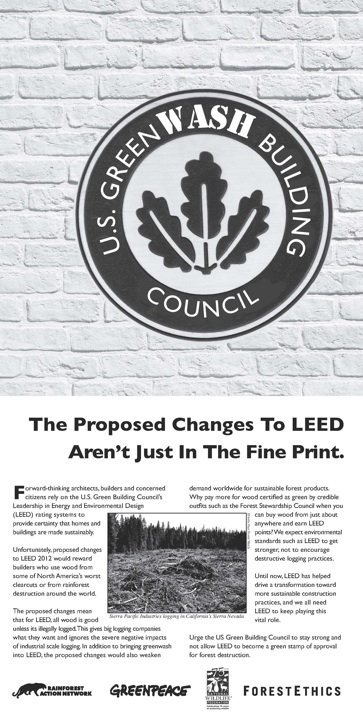 For many environmental groups, the only wood to use in construction is that certified by the Forest Stewardship Council (FSC), a nonprofit whose accreditation system is intended to assure builders that the wood comes from well managed forests and is harvested in ecologically sound ways.
Although its name was coined in 1990, the FSC was officially established 1992 with the formation of an interim board of directors, whose members had consulted with business, environmental, and social organizations about accreditation and certification strategies.
FSC-certified products are currently the only ones that qualify for credit under the U.S. Green Building Council's Leadership in Energy and Environmental Design (LEED) rating system. USGBC is, however, proposing a change to the Materials & Resources (M&L) section of LEED that would allow credit for projects built with wood from a broader array of sources.
Potentially weakened M&R standards?
Environmental groups are unhappy with updated language in the LEED Materials & Resources section that focuses on "new credit for responsible sourcing of raw materials."
"This credit," USGBC explains, "expands on existing credits that deal with material origins (rapidly renewable, certified wood, materials reuse) and significantly increases the scope around which credit for responsible sourcing activities will be rewarded."
In a full-page advertisement that ran on October 6 in the Toronto Star – just as the annual Greenbuild International Conference & Expo got under full sail in Toronto last week – ForestEthics, the Rainforest Action Network, Greenpeace, and the National Wildlife Federation complained that "proposed changes to LEED 2012 would reward builders who use wood from some of North America's worst clearcuts or from rainforest destruction around the world. The proposed changes mean that for LEED, all wood is good unless its illegally logged."
"This gives big logging companies what they want and ignores the severe negative impacts of industrial scale logging," continued the ad, which is headlined "The Proposed Changes To LEED Aren't Just In The Fine Print." "In addition to bringing greenwash into LEED, the proposed changes would also weaken demand worldwide for sustainable forest products."
A disagreement with deep roots
In fact, USGBC has long been lobbied to allow LEED credits for wood certified by entities other than FSC. The Sustainable Forestry Initiative – a nonprofit launched in 1994 by a wood-products industry group, the American Forest and Paper Association, and declared independent in 2007 – has been particularly persistent in urging USGBC to "to end a forest certification policy that discriminates against North American forests and against most of the independent forest certification standards used in the United States and Canada," as the group put it in a February 2010 press release.
One of SFI's primary adversaries is environmental group ForestEthics, which complains that SFI's primary source of funding is, still, the timber industry, and that its standards allow certification of wood that has been cut legally but nonetheless harvested via clearcuts close to salmon habitats and on steep slopes prone to mudslides. SFI also certifies tree-farming practices that include excessive use of fungicides and pesticides, ForestEthics says.
It's obviously not yet clear where USGBC policy will ultimately settle on this M&R issue, but it is clear that disagreements between environmental and industry groups will remain at the heart of many of these battles.
Weekly Newsletter
Get building science and energy efficiency advice, plus special offers, in your inbox.