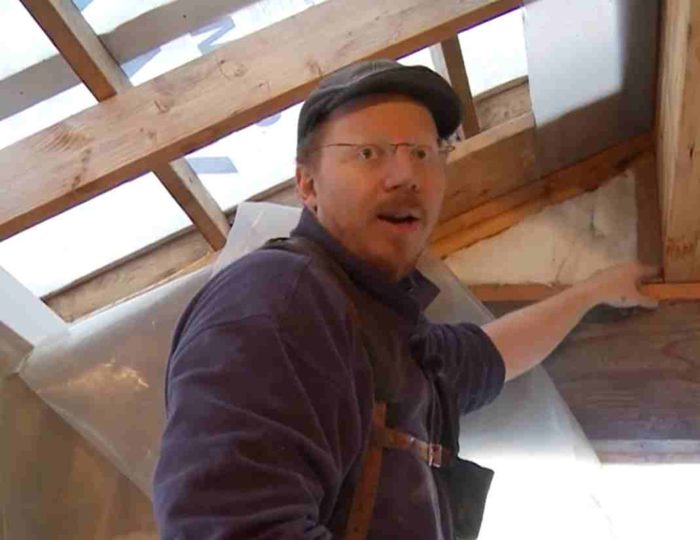 Back in the 1980s, Canadian energy experts urged builders to use interior polyethylene as an air barrier material. If the poly was installed conscientiously, and all seams were sealed with Tremco acoustical sealant, the approach worked well — at least in cold climates.
When the same techniques were later adopted by American builders in places like Ohio and North Carolina, builders learned an important lesson: "Climate matters." In hot climates or mixed climates where air conditioning is common, interior poly can become a condensing surface for exterior moisture during the summer. In many cases, the result was mold and rot.
These days, interior polyethylene is not recommended in most U.S. climates, especially in any home that may be air conditioned during the summer.
Alaskan builders still use interior polyethylene
But what if you are building in Alaska or northern Canada? Well, in those climates, interior polyethylene still makes sense. That's why the Cold Climate Housing Research Center (CCHRC) in Fairbanks, Alaska, recommends that Alaskan builders use interior polyethylene as an air barrier.
The CCHRC has produced an excellent video on this topic. In the video, Ilya Benesch, a building educator at the CCHRC, explains how to do a good job of air sealing with interior poly. If you are building in northern Canada or Alaska, the techniques shown in this video (below) are worth emulating.
For more excellent advice on building techniques for very cold climates, visit the CCHRC website.
[Author's postscript: in July 2012, when I was vacationing with my family in Alaska, we all showed up unannounced at the Cold Climate Housing Research Center in Fairbanks, where we were warmly greeted by Jack Hébert and Ilya Benesch. Not only did Jack and Ilya give us a tour of the CCHCR facilities, they let us use the building's…
Weekly Newsletter
Get building science and energy efficiency advice, plus special offers, in your inbox.
This article is only available to GBA Prime Members
Sign up for a free trial and get instant access to this article as well as GBA's complete library of premium articles and construction details.
Start Free Trial
Already a member? Log in