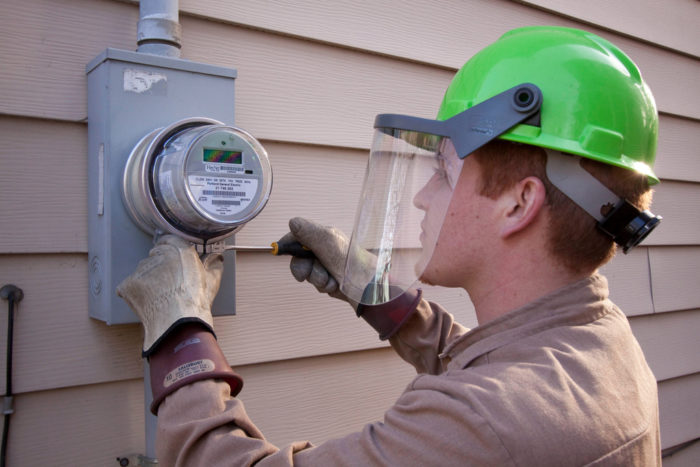 Wi-fi connected smart meters let utilities track how much electricity customers are using in real time, triggering warnings to cut back when demands on the grid are too high. Now, a Chicago utility has agreed to study whether the meters are effective in reducing greenhouse gas emissions.
In a deal involving the Environmental Defense Fund, Commonwealth Edison, and the Illinois Citizens Utility Board, ComEd has agreed to test whether customers who have smart members use less electricity than customers who don't have them.
In a post at Midwest Energy News, E&E Publishing reports that ComEd will compare how electricity use differs hour by hour between customers with and without smart meters. If smart meter programs successfully prompt customers to shift their use of electricity to non-peak hours of the day, there would be less of a need to bring on power plants to meet peak demands and, consequently, fewer greenhouse gas emissions.
"The ability to calculate the environmental benefits of clean energy investments like smart meters is critical to accelerating the new energy economy," the Environmental Defense Fund (EDF) said.
The test is the result of a law passed by the Illinois state legislature in 2011 permitting ComEd and Ameren Corporation to get higher utility rates if they invested in advanced meters and met other conditions, E&E said. EDF and the Citizens Utility Board then petitioned the state's Commerce Commission to require the utilities to measure greenhouse gas emissions as part of the deal.
Peak time warnings
ComEd reports that it has installed nearly 2 million smart meters in its service area and plans to bring the total to 4 million by 2018.
The utility offers smart meter customers a number of tools to monitor their use of electricity, ComEd spokeswoman Krissy Posey told GBA. Among them is the Peak Time Savings program in which customers are alerted by e-mail or text a day or two in advance of expected high loads during the summer. The warnings give customers a chance to dial back their use of electricity at a time when demand pushes costs higher. More than 110,000 customers are currently enrolled, and Posey said that collectively they saved nearly $400,000 last summer.
Customers also can log onto their ComEd accounts and enroll in a program that alerts them when their use of electricity is greater than normal, get personalized tips on saving energy, and set savings goals, Posey said. ComEd also offers an hourly pricing program giving customers the option of using power when prices are at their lowest.
The E&E report said that the groups spent several years trying to agree on how greenhouse gas emissions would be measured, but didn't come to an understanding that all sides liked. Posey said that the Illinois Commerce Commission has yet to issue a final order on the monitoring program and that details of how it would work are still being ironed out.
Weekly Newsletter
Get building science and energy efficiency advice, plus special offers, in your inbox.