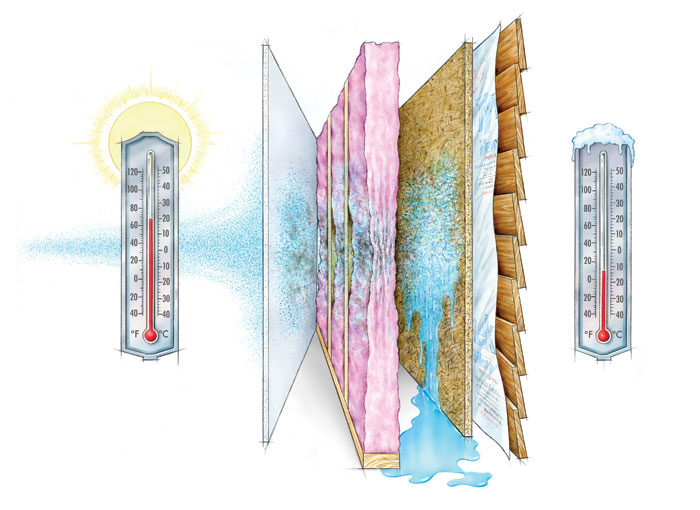 At the dawn of our current interest in building science, sheets of polyethylene were routinely stapled to interior framing before drywall was installed. The idea was to block the flow of water vapor into exterior walls. (Some builders tried to make their polyethylene seams airtight, so that the poly would do double duty — acting as an air barrier as well as a vapor barrier.)
Installing a vapor barrier (or more properly a vapor retarder) was considered cutting-edge.
But in time, builders began to see flaws in their approach. For one thing, it was virtually impossible not to damage or puncture the barrier during installation or after it was applied. The plastic sheeting was usually full of holes by the time the house was complete. As it turns out, these holes did not affect polyethylene's performance as a vapor retarder — a ripped, torn vapor retarder works very well. However, these holes undermined the poly's performance as an air barrier.
Since polyethylene reduces the ability of a wall to dry to the interior during the summer months, some builders began to worry the vapor barriers trapped moisture inside walls where it could do a lot of damage.
Thus began a muddying of the waters: when and where are vapor barriers a good idea?
Sandra Heiser wades into this debate with a Q&A post that's the subject of this week's Q&A Spotlight.
Leave the poly in, or take it out?
Heiser writes about a house near Buffalo, N.Y., that is ready for drywall. She describes the exterior wall assembly as follows: vinyl siding, 1 in. of rigid polyisocyanurate foam, 1 in. of sprayed closed-cell foam, fiberglass batts, and, finally, clear plastic.
"I'm thinking [the plastic] has to go," she writes. "What are our options? Is it…
Weekly Newsletter
Get building science and energy efficiency advice, plus special offers, in your inbox.
This article is only available to GBA Prime Members
Sign up for a free trial and get instant access to this article as well as GBA's complete library of premium articles and construction details.
Start Free Trial
Already a member? Log in