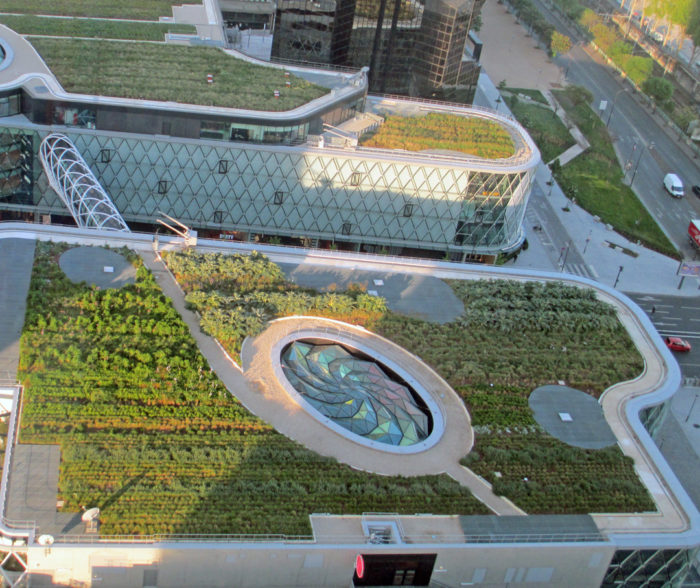 Vegetated roofs are low-slope roofs the have enough soil (or soil-like growth medium) on top of the roofing to support the growth of grass, wildflowers, or shrubs. Although some people call this type of roof a "green roof," the term "vegetated roof" is more accurate and less confusing.
Vegetated roofs can be humble or sophisticated. In Scandinavia and the Great Plains of North America, these roofs used to be called "sod roofs." Most sod roofs were installed by poor people in rural regions, and most sod roofs leaked. Later versions of the sod roof included a waterproof membrane under the sod, improving performance.
In the early 1970s, Malcolm Wells, a widely respected green architect, began preaching the gospel of underground architecture. Wells took his vegetated roofs seriously; he famously noted that his definition of an underground house was a house with enough dirt on top to grow mature trees. Interviewed at his underground house in 1999, he said, "I have three feet [of dirt] here, but if I had to do it again, I'd put about 10 feet of earth up there, so it could be a truly natural habitat for all plants." He bragged that his roof had "a couple of pine trees, now about four feet tall."
These days, most vegetated roofs have better specifications than the old sod roofs, but less impressive specifications that Malcolm Wells' 10-foot-deep ideal. Most vegetated roofs have between 3 inches and 6 inches of soil. That's not enough to create a natural habitat; it's just enough to create a kind of ersatz pasture — one that looks green if you remember to water it.
Why install a vegetated roof?
Vegetated roofs are quite expensive. While some architects estimate that these roofs cost only $15 per square foot, others estimate that a vegetated roof, including…
Weekly Newsletter
Get building science and energy efficiency advice, plus special offers, in your inbox.
This article is only available to GBA Prime Members
Sign up for a free trial and get instant access to this article as well as GBA's complete library of premium articles and construction details.
Start Free Trial
Already a member? Log in