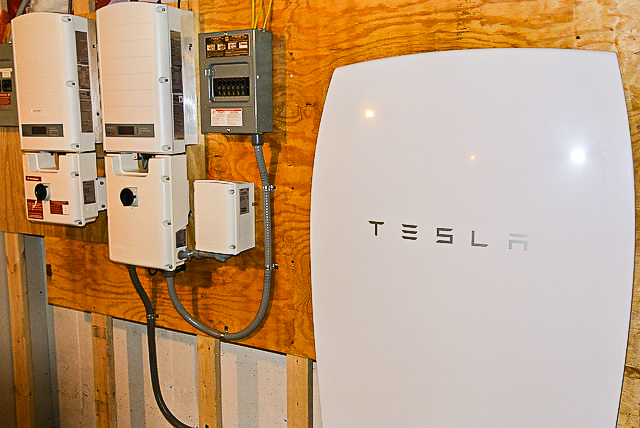 Green Mountain Power says it is pleasantly surprised at the early interest in a new pilot program designed for customers who want the energy independence that comes with their own off-grid photovoltaic (PV) and battery storage systems without the maintenance headaches or upfront costs.
The Vermont utility says that its first-in-the-nation Off-Grid Package will help customers avoid the high costs of long power line extensions to homes far off the grid while simultaneously giving the utility a way of lowering costs for all consumers by whittling down the number of high-maintenance connections.
Customers who make the leap will get an energy audit, solar panels, battery storage, a generator, and related equipment to power their off-grid homes for a monthly rate that stays fixed for the life of the equipment. It's part of a continuing effort on the part of the utility to help customers use less energy, especially fossil fuels, and reduce overall costs of the grid, according to Josh Castonguay, the utility's chief innovation executive.
Green Mountain Power (GMP) has already rolled out its eHome program, and has disconnected buildings at a state park from the grid by substituting an off-grid system using solar panels and the Tesla Powerwall battery.
"Then we thought about taking it a step further," he said. "Part of our energy transformation is to meet customers where they're at in terms of what their desires are for energy, whether it's an eHome-style full energy retrofit, or if the customer just wants to build off the grid but may not want to think about the system or maintain it or deal with it."
"That's where it started," Castonguay continued. "Where we hope it goes is that we can do these systems in a way that targets customers where it's a little more challenging to serve, similar to that state park, and transition customers to an off-grid system where it's seamless to them with the same or increased level of reliability. But we're able to lower our costs, which essentially flows to all our customers."
How much will it cost?
In a filing with the Vermont Public Service Board, the utility said that approximate costs would range from $400 a month for a customer who used 400 kilowatt hours of electricity a month to $850 a month for a monthly consumption of 700 kWh a month. (According to the U.S. Energy Information Administration, the average residential customer in the U.S. used 901 kWh of electricity per month in 2015.)
The monthly fee to Green Mountain Power covers equipment costs and maintenance costs. One of the included services provided by the utility is necessary generator maintenance.
"GMP will look to standardize package sizing as much as possible, but to fit the needs of participating customers there will be variations in size and scope of each system," the filing said.
Castonguay said that off-grid packages with a rated solar output of 5 kW to 7 kW could cost GMP $25,000 to $30,000, but costs could be much higher — up to $80,000 — for a very large home with high energy demands. Estimated monthly costs for off-grid consumers aren't cheap, but Castonguay said it could easily cost a new residential customer $20,000 to $30,000 to run a lengthy line extension for connecting to the grid.
Greentech Media reports that GMP planned to work with Peck Electric on the first installations and would use inverters and control systems from Outback Power and batteries from both Aquion Energy and Tesla. Cellular connections would be used to monitor the systems remotely, and to make sure that home energy control system keeps consumption within the limits of the system.
GMP said that the Off-Grid Package is a way of coping with new financial pressures on traditional utility business models.
"The energy landscape is changing," the utility said. "Traditional kilowatt-hour sales are eroding due to programs like net metering. If we do nothing, this would lead to path of significantly increasing rate pressure for customers over the next decade — as much as 10% to 15% per year by the mid 2020s… We see the Off-Grid Package as part of our energy future."
The utility originally said that the pilot would be limited to a half-dozen customers, but Castonguay said that GMP would find a way to include anyone who was interested. Although no one expected a flood of calls, Castonguay said that the company had fielded eight to ten calls from potential customers in the first couple of days after the program was announced.
Weekly Newsletter
Get building science and energy efficiency advice, plus special offers, in your inbox.