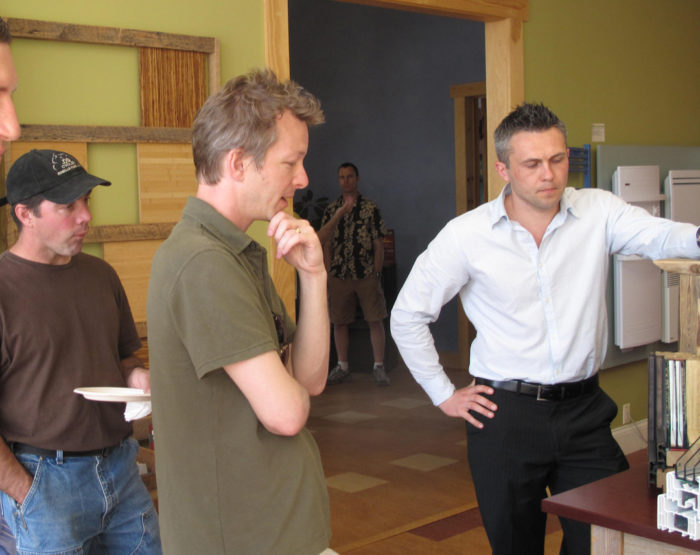 I recently spent a couple of days in Maine, where I visited with an active group of energy-conscious architects and builders. My tour of seven job sites facing Casco Bay in the Atlantic Northeast nicely balanced my tour of several job sites facing the Puget Sound in the Pacific Northwest in March.
At the second-floor office of Kaplan Thompson Architects in downtown Portland, I was greeted by Phil Kaplan and Jesse Thompson. Phil and I sat down for some brainstorming for a deep-energy retrofit course we will be teaching at Yestermorrow school in August. Later that afternoon, architect Chris Briley arrived, and I joined Phil and Chris for a recording session of their popular podcast, Green Architects' Lounge. (Unfortunately, because the hour was early, the featured beverage was coffee rather than stronger spirits.)
Building science talk and beer
At 5:00 p.m. we drove a few blocks to Maine Green Building Supply, a materials showroom and warehouse operated by retailer Steve Konstantino. Steve is the gracious host of a monthly get-together known as the Building Science Discussion Group, a hot-dogs-and-beer party that meets in the loading bay in back of the store. The discussion group is an opportunity for designers, builders, energy raters, and manufacturers' representatives to talk about energy-efficient construction methods.
Everyone benefits by participating in the information-sharing and learning that happens at such a collaborative gathering. I figured that these meetings were important enough to merit an article on the topic, until I remembered that Michael Maines beat me to it. His January 2010 blog about the Building Science Discussion Group was titled Steve's Garage.
At the June 7 meeting, about 40 attendees participated in a charette to review plans for a deep-energy retrofit of a 3,000-square-foot building on Victory Avenue in Biddeford. The building is owned by Community…
Weekly Newsletter
Get building science and energy efficiency advice, plus special offers, in your inbox.
This article is only available to GBA Prime Members
Sign up for a free trial and get instant access to this article as well as GBA's complete library of premium articles and construction details.
Start Free Trial
Already a member? Log in